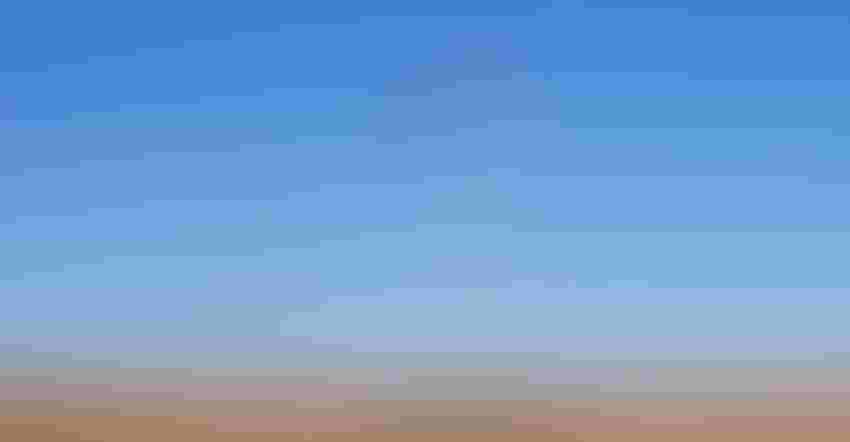 HEADWINDS: The Madison County board of supervisors has voted to put a temporary ban on building new wind farms and solar collectors. No new solar or wind farms can be proposed for a year.
Continued construction of wind turbines and expansion of wind energy farms across Iowa remains a hot topic in rural areas. In recent years, Wallaces Farmer has published articles and letters from people on both sides of the issue.
Matt and Kim Brenneman, farming near Parnell in eastern Iowa, wrote the op-ed on Page 11. They are active in the Iowa County Wind Energy Education effort, a local organization trying to stop the expansion of wind farms. That group has a website and a list of considerations they want landowners to consider before signing an easement contract allowing wind turbines to be built on their land.
In south-central Iowa, renewable energy hit new headwinds in early October when the Madison County board of supervisors passed the state's first moratorium on new wind turbine installations. In southwest Iowa, Adair County leaders are considering putting a limit on the number of turbines in their county, effectively stopping new construction.
The Adair County board of supervisors has proposed limiting the number of turbines built in the county to 550. The board is also considering whether to modify an ordinance passed last year that makes construction of new turbines more difficult. The ordinance calls for a 2,000-foot setback from nearby homes. One of the drafts of last year's ordinance called for a cap on the number of turbines, but it was withdrawn. "Still, we don't want to see windmills built between windmills," says county supervisors chairman Matt Wedemeyer.
Wind farms generate local revenue
MidAmerican Energy Co., owner of the Adair County turbines, says it isn't planning to build windmills that close together. But two-thirds of the county is under easements and could be used for more wind development, Wedemeyer notes, and there are landowners who would welcome more turbines because of the added income.
He says the new wind turbines in Adair County will generate close to $15 million in tax revenue when they are fully assessed. "That's a huge amount of money, and we need the revenue because of the good it will do for the county," he says, "but we appreciate the concerns of residents, too."
Like Adair County, Madison County also benefits from wind farm revenue. MidAmerican's existing wind farm is projected to generate $38 million over the next 30 years. A spokesman for the utility says it doesn't plan to challenge the moratorium. "But we will provide input to the county as it drafts any renewable energy ordinance," he said. "We want to see that any ordinance is reasonable and workable."
Madison County supervisors voted 2 to 1 to approve their moratorium on turbines, which also applies to new solar energy installations. It is scheduled to run through October 2020 but could end earlier if a new ordinance passes. The supervisors say they'll use the time to develop a new ordinance to guide renewable energy construction.
The one-year moratorium will not affect a 52-turbine wind farm MidAmerican is developing in the county. That project has already received the supervisors' approval but is tied up in a citizens lawsuit, which is being appealed.
Wider setbacks proposed
A number of the county's residents protested wind energy development. They complained of headaches, nausea and interrupted sleep caused by turbine noise; sun flicker in the day; and blinking red lights at night. The complaints prompted the Madison County board of health to pass a resolution in the summer calling for wind turbines to be located at least 1.5 miles away from homes. That proposed setback is five times the setback distance MidAmerican has proposed in its most recent wind farm project.
The Iowa Environmental Council sponsored a study looking at research on the health effects of wind turbines and concluded that the sound may be annoying but no adverse health effects have been proven. Opponents of turbines say more research is needed to determine the health effects.
The MidAmerican spokesman told Wallaces Farmer the proposed 1.5-mile setback requirement would completely stop any future wind development in Iowa if other counties in the state were to adopt a similar requirement.
Some opponents of wind farms are calling for the Iowa Legislature to develop statewide requirements restricting wind farm development. Meanwhile, many farmers and local government officials welcome the added income from wind turbines. They say it should remain with local governments to determine where wind farms are built and how they operate.
Letter to Editor: Passing of Lyle Spencer
Thank you for the opportunities you provided Lyle to share his "true life stories of yesteryear" (as he called them), with Wallaces Farmer readers over the years. Your publication of his articles and your encouragement allowed Lyle to share his interest in farming and rural Iowa history with many people. — Katheryn Spencer
Editor's note: Lyle Spencer of rural Goldfield passed away Aug. 5 at the age of 88. Born and raised on the family farm near Churdan, he graduated from Lohrville High School in 1949 and served in the U.S. Army. He returned to Iowa, farmed and in 1967 enrolled in the College of Ag at Iowa State University. He later married Katheryn Pratt of Kingsley in 1969.
On their honeymoon, Lyle and Kathy homesteaded land on the shore of Lake of the Woods near Sioux Narrows, Ontario. Lyle appreciated the opportunity the Canadian government provided to obtain land by building a cabin. For 50 summers, the couple returned to their beloved homestead to make improvements and enjoy the Canadian Wilderness.
Lyle also appreciated the opportunity in 1979 to move to the family farm near Goldfield, Iowa. He enjoyed planting and harvesting corn and soybeans, improving the farmstead, constructing buildings, and planting trees. His deep concern for Iowa's precious soils and water and his respect for rural Iowa history motivated him to write. His articles were published in Wallaces Farmer and other magazines. He wrote two books: "A Farmer's Son"; and "Struggles: The Early Adult Years." Lyle is survived by his wife Katheryn Spencer of Goldfield and his nieces, nephews and a lifetime of friends.
Subscribe to receive top agriculture news
Be informed daily with these free e-newsletters
You May Also Like
---