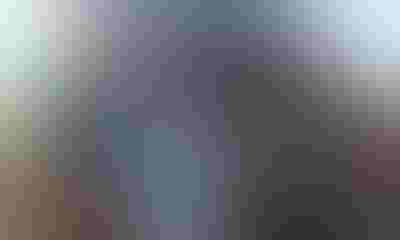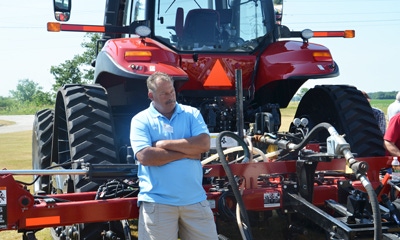 If you still think comparing nitrogen rates on your own farm would mean climbing out of the cab every round or two and taking a wrench to the applicator to change rates, you might want to hear what Mark Kingma has to say. Kingma, Demotte, worked with Bob Nielsen and Jim Camberato this year to do large-scale nitrogen-rate testing on his farm. Nielsen and Camberato are Purdue University Extension specialists.
Corn Illustrated 7/11: Resicore corn herbicide raises eyebrows during debut season

SEAMLESS CHANGES: Mark Kingma answers questions about how he changes nitrogen application rates seamlessly for an on-farm test during a summer field day.
"With the nitrogen applicator I had this year and the computer system in the cab, the process was easy," Kingma says. "Nielsen and Camberato wrote the prescription for the field trial. They noted what the rates were supposed to be in various strips within the field, and built that into the prescription. All I had to do was drive."
Even with advanced technology, until recently the operator may have had to flip a switch or change a rate on a dial, or punch in a rate on a digital screen. But with this newest setup, that's not necessary, Kingma says. The computer makes the rate adjustments for him, and then records where and what is applied on an as-applied map.
How the trial works
Nielsen and Camberato designed the trial as a replicated nitrogen trial, just as they have done for years in small-plot work. There are replications of each rate or treatment applied. In this case, Kingma applied part of the nitrogen about 10 days before planting. Then he applied various rates at sidedressing to reach final application totals for comparison purposes.
One option before the technology became so seamless was to set an applicator at one rate, and then use GPS and a preset A-B line to find all the strips that were to receive that rate. It meant doing some backtracking in the field, but it minimized switching out rates or making equipment changes.
"Now we don't have to do that," Kingma says. "I just drive." The computer makes the adjustments for the next pass in line, and shows those adjustments on the display, he notes.
Find practical N rate
One year ago Kingma's area was hit by heavy rains in May, June and July. Extra nitrogen applied through sidedressing, or even later, paid off. "It may not work that way every year," Kingma says. "I'm trying to find out what is a practical rate, year in and year out, on my farm."
Part of the land he farms is sandy. Part of it is irrigated. All those factors can affect nitrogen rate and application timing decisions.  
With the drastic improvement in ease of making changes in application rates, the biggest commitment the farmer may have to make for an on-farm N trial is if he's willing to include a zero nitrogen application rate, Nielsen notes.
Corn Illustrated 7/4: Corn plants need room to grow
If you want to see how corn responds to rates of zero to 250 pounds per acre, for example, including a zero rate is necessary, Nielsen says — at least in the first year or so of the test. But it involves a cost because it reduces yield.
"I'm doing this to learn," Kingma says. "I don't expect to see the kind of response to more N we saw last year when it was so wet, but I want to find out if it pays in a normal year."
Subscribe to receive top agriculture news
Be informed daily with these free e-newsletters
You May Also Like
---