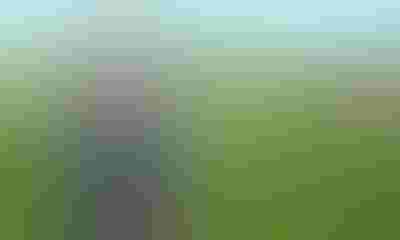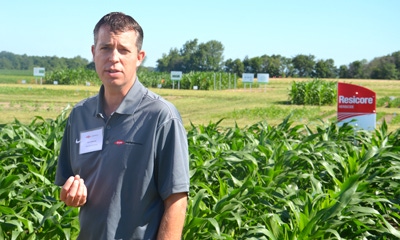 One year ago, Dow AgroSciences unveiled the name for its newest corn herbicide at a national press event. When the cover was lifted off a wood engraving, the name was Resicore. Just a year later, company spokespeople say Resicore enjoyed a successful launch year.
Corn Illustrated 7/4: Corn plants need room to grow
"From what retailers who have sprayed the product for customers are telling us, it could become the new standard in corn weed control," says Kent Bennis, market development specialist for Dow AgroSciences. He is based in Iowa and covers the Hawkeye State. However, the product was launched across a wide area of the Midwest this year.

GOOD WEED CONTROL: Kent Bennis of Dow AgroSciences says he's getting favorable reports of successful weed control from farmers and dealers who tried Resicore in its first year on the market.
Retailers and growers who have waterhemp and resistant waterhemp were especially eager to try this herbicide. "Waterhemp is a plant with both male and female parts on the same plant, and this appears to be a factor in the number of biotypes that are appearing," Bennis says. "One specialist in Iowa recently reported finding four different biotypes of waterhemp in a 2-square-yard area."
Resicore is a good fit for controlling waterhemp and giant ragweed, Bennis says, plus a number of other broadleaves. When applied as a residual herbicide, it also provides what he terms as "excellent" control of giant foxtail.
Unique feature
While all three active ingredients of Resicore were already in the marketplace, they have never been marketed together in one formulation until now, Bennis notes. "What it does is give farmers three different modes of action in one herbicide for corn, and none of the three are glyphosate or atrazine," he says. "That is unique in the marketplace."
Many weed resistance issues center around glyphosate and atrazine. Bennis believes it's a plus to have a product with three modes of action that don't contain either one.
At the same time, in areas where farmers believe atrazine is a must for weed control in corn, it can still be added in a mix with Resicore, he notes. "The label allows you to add up to 1.5 pounds of atrazine per acre," he says. "That gives you a fourth mode of action against weeds not resistant to atrazine."
More modes of action
Farmers growing a corn-and-soybean rotation could use soybean herbicides recommended by Dow AgroSciences in the soybean year, and increase the number of modes of action used over the entire period. "If you apply Resicore in corn and a soybean herbicide with two different modes of action than those in Resicore, you could get five modes of action against weeds in two years," Bennis says. He believes that could be a real plus in delaying further development of resistant weeds.
Resicore can be applied up to 14 days before planting as a residual herbicide, or postemergence on corn up to 11 inches tall, Bennis notes. The Resicore label refers to corn height and not stage of growth of the corn plants. Refer to the label for more specific information about proper application times.
Corn Illustrated 6/27: Why corn smut affects some plants and not others
"One feature people say they like is the flexibility," he adds. "It will fit many programs because it can be applied over such a wide range of timing."
Subscribe to receive top agriculture news
Be informed daily with these free e-newsletters
You May Also Like
---