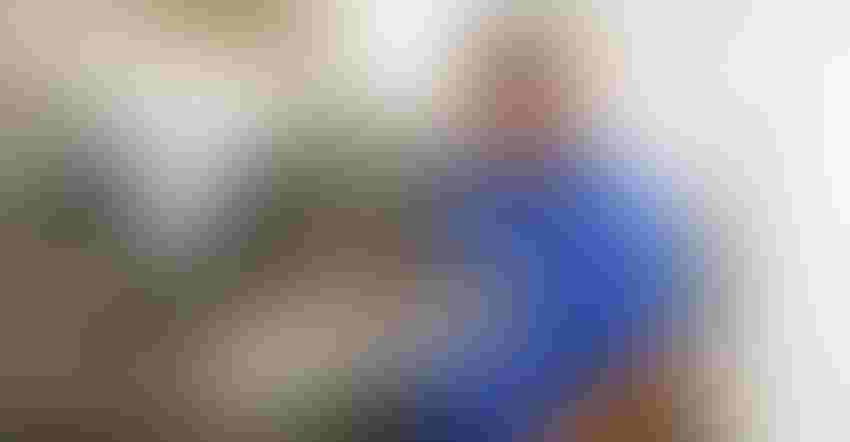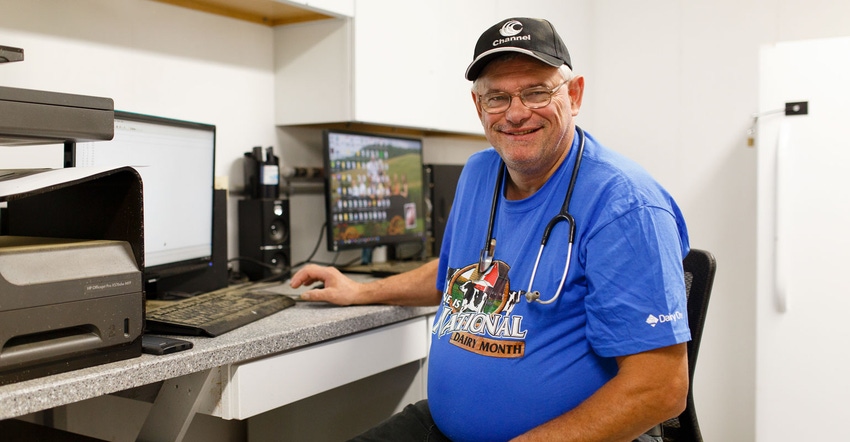 TALKING TECH: George Andrew of El-VI Farms in Newark, N.Y., has hosted three Virtual Farm Tours. He spends much of the time talking about his farm's technology and how it leads to better and more efficient production and cow care.
Photos courtesy of Emma Andrew-Swarthout
Beginning in 2018, American Dairy Association North East started Virtual Farm Tours for the benefit of schools that either lacked funding to take students on farm field trips or are not geographically close enough to visit a dairy farm.
Hosted through Zoom, farmers tune in on their cellphone, walk around the farm and explain to students the various aspects of their operation.
These tours provide an opportunity for students to learn how their food gets from farm to table. It's also tied into different science classes at school, depending on the students' age range. For example, there might be a segment on nutrition, health and wellness.
"We teamed up with Young Minds Inspired to produce lesson plans that follows academic standards grades 2 through 12. Along with the Virtual Farm Tour, teachers can teach either a prefarm tour lesson or a post-farm tour lesson utilizing different lesson plants," says Emma Andrew-Swarthout, director of dairy industry image at American Dairy Association North East. "We are fortunate to have farmers throughout our territory that love reaching out to consumers. Now that the program has been in place for a couple of semesters, I have had farmers approach me saying, 'If you ever need a host farm, I'd love to host one for you.'
"The farmers also enjoy participating in the program. Quite a few of the dairy farmers that have participated to date have had different follow-up opportunities with the school districts. In some cases, schools have reached out to farmers saying, 'We tuned into your farm tour and would like the opportunity to ask a few more questions.'"
Some teachers are thrilled that they can virtually take their students to a dairy farm because normally they would be unable to do a dairy farm tour as part of their curriculum. Other teachers love that the students can enjoy a real-time chat with a dairy farmer instead of a prerecorded video.
American Dairy Association North East has also focused on social media ads in order to target educators who are on social media. An advertisement about Virtual Farm Tours may pop up on their timelines. In fact, during the latest American Dairy Association North East promotion, 54% of the registrants learned about the program because of social media.
Education equals exposure
Joy Wideman of Jo Bo Holsteins in Gettysburg, Pa., participated in a Virtual Farm Tour.
"When Emma asked me to do school tours online, it was a neat experience to educate students while they were in their classrooms. I also met quite a few of the students that got to participate. They subsequently emailed me questions or now follow my Facebook pages. It is really rewarding to know I was helping to educate the public. I believe that is the number one activity we are dairy farmers need to do," Wideman says.
It's also increased Jo Bo's presence on social media.
"Participating in the Virtual Farm Tours has increased my social media on my Facebook page," she says. "I have had numerous people reach out to me with different questions, some wanting to know if they can tour the farm. During the Virtual Farm Tour, students were able to ask me questions live. When I was a student, I would have never imagined being able to do that. It was pretty fascinating that I could do that for them."
During the Virtual Farm Tour, Wideman talked about the 1,000-head, 1,000-acre farm she operates with her parents, sister, brother and brother-in-law. The farm milks three times a day. She told the students that in order to support a family, a dairy farm should be milking at least 200 head.  
LEARNING ABOUT THE FARM: For teachers in many school districts, the Virtual Farm Tours have created an opportunity to bring the dairy farm to the classroom, potentially exposing more students to dairy education.
"Thus, when my father started thinking about inviting his children to be a part of the farm, we had to grow so that we could all work together and support our families," she says. "That is why we grew to the number that we did. We all really enjoy working with each other.
"We actually have school tours on our dairy farm each spring. In fact, we host approximately 800 students each spring. Of course, with the coronavirus in place, the students were unable to come to our dairy farm this spring. Instead, Emma helped to do a Virtual Farm Tour for the benefit of those students who would have usually come to the farm."
Teaching technology
George Andrew of El-VI Farms in Newark, N.Y., also participated in the Virtual Farm Tours.
"It has been very exciting to be a part of that educational process," Andrew says. "Many consumers really want to know about where their food comes from and how it is produced, how farming fits into sustainability and protecting the planet, and health and wellness."
To date, El-VI Farms has hosted three Virtual Farm Tour groups.   
"When a Virtual Farm Tour has been set up, we are notified ahead of time as to what group we will be hosting," he says. "We can visualize the students. Because the tour is live and because students can write in questions, we can be answering the questions as we travel around the farm."
The farm has 2,100 milking cows and 1,900 heifers. The cows are milked three times a day, producing 14,000 gallons of milk per day. The farm has 45 employees. There are four full-time partners and two semi-retired partners.
"I believe the Virtual Farm Tours has translated into an increase in the consumption of dairy products," he says.
Another benefit is that the virtual tours save time and money because schools don't have to bus kids to the farm. For example, 14,000 students can virtually visit the farm each week. It would have taken up to a year, he says, to get that many students out on the farm in person.
"Today's students grew up with technology, are comfortable with technology and trust technology," he says. "As a result, they learn just as well through a Virtual Farm Tour as they would if they were to go to a dairy farm. With the quality of the video cameras and the quality of sound, the technology has worked very well. In addition, when the professionals come to the dairy farm, they work behind the scenes making sure the technology works."
During a recent Virtual Farm Tour, he explained how much a calf weighs when it is born and about the miracle of birth. He also talked about nutrition on a dairy farm, how each group of cows receives a different ration, the benefits of cow comfort, cow cooling and ventilation, and barn designs.
Students are often surprised at the amount of technology used on a modern dairy. For example, during a recent tour, Andrew talked about the farm's computerized milking parlor and how all the milking information gets sent to a computer each time a cow is milked.
He also talked about the farm's automatic electronic ID system. With a handheld device, he scanned the ear tag of a cow.
"We can just scan the animal right into our hand-held device. It's like a paperless farm. You can enter the information right on the tablet," he explained during the presentation.  
Students are often amazed by the amount of technology used on modern farms featured in the tours. For farmers, the tours are a chance to talk about how passionate they are about the industry and to get feedback from the next generation of dairy consumers.
Albino writes from central New York.
Subscribe to receive top agriculture news
Be informed daily with these free e-newsletters
You May Also Like
---