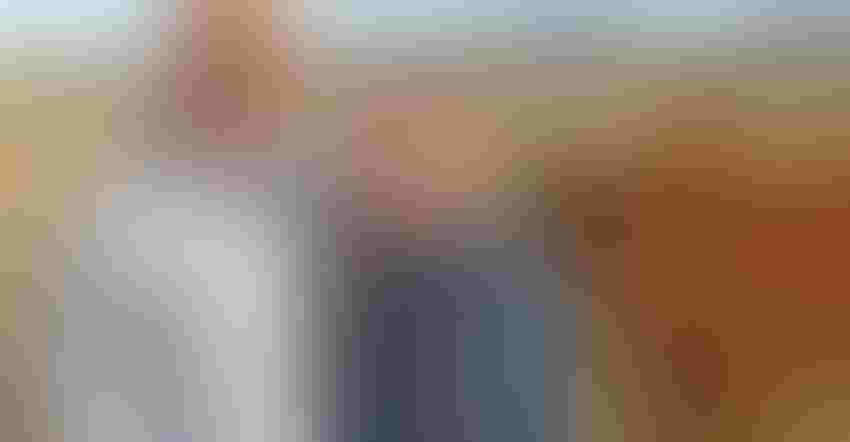 LOOKING AHEAD: Jason Goertz and his wife, Kim Cullen-Goertz, along with Jason's parents (not shown), run a diversified ranching and farming operation in southeast Wyoming. Solar-powered wells on both their private and leased lands are allowing the operation to become more sustainable.
Editor's note: This is the seventh story in a series exploring how ranchers and farmers are benefiting from renewable energy.
By Robert Waggener
"Our cows have learned that solar-powered wells are a lot more predictable than windmills, even though we get a lot of wind in our area," says Kim Cullen-Goertz, a southeast Wyoming cattle producer.
Cullen-Goertz and her husband, Jason Goertz, operate a family ranch and farm near Wheatland, along with Jason's parents, Gregor and Cindy Goertz.
They have three solar-powered wells on their deeded lands: one that is a new development and two that replaced windmills.
They also worked collaboratively with a lessee to install two solar wells on lands they rent for grazing, and they are considering replacing an electric pump on a sixth well with a solar unit.
"Since solar technology has improved, and the cost of equipment has gone down, we now believe it might be more cost-effective to replace that electric pump with solar," Gregor says. "We only have cows in that pasture for one month to six weeks a year; but we, like others, have to pay a meter charge for that pump every month, and that gets pretty expensive for the rancher."
He explains that solar wells had been expensive to install in the past. Newer models are more economical, however, and the panels more efficient and reliable. That reliability, along with the high maintenance associated with windmills, is among the reasons why many ranchers are turning to the sun for power.
"I'm not very good with heights anymore," says Gregor, who turned 65 in February. With windmills, safety is an issue — especially when the need arises to climb during marginal weather conditions.

WATER-WISE: Water from a solar-powered well fills a series of stock tanks on the Goertz family ranch near Wheatland, in southeast Wyoming.
10 years of solar
Gregor says they installed the first solar well on their ranch about a decade ago, and that sold them on sun power.
"Overall, we have been very, very pleased. We are able to provide consistent water for the cattle, and during those rare occasions when we get several cloudy days in a row — especially during winter — we can hook up a gas generator to the pumps," Gregor says.
Son Jason adds, "I find that solar is very reliable. Seldom have we had to use the generators, and solar takes a lot less maintenance than the windmills."
The solar wells produce about 10 gallons per minute, more than double the output of the windmills. This allows the Goertzes to better manage grazing — including the option of a short-duration, high-intensity approach.
One of their leased pastures has a solar-powered well on one side and a windmill on the other, and inconsistent water output with the windmill has left that side of the pasture underused.
"Some days the windmill just isn't producing water, and the cows quit using that area," says Cullen-Goertz, who raises registered Red Angus. The Goertz family also runs 300 commercial cows; has developed a successful direct-marketing program called Wyoming Pure Natural Beef; and grows dryland wheat, oats, millet and hay.
The solar wells have become an important part of the cattle operation. They have slowly replaced windmills and electric motors, in addition to powering new well developments.
As a small group of Red Angus graze in the background, Cullen-Goertz turns to her husband, saying, "By the way, Jason, I meant to tell you that the only windmill we have isn't working right now."
Waggener writes from Laramie, Wyo.
Subscribe to receive top agriculture news
Be informed daily with these free e-newsletters
You May Also Like
---