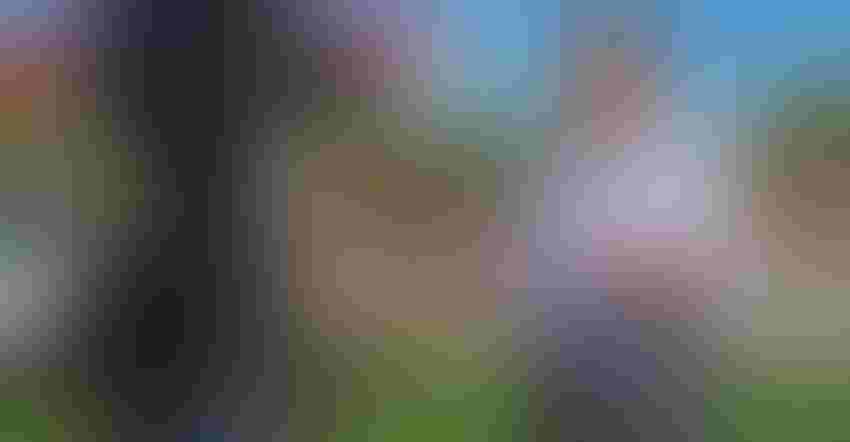 ROBUST RFS NEEDED: "We are urging the EPA to not only retain the Renewable Fuel Standard, but to look for opportunities to expand it," says Marion County farmer Dennis Bogaards.
Taking a timeout from harvesting soybeans, farmer Dennis Bogaards climbed down from his combine and drove to town to help tell the nation why renewable fuels are important to him, to Iowa and to rural America.
Bogaards was one of several speakers at an outdoor press conference Oct. 18 at Two Rivers Cooperative in Pella. With trucks and wagons hauling the 2017 harvest to the grain elevator in the background, television cameras captured the scene and his message. The event was streamed live via satellite.
About 50 farmers, biofuel advocates and media attended, as did Iowa Gov. Kim Reynolds and Lt. Gov. Adam Gregg.
Reynolds said President Donald Trump called her earlier that morning to assure her he still supports the Renewable Fuel Standard, a promise he made while campaigning in Iowa in 2016. The phone conversation included Environmental Protection Agency Administrator Scott Pruitt, whose recent proposals would slash the use of biofuels made from corn and soybeans, and hurt farm income. With commodity prices already low and big crops this fall, farmers are facing declining income for the fourth straight year.
Pressure sways reversal on RFS
The outcry from Iowa and other farm state political leaders over EPA's proposal to significantly reduce the RFS was being heard by the Trump administration, said Reynolds, describing her phone conversation. "They are feeling the pressure, and that's why we need to keep it up," she said. "When I talked to the president, he reiterated his commitment to the RFS. He made it clear he stood with the RFS." However, neither Trump nor Pruitt promised "no cuts" to RFS levels.
Shortly after talking to Reynolds, Trump directed EPA to pull back its proposal to reduce biodiesel and cellulosic ethanol use under the RFS. Each year, EPA by law is supposed to announce the required biofuel volume obligations (RVOs) by Nov. 30 for the RFS. The RVOs are the minimum amounts of ethanol and biodiesel required to be mixed into the nation's fuel supply for the coming year. As of late October, the RVOs for ethanol for 2018 and biodiesel for 2019 are yet to be announced.
Adding value to Iowa crops
Bogaards noted that renewable fuels convert an oversupply of soybean oil, corn oil, animal fats and corn starch into clean-burning fuels that help the environment and improve crop prices. Biodiesel alone adds 63 cents to the value of every bushel of beans and lowers soybean meal costs for livestock feed by $21 per ton, studies show.
"Biodiesel and ethanol over the years have provided a boost to commodity prices for farmers and ultimately to our bottom lines," said Bogaards. "This allows us to support local economies by buying and upgrading farm equipment, improving infrastructure on our farms, and supporting our local co-ops like Two Rivers. All of this provides jobs and money to businesses in small towns that might not otherwise see growth."
Subscribe to receive top agriculture news
Be informed daily with these free e-newsletters
You May Also Like
---