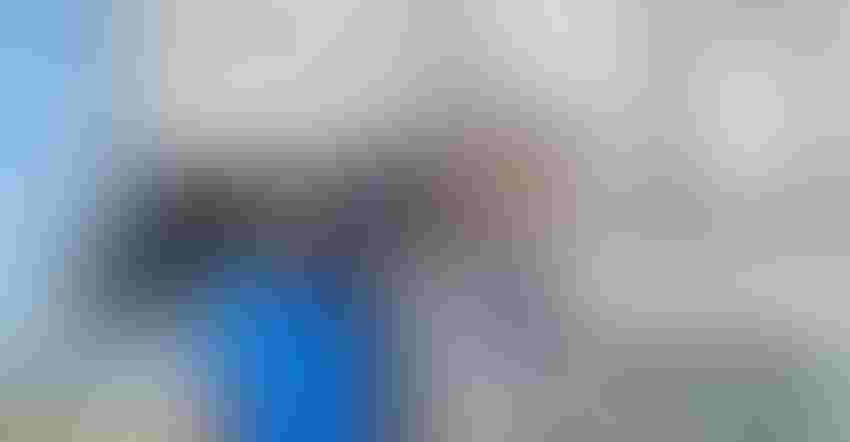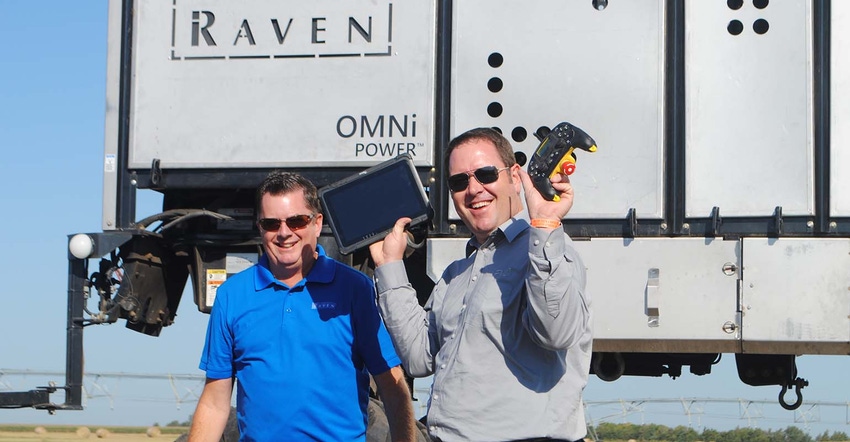 TAKING DELIVERY: Ben Sauder, vice president of agronomy at Frenchman Valley Coop, left, takes position of the first OmniPower autonomous machine to be sold in the United States. Paul Welbig, director of sales, Raven, turned the machine over to Sauder during Husker Harvest Days.
Curt Arens
The move to fully automated equipment at work in the field is advancing, and the process took a big step during Husker Harvest Days. That's when Frenchman Valley Coop, Imperial, Neb., took delivery of an OmniPower automated machine to put to work for the organization.
During a livestream event at the show site, Ben Sauder, vice president of agronomy, FVC, shared that the dwindling labor pool had the organization looking at automation. During a visit earlier this year to Sioux Falls, S.D., home to Raven, Sauder says his younger employees "just loved it, they were in love with the joystick and the tablet. They were just giddy." That kind of interest can bring more labor to the cooperative.
The OmniPower system will be mated to a New Leader 5G spreader box, the most advanced in that company's line. Sauder says the machine is going to Wyoming first. "There's a lot of precision farming in Wyoming, and we work with precision nutrient application," he says. "This machine will deliver macronutrients in the same field where another machine will be applying 6 micronutrients. So in a single field we can apply seven products with two machines and a single operator."
The OmniPower machine, outfitted with the latest control systems from Raven – including the familiar Viper 4+ display integrated with Slingshot. This allows the machine to communicate coverage areas in operation details in real time. "The operator will find the display is familiar, since it's found on many conventional applicators," says Paul Welbig, director of sales, Raven.
During the ceremony, Welbig handed Sauder "the keys" to the machine, which in this case included a controller and a tablet – the unit actually has no keys, nor a cab. The automated system, powered by a Cummins diesel engine, is controlled remotely with those systems.
"We're always trying to look for more efficient ways to take care of our growers, this [machine] can run 24 hours a day, we can get more done, less trips across the field," Sauder says.
Welbig notes that for farmers and potential buyers on the fence about autonomy, the FVC purchase shows that autonomous machines are moving from "lab" to the field. "The future is here," he says. "We don't have it all figured out for every single situation, but we have a fairly good start."
He adds that this machine will compliment your traditional farming operation, not replace it more efficiently.
Farmers interested in autonomy including the Omni system can visit ravenprecision.com. And you can check out the live delivery of the machine below.
Subscribe to receive top agriculture news
Be informed daily with these free e-newsletters
You May Also Like
---