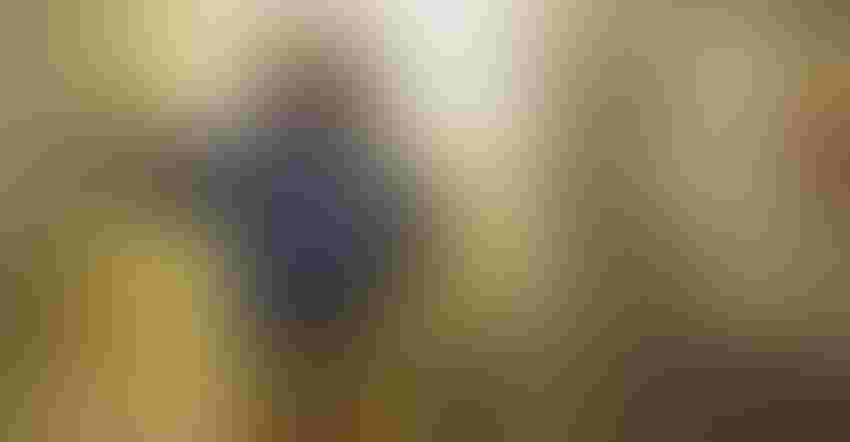 PARLOR SAVINGS: Brad Heins, a dairy scientist at the University of Minnesota West Central Research and Outreach Center in Morris, explained energy-saving upgrades in the milking parlor, including a milk heat recovery and plate cooler system, and a scroll compressor bulk tank.
Photos by Liz Morrison
By Liz Morrison
Looking for ways to save energy in your milking parlor? Some simple and inexpensive changes can slash your electricity and fuel bills.
That's the message from scientists at the University of Minnesota West Central Research and Outreach Center in Morris who spoke at the 2017 Midwest Farm Energy Conference in June.
Plate coolers, milk heat recovery pumps and variable-frequency drives are a few of the energy-saving technologies that offer a quick payback in your milking operation, says Brad Heins, WCROC dairy scientist.
Milking cows is energy-intensive, says Heins, who oversees conventional and organic research herds. Yet dairy farms have not typically been set up with energy efficiency in mind.
WCROC, for example, milks 250 cows twice a day — typical of many medium-sized Minnesota dairy farms. In 2015, the milking parlor used about 110,000 kilowatt-hours (kWh) of electricity, mainly for cooling milk and running fans, and 4,500 therms of natural gas, mainly to heat the parlor and cleaning water. That averages out to 440 kWh per cow per year, and 21 therms per cow per year.
WCROC's long-term goal is to become a "net-zero-energy" dairy, producing as much energy on-site as it consumes, says Eric Buchanan, an engineer and renewable energy scientist at WCROC. To get there, WCROC is adopting energy efficiencies, converting thermal loads to cheaper energy sources, and generating its own renewable solar and wind power on the farm.
Energy efficiencies
Efficiencies are always the first place you should look to save energy dollars, Buchanan says.
"There is no unit of energy cheaper than the one you don't use," he says. Many energy efficiency upgrades pay for themselves in less than 10 years, he notes.
One easy change the WCROC dairy made was installing a variable-frequency drive on the vacuum pump. Before the upgrade, the vacuum pump used about 50 kWh per day. Afterwards, electricity use dropped to 12 kWh per day, a 75% reduction. That saved nearly $4 a day, providing a 2.5-year payback on the $3,400 VFD, which lasted for three years, Buchanan says.

COVER UP: A well-insulated, 2,200-gallon water tank stores heat captured from milk and a solar array at WCROC's research dairy.
The dairy also cut energy use by replacing one of its two reciprocating bulk tank compressors with a scroll compressor, which uses 62% less power.
A surprisingly big power-gobbler was portable space heaters, Heins says.
"Two electric milk house space heaters that we used to keep pipes from freezing caused electricity use to double in the winter," he says. "These space heaters are very common on Minnesota farms. They are cheap to buy, but farmers don't realize how much they increase power costs."
Instead, he says farmers should look for better ways to avoid frozen pipes.
WCROC also converted milk house thermal loads to electricity. Electric appliances are usually more efficient than their gas-fueled counterparts, Buchanan says — 95% efficient versus 65%. WCROC captures the thermal energy from milk using an electric heat pump and plate cooler system. The recovered heat is stored in a well-insulated, 2,200-gallon water tank and used to preheat cleaning water.


SUN POWER: A 50-kilowatt DC photovoltaic solar array supplies electricity for WCROC's research dairy in Morris. The electricity powers a water heater that heats well water. The heated water is stored in a large, well-insulated water tank and is used for washing and cleaning. The system is part of a plan to create a "net-zero-energy" dairy facility that generates as much power as it consumes, says Eric Buchanan, WCROC renewable energy scientist.
Getting to net-zero energy
These efficiency upgrades also prepare WCROC for becoming a net-zero-energy dairy parlor in the future, Buchanan says. The next step is generating most of the dairy's electricity from renewable wind and solar power.
Recently, WCROC installed a 50-kW DC photovoltaic solar array from TenKSolar, and two small-scale, 10-kW wind turbines from Ventera. These renewable energy systems are expected to furnish the dairy barn with more than 114,000 kWh of electricity a year, worth more than $11,000, Buchanan says.
The estimated payback period for the solar energy system is 8.6 to 19.7 years, depending on subsidies, and 24.5 to 35 years for the wind energy system, Buchanan adds.
Morrison writes from Morris.
Subscribe to receive top agriculture news
Be informed daily with these free e-newsletters
You May Also Like
---