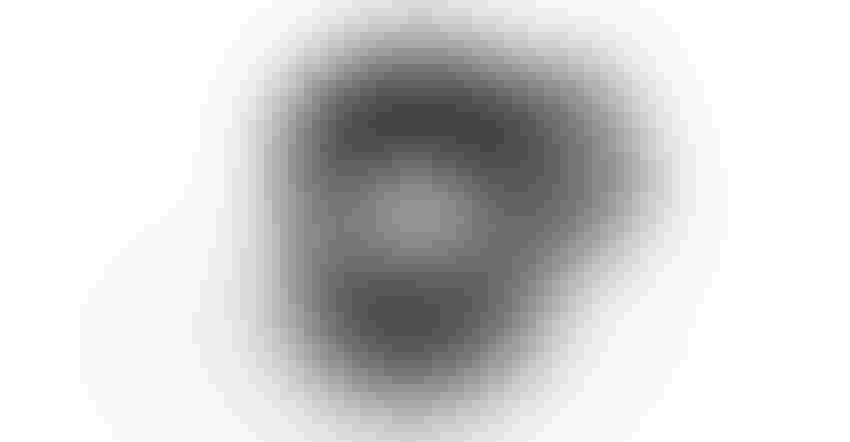 HI-TECH CUP: The SCiO Cup uses near-infrared spectroscopy, a technology that's been used in ag and material sciences for many years. On a single charge, the cup can scan more than 1,000 samples.
Photo courtesy of Consumer Physics
Measuring forage dry matter has usually involved drying samples in either a microwave or a Koster tester, taking multiple steps to figure out if the forage is ready for cutting. A Koster tester can take up to two hours to measure DM.
A Minnesota-based company claims that it has created the world's fastest portable dry matter analyzer.
Consumer Physics has developed the SCiO Cup, a smartphone-operated device that enables frequent DM analysis. The device is being deployed by Cargill and other leading feed and nutritionist brands, according to Terry Allen, the company's North America head of business development.
"The process is instant and simple: fill up SCiO Cup with green chop or silage, click the button once and get results on your phone within 10 seconds," Allen says in a press release.
The cup supports dry matter analysis of corn silage (green and ensiled), legume silage, grass silage, small grains silage and mixed silage. Silage calibrations are updated in the cloud to ensure seasonal and regional accuracy. Users can also track past DM results and trends over time.
Powered by a rechargeable battery, the cup can scan more than 1,000 samples on a single charge.
Damian Goldring, co-founder and CTO at Consumer Physics, says the cup uses near-infrared spectroscopy, a technology that's been used in ag and material sciences for many years.
"In essence, it uses the interaction of light with the materials' molecules to learn about the content of materials," Goldring says. "Utilizing new and proprietary optics, as well as advanced algorithms and computer technologies, we took the traditional NIR Spectrometer and miniaturized it into SCiO. SCiO and SCiO Cup are not only miniaturized and robust, they're portable, easy to use and cloud connected, so data is easily accessible."
It took five years to develop the technology. In 2017, the company started customizing it for ag applications.
"We always strive to partner with companies that can help expedite our development or improve our products. In the last years we have partnered with several ag companies," he says. "These partnerships assisted us in bringing our products to market, as well as making sure they fit the needs of the agriculture industry."
So how accurate are the readings?
"Objective studies show that SCiO Cup is just as accurate, consistent and repeatable as current testing methods, at a fraction of the cost and response time," he says. "SCiO Cup analyzes dry matter in corn green chop silage and fermented silage, as well as legumes, grass, mixed silage and, very soon, small grains silage. We are releasing SCiO Cup with forage calibrations, but more calibrations are upcoming." 
The cup is made of a thermoplastic material that's lightweight, durable and impact resistant. Inside the cup, the glass dome is made of Pyrex, which is also designed for durability. The sensor itself is small and robust, made with no moving parts, making it ideal for use in portable devices and in the field. 
"SCiO Cup is light, about 30 ounces, making it easy to carry around," he says.
Pricey cup 
Anyone who wants one, though, has to shell out $2,700, which includes the cup and a one-year full subscription. After that, a yearly subscription is $1,200 a year, which grants users unlimited scans and updates.
"There's no other solution in the market right now that compares to SCiO Cup. Other solutions are either based on drying down the sample, which is cumbersome and takes one hour or more per test or are based on NIRS but are far less accurate, more difficult to operate and are more expensive," he says. "Feed and specifically forage are the No. 1 expense of a dairy farm. They represent 50% to 60% of the farm's expenses. SCiO Cup allows a practical way of testing dry matter of forage frequently that leads to … efficient way of feeding, thus saving feed cost … consistent dry matter intake of the animals, thus improving milk production consistency and thus the farm's profitability.
"Overall, our calculations show that a farm of 500 cows can improve its bottom line by more than $20K per year by using SCiO Cup."
Subscribe to receive top agriculture news
Be informed daily with these free e-newsletters
You May Also Like
---