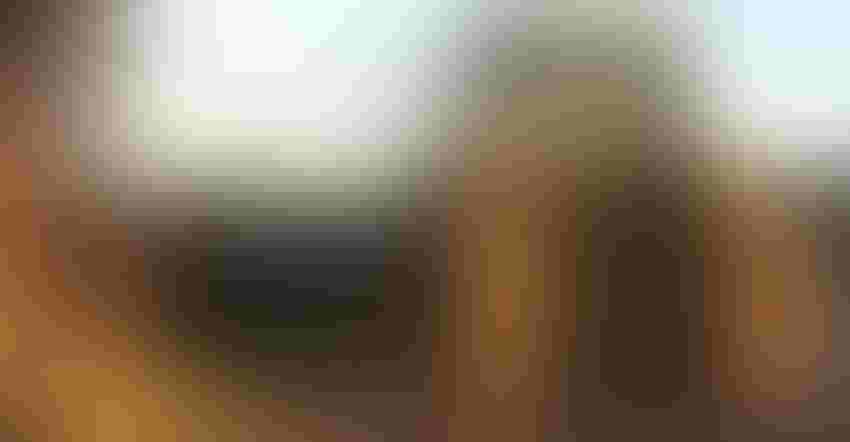 MANAGING THE FEED: At the Marcus Richards farm in Elbridge, N.Y., feed is managed using the AgModels Dairy Prophet app, a data-driven feed and nutrient software system that allows the farm to blend precise rations to promote better milk production and reduce nutrients in the manure.
Photo courtesy of AgModels LLC
With more than 2,500 dairy cows to manage, New York farmer Marcus Richards has turned to technology to help manage his cows' feed intake and manure management.
"We milk cows in two locations: Skaneateles and Elbridge," says Richards, who runs the farm with his father, Craig; a brother, Eric; an uncle, Jim; and a cousin, Chris.
The third-generation dairy has 1,900 milking and dry cows, and another 1,700 head of young stock. The farm also raises 4,500 acres of corn, soybeans, alfalfa and wheat, and is feeding a TMR of 60% to 62% forage on a dry matter basis.
Paul Cerosaletti, Cornell University Extension specialist in Delaware County, N.Y., says the move to more homegrown feeds has allowed dairy producers to reduce feed costs and cost variability.
"However," he says, "the increased reliance on homegrown forage, particularly hay crop silage, introduces more feed quality variability, which requires tighter diet management."
Using feed management software, Cerosaletti says, helps farmers feed more accurate and precise rations.
"They are valuable tools for reducing feeding variability and for managing forage quality variability," he says. "These tools help farmers manage feed usage more tightly and avoid costly overfeeding. They also help track feed usage and performance over time to help in problem identification and management.
"There is more real-time ability to accurately implement the diets their nutritionists have formulated for their cows," he adds.
Better cost management
Richards and several other dairymen have been working with dairy specialists and nutrient management professionals using AgModels' Dairy Prophet feed app, a data-driven feed and nutrient software system.
"We're using the AgModels system at the Elbridge location to manage feed for about 550 milk cows," he says.  The location includes 550 cows with no dry cows or heifers.
"That forage is typically two-thirds corn silage and one-third alfalfa silage," he says. "The remainder of the TMR is cornmeal, canola meal and a mineral pack-protein mix that we purchase. With that ration, we average 87 pounds of milk per cow per day."
Richards uses the Dairy Prophet feed app to blend precise rations that promote better milk numbers and reduce phosphorus and other nutrients in the manure.
Paul Fitterer, director of operations for AgModels LLC in Tully, N.Y., says the system helps dairy producers better manage their nutritional systems.
"The program helps dairy farms maximize output at the least cost," he says. "It also helps preserve the health of animals and the environmental impact of dairy operations."
Richards has been using the AgModels system for about five years.
"I don't know that it has improved production much, but it has helped reduce waste on feed and improve accuracy," he says. "By allowing me to easily adjust dry matter percentages of ingredients and track refusals daily, I'm able to make sure the right amount of the right ingredients is getting in front of the cows at the right time.
"I know exactly what was fed to each group each day, I know what I paid for my ingredients and I know what the fair-market value of my homegrown ingredients are."
Roberts says that he can also track daily income over feed costs, enabling him to make quick ration changes and easily measure its profitability.
"We've been able to better manage feed costs by using the software," he says. "But because I had no accurate way of tracking it before AgModels, I don't know the exact cost reduction." 
Cerosaletti says Extension is also working with AgModels to convert the Cornell Precision Feed Management Benchmark Calculator into a secure web-based application. Numerous dairies visit the website daily.
"Twenty-plus farms are doing on-site visits weekly," he says. "We benchmark the data for them. We're helping develop best management practices to share with other farms."
Managing manure
Feed management software can also be used to feed more environmentally friendly rations.
This is an especially important issue in upstate New York where many streams, rivers and lakes are the main water source for the New York City metro area, and there's lots of concern over nutrient runoff from land-applied manure.
"Since manure is typically land applied as a soil amendment for crop production, and 60% to 70% of the nutrients a cow eats are excreted in the manure, this can lead to long-term buildup of phosphorus and other nutrients in cropland soil," Cerosaletti says. "Nutrient runoff can contribute to algae growth in surface waters like drinking water reservoirs for New York City. AgModels' feed and nutrient management system can help dairies feed more environmentally sustainable rations."
At the Richards farm, manure is stored in large manure pits.
"This normally allows us to avoid applying nutrients during extremely wet conditions," Richards says. "If application is unavoidable, we have designated fields as part of our CAFO plan that are on non-highly erodible soils and low slope fields.
"We soil sample all fields every three years and track actual yield production using GPS and yield monitoring technology. From this we can develop a prescription for each field for how many nutrients are needed and can be safely applied. The vast majority of our manure is directly injected into the ground, making sure it stays where we want it."
SAVING FEED AND MONEY: Marcus Richards says that using the AgModels Dairy Prophet app has allowed him to reduce waste on feed by easily adjusting dry matter percentages of ingredients and tracking refusals daily.
To manage runoff on steeper ground, Richards alternates strips of grass or alfalfa with row crops. "Also, grass filter strips are left along waterways in fields that are particularly sensitive to run off," he says. "Runoff from feed bunks is managed with high- and low-flow leachate collection systems paired with engineered filter strips to absorb nutrients. Long-term manure storage allows us to almost eliminate manure application in winter months."
Soil sampling, along with critical data from the AgModels software, helps him manage phosphorus.
"By being able to accurately feed all ingredients, we can make sure cows are efficiently using the feed given to them and not passing unused nutrients into their manure," he says.
So far, Richards likes the results he's seeing.
"Feed management software allows you to accurately track what's going to your cows, allowing you to fine-tune diets and reduce waste," he says. "This helps improve income and over feeding cost, and thus bottom-line profitability."
Fitterer says the development of the Dairy Prophet app is being supported by an investment from the Great Lakes Protection Fund, an endowment that launches innovative solutions to improve the health of the Great Lakes. 
"Our AgModels message for the fund was, 'If you want to tackle the nutrient problem in the Great Lakes, you have to optimize the diets at dairies and other livestock operations,'" Fitterer says.
Find more information on the AgModels Dairy Prophet app at agmodels.com.
Stalcup writes from central Texas.
Subscribe to receive top agriculture news
Be informed daily with these free e-newsletters
You May Also Like
---