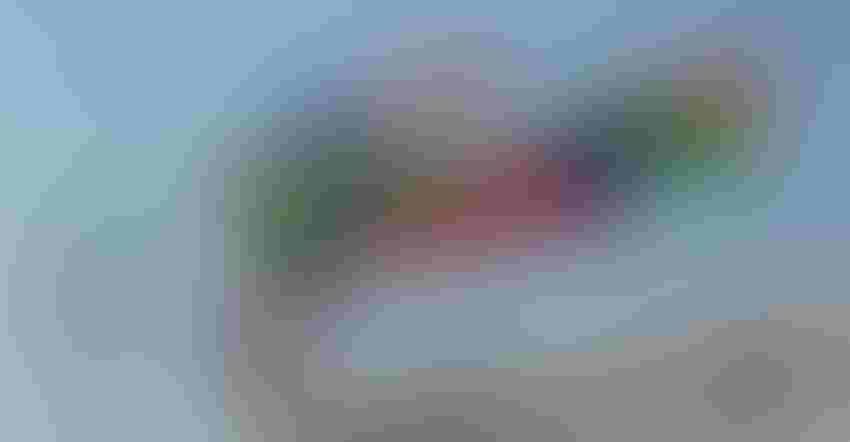 FLAGS OF MANY COLORS: The International Trade Center at the Farm Progress Show is designed to provide a place for global visitors to connect with show exhibitors.
The Farm Progress Show will be held in Boone, Iowa, on Aug. 28-30. For more information, see FarmProgressShow.com.
Agriculture is a global business, and organizers of the Farm Progress Show understand that, too. For the last few years, the show has offered a place for international visitors to connect with resources on the grounds as needed.
"We have a meeting place for international attendees," says Peggy Kerr, team leader, International Trade Office, Iowa Economic Development Authority. "They can utilize the space to network with Iowa companies that are exhibiting or simply take advantage of the business center facilities. Promoting business opportunities is one of our main objectives in hosting this center."
The IEDA works to grow global opportunities for Iowa companies. At FPS, Iowa firms are a focus, but Kerr says global visitors can reach out to any exhibitor on-site, and the International Trade Center will help make the connection. "We hire individuals that are bilingual so that international visitors attending the show can get information they need," Kerr says.
And this is a global show. Kerr points out that in 2016, the last Boone event, attendees from 45 countries were on hand. She notes that when her office makes a trade mission trip to other parts of the world, FPS is part of the conversation.
"When we were in Agritech in Israel, many people there knew about Farm Progress Show," she says. "We have three major global ag events in Iowa, Farm Progress Show, the World Pork Expo and the World Food Prize."
Connecting online
In addition to the team from IEDA in the exhibit, the Ames Convention and Visitors Bureau also has folks on hand.
Julie Weeks, president and CEO, Ames CVB, explains that international guests can do registrations online. "Any corporation or organization that is coming to the show has the opportunity to register," Weeks says. "We also offer the opportunity for interpreters, and when they register in advance they get a badge that identifies their country, and language, so we can make the right connection."
She adds that FPS is a major reason to come to Iowa, but there are other events going on as well, such as agribusiness tours, farm tours and the opportunity to check out Iowa State University research facilities.
Weeks pointed to visitcentraliowa.com, a website developed in cooperation with the Ames, Boone and Des Moines visitors' bureaus. "It's a truly central Iowa site," she says. "There's a tab on the website for international visitors that provides them with key resources ahead of the show."
Global visitors can also download an official letter of invitation for the show, often required to get a travel visa to attend. Weeks adds that to get the letter, the potential visitor must buy a ticket to the show.
Learn more at visitcentraliowa.com and iowaeconomicdevelopment.com.
Subscribe to receive top agriculture news
Be informed daily with these free e-newsletters
You May Also Like
---