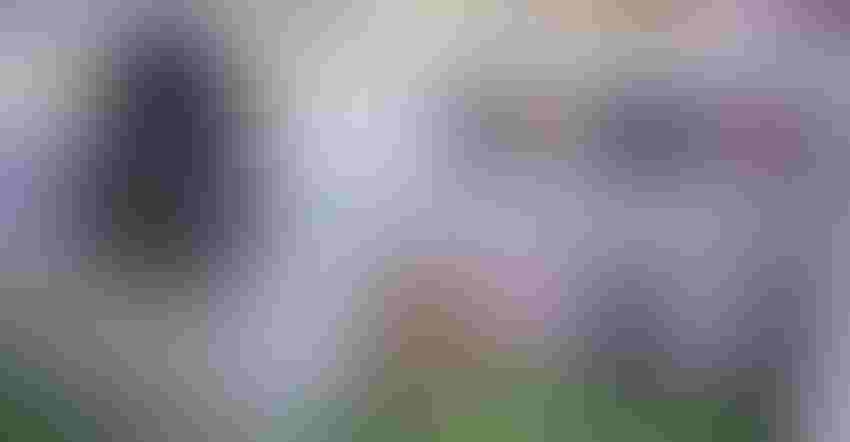 SUPER SPRAYER: This prototype nozzle — to the left — is linked to many supply tubes. Using machine learning and vision systems, it can spray the right product, or product combination, on weeds as the sprayer goes through the field. A BASF-Bosch joint venture will work to commercialize this technology and more.
Willie Vogt
The phrase "digital ag" is getting more traction these days as many farmers find they can take control of equipment, inputs and crop performance throughout the season. A new joint venture aims to bring together a range of tech tools to expand that work in the future.
BASF and Bosch announced they were forming a joint venture in November for a 50-50 business to be established in the first quarter of 2021. The two businesses bring together diverse hardware and software that can innovate agriculture in new ways.
For BASF, the joint venture will involve its Xarvio Digital Farming Solutions, which has been developing automated, real-time, field-specific agronomic decision tools for weed and disease management. For Bosch, a range of automatic and sensor-based tools have been under development for years.
"We're joining a hardware company in the joint venture. That's exactly the side of it that Bosch brings — they're already heavily involved in the equipment business," says David Gray, head of commercial operations, BASF.
Xarvio, which was at one time owned by Bayer, and became part of BASF as part of the deal when Bayer bought Monsanto, has worked with Bosch in the past. Gray says this joint venture is a formalization of the collaboration that's been going on to bring together the machine learning and technology from Xarvio with the tools Bosch has developed.
Precision spraying
A visit to the Bosch booth at Agritechnica was a trip into the future, from automated cultivators to innovative sensors applied to greenhouse use. One tool that will benefit from this joint venture is a new sprayer tool that uses the weed identification power of Xarvio and applies it to a precision spraying system.
Gray explains that the best way to implement the new sprayer tech is with an original equipment manufacturer to "change how sprayers are conceptually designed," he says. "That's where the Bosch side comes into it."
He explains that Xarvio has the ability to discern, using its artificial intelligence engine, between different weeds, and between weeds and crops. "We've gone much further with the next generation with identifying weeds and which type of weeds, culminating into the ability to do it fast enough to be operational on a real-time basis," he says.
The sprayer can apply numerous different herbicides separately or simultaneously, depending on the weeds identified as the sprayer moves through the field at speed. Rather than just identifying that a plant is a weed, this system can see the weeds and know the types and density of each, and then apply the right product through an innovative application system.
In work with Xarvio in South America, the system has cut crop protection application rates by up to 70% since you're spraying the weed, not the whole crop.
Stewardship and ag tech
That reduction in crop protection use with help from BASF might surprise some farmers. But Gray explains that the global market is changing. "In Europe, as an example, there is a much more stringent regulatory environment for growers," he says. "These are built around reducing volumes or maintaining a certain volume of crop protection inputs on a farm on a per-hectare or per-acre basis."
To meet that, raising the precision game will help.
Formalizing the relationship into a joint venture is also greater proof that both companies are nearing commercialization of this technology, Gray says.
The timeline for rollout of the work of his new joint venture starts in Brazil. Gray says that for Europe and North America, details are still to be worked out. The new business will be based in Cologne, Germany.
Subscribe to receive top agriculture news
Be informed daily with these free e-newsletters
You May Also Like
---