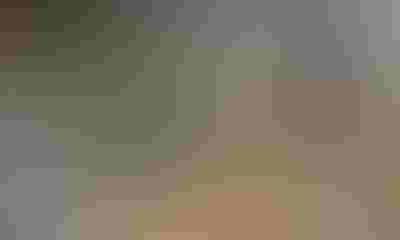 A recent study by Indiana's conservation partners, including the Natural Resources Conservation Service, determined that about a million acres of cover crops were grown in Indiana this past winter. The number was derived from transect studies of actual cover crops growing in fields. The transects were carried out by conservation partners across the state.
Related: Using cover crops to save soil +5 resources for wet fields
Barry Fisher, NRCS state agronomist and precision farming specialist, says it's good to finally know how many acres are out there. He believes it's likely Indiana hit a million acres two years ago. However, transects weren't done then so there is no way to document it.

Whether or not cover crops will remain at that level for the 2015-2016 year is another story, Fisher says. He suspects the number might drop, primarily for two reasons. For one, some cover crops did not survive the winter well. "Cereal rye performed well, but some of the other crops didn't," he notes.
The other reason is economics – farmers are looking to cut inputs.
Fisher believes that they still have benefit. "In fact this is probably when you could justify them most because you need to be more efficient with all inputs," he says. However, not everyone looks at the situation in that light.
One thing that concerns Fisher right now is that herbicide carryover may be factoring in to how well cover crops get established in the fall and how well they grow.
Related: Interseeding annual ryegrass worked in cover crop trial last year
"You need to read herbicide labels carefully on residual herbicides, especially if you are applying them on crops now this late in the season," he says. "If you're wanting to come back with cover crops, you need to know what the label says about how long of a gap there needs to be between application and planting of whatever crop you are looking at."
Brassicas tend to be more sensitive to residual herbicides, because most of them are geared to broadleaf weeds, and brassicas are broadleaves, he says.
Thinking about a cover crop? Start with developing a plan. Download the FREE Cover Crops: Best Management Practices report today, and get the information you need to tailor a cover crop program to your needs.
About the Author(s) Editor, Indiana Prairie Farm
Tom Bechman is an important cog in the Farm Progress machinery. In addition to serving as editor of Indiana Prairie Farmer, Tom is nationally known for his coverage of Midwest agronomy, conservation, no-till farming, farm management, farm safety, high-tech farming and personal property tax relief. His byline appears monthly in many of the 18 state and regional farm magazines published by Farm Progress.

"I consider it my responsibility and opportunity as a farm magazine editor to supply useful information that will help today's farm families survive and thrive," the veteran editor says.

Tom graduated from Whiteland (Ind.) High School, earned his B.S. in animal science and agricultural education from Purdue University in 1975 and an M.S. in dairy nutrition two years later. He first joined the magazine as a field editor in 1981 after four years as a vocational agriculture teacher.

Tom enjoys interacting with farm families, university specialists and industry leaders, gathering and sifting through loads of information available in agriculture today. "Whenever I find a new idea or a new thought that could either improve someone's life or their income, I consider it a personal challenge to discover how to present it in the most useful form, " he says.
Subscribe to receive top agriculture news
Be informed daily with these free e-newsletters
You May Also Like
---