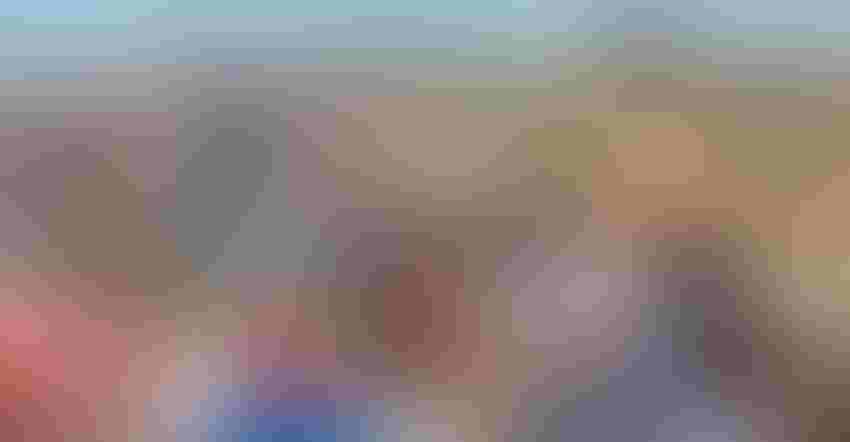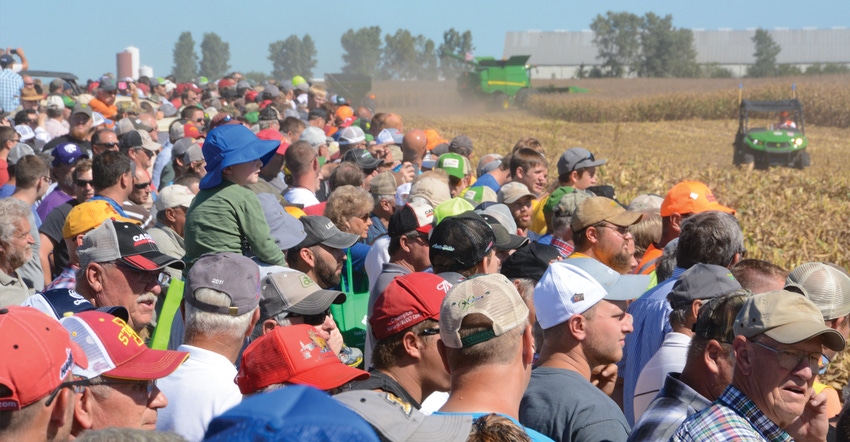 KEEP SAFE: Stay behind the flag rope when the field demonstrations are running.
Let's break it down. Many of you reading this have probably been to one of the Farm Progress Show demos in the past, but a little refresher probably wouldn't hurt. This is a high point of the show for many attending, and perhaps a little daunting for first-time visitors.
Here are five things you should know, or remember, about the field demos.
1. The tram is a great idea. It's hard for some people to remember just how far those field demos can be from the exhibit field. Add in that this is late August, and chances are it'll be a warm day (see No. 2). So consider a ride in the tram. The show team and volunteers run plenty of trams during field demonstrations, so take a load off and ride out. And if you braved a trip to the field on foot, than how about this — take the tram back. That way you can rest up to enjoy your return to the exhibit field.
2. Stay hydrated in warm weather. It sounds like common sense, until you're part of the show team and you see someone faint because of the heat. This is an outdoor show, and sometimes it gets warm. If temperatures climb into the 90s (and higher), your best choice is to keep a bottle of water handy, and with rising temperatures you'll find that plenty of exhibitors have water — often for free!
3. You're at the demo, now what? Let's remember that this demonstration has value, but safety is a first priority for the Farm Progress Show staff. If you want to be in the front row (and remember when the weather is right and the demos are running, visitors can be stacked 10-15 deep next to the demonstrations), get there early. Also note that if you get there early, you might snag a T-shirt from our handy T-shirt gun.
4. That pretty flag rope has a purpose. Farmers know you stay behind the flag rope, which is that long thing that runs between the utility vehicles, for at least 100 yards beside the field demonstrations. Stay behind that rope, and as it moves, you'll be able to check out the subsequent passes of combines, or tillage equipment. The staff works to maintain a safe distance between running machinery (and flying corn stover) and the crowd. When the rope moves, you can go check out just how well they set that combine up, or how great that corn head is.
5. Appropriate footwear is a good idea. You've heard about cornstalks puncturing tires? Well, the same doesn't happen to human feet, but the stalks can become pretty tough on the feet. So if you're heading to the field demos (and if you're a visiting student with your class and you think it's a good idea), plan on wearing sturdy, close-toed shoes. Sounds simple, but you'd be surprised at the kind of footwear the show staff sees during the big event.
There you go, a little refresher for long-time visitors (it's been at least a year), and some helpful information for new visitors. Enjoy the show.
Subscribe to receive top agriculture news
Be informed daily with these free e-newsletters
You May Also Like
---