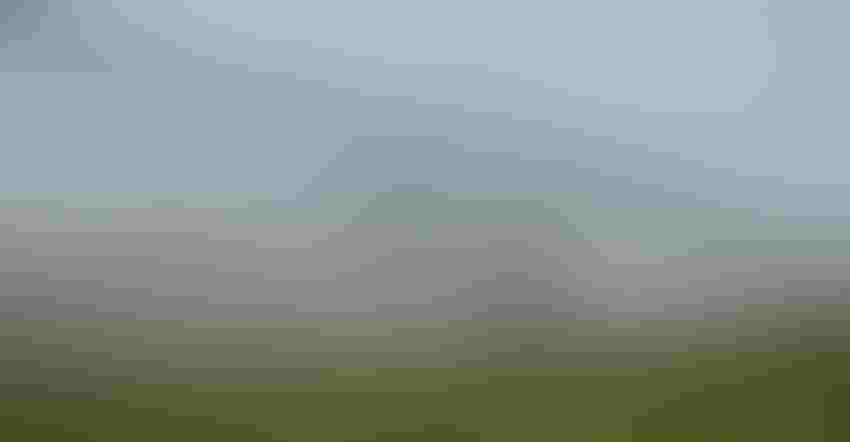 REAL-TIME UPDATES: Nick Emanuel notes the new VRI system allows users to update VRI application rates on the go, and as often as needed based on the real-time information being collected.
CropMetrics
From the beginning, when CropMetrics introduced its first variable-rate irrigation system in 2009, it was based on management zones. That original software, a desktop-based platform, was focused on management zones made from two kinds of fixed datasets — electrical conductivity (EC) measurements and topography.
CropMetrics' VRI software has evolved since, adding more layers, and more possibilities for zone management. In 2015, it evolved to a web-based platform, allowing users to import any kind of management zone from different software systems, including datasets for nutrient management, hybrid and variety, and planting population. That year also saw the integration of sensors like soil moisture probes, which CropMetrics has been developing since 2013.
"We are firmly in the belief you should have a zone for all inputs and manage it accordingly – not a different zone for each input," says Nick Lammers, agronomic services lead at CropMetrics.
This year, CropMetrics is rolling out a new VRI system that integrates multiple sensors in the field for multiple management zones, using an algorithm to automatically create VRI prescriptions.
"Up until this point, you could create VRI prescriptions, but it was a manual process. It was cumbersome," Lammers says. "The new system is not completely autonomous, but when I get ready to irrigate, the prescription is adjusted based on the water content the soil moisture probes are reading and I upload the prescription to the telemetry box."
Automated prescriptions
Nick Emanuel, founder and chief technology officer at CropMetrics, says the goal is to have three probes and three management zones per field — one each for the highest, lowest and average water needs.

MULTI-SENSOR INTEGRATION: CropMetrics' new VRI system integrates multiple sensors in the field for multiple management zones. With the new system, Nick Emanuel notes the goal is to have three probes and three management zones per field — one each for the highest, lowest and average water needs.
"Once we have three probes, we are able to model the spatial water availability across an entire field using management zones," Emanuel says. "From there, we're able to update our variable-rate irrigation application rates on the go, or as frequently as needed based on real-time information from the sensors in the field combined with real-time weather and crop modeling information."
"If one part of the field is 25% empty, the other is 50% and the other is 75% empty, the VRI prescription is automatically updated based on the percentage empty to fill that bucket back up without overfilling it. It's neat to watch," he adds. "As that pivot goes around, those percent depletions may be changing. If it takes five days to get around, where one zone started at 50% empty, and it's now 60% when the pivot gets there, you could update rates as often as you want to account for that change. It's able to enhance and improve the accuracy of both timing and our spatial application rates now, too."
Last year, this new VRI system was introduced for beta testing to growers in Nebraska, and tested by CropMetrics on vegetable fields in Arizona. This year, around 50 will be rolled out in Nebraska and Kansas. Many have been using it with a single probe in the field, although Emanuel notes with more probes comes greater accuracy and representation of the whole field.
LoRa coming soon
Initially, the system will use a cellular connection to send data from soil moisture sensors, flow meters, rain buckets, and weather stations to the cloud and then to CropMetrics' Virtual Optimizer — a web-based platform that centralizes this data along with data from crop models, irrigation models, nitrogen models or weather forecasting tools to create a prescription, which the grower can send back to the pivot remotely.
However, Emanuel plans to add LoRa connectivity as an option by the 2019 growing season. LoRa, a kind of mesh radio network, will allow users to connect multiple sensors at a lower cost, and ensuring communication in places where cellular reception is limited – like rural Nebraska.
"The two biggest advantages are cost and scalability. LoRa allows us to decrease not only the cost of the sensor, which allows us to put more sensors in the field, but also the cost of connectivity," says Emanuel. "With cellular, each sensor has its own connection and data fees. LoRa works more like an integrated mesh network, where all sensors are feeding to a centralized location, then fed all back up to the cloud."
"The Internet of Things, or IoT, is the new buzzword. We're really developing and testing this IoT network and framework to allow a grower to have an unlimited amount of sensors in the field," Emanuel adds. "With probe and VRI integration, what we're ultimately trying to do is simplify it for the grower so they can use both technologies, but it more or less creates prescriptions for them."
For more information, contact CropMetrics at [email protected].
About the Author(s)
Subscribe to receive top agriculture news
Be informed daily with these free e-newsletters
You May Also Like
---