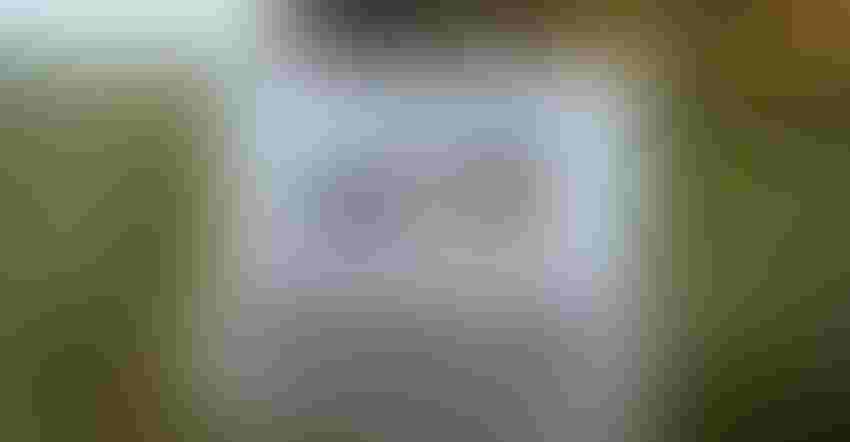 CAMERAS NAIL EAR HEIGHT: The board shows images captured by a special camera on a combine, which measures ear height stalk by stalk on the go.
Tom J. Bechman
A few companies offered short-stature corn developed through conventional breeding programs to farmers in '22. More companies will offer it for '23, and one major ag company hopes to introduce short corn developed through bioengineering in the U.S. before this decade ends. If you haven't grown it yet, you've likely seen it.
With interest in shorter-stature corn growing, ear height becomes even more critical. Plant breeders for Beck's say it's always important, even in conventional hybrids. Today, they look for hybrids with reasonable ear height that is consistent stalk to stalk throughout the field.
This requires measuring ear height stalk by stalk, and in Beck's breeding program, that meant the plant breeder or technician drug a meter pole through plots before harvest, measuring ear height manually — until now.
Today, technology does it for them. A sophisticated camera system mounted in the cab of a New Holland research combine takes 25 pictures every 20 feet, focused on determining ear height. Spokespersons explain that the technology first detects the target object — an ear of corn — and next identifies the point where the stalk connects to the ear; then it calculates ear height. The meter pole stays in the back of the tool shed. Learn more about Beck's at beckshybrids.com.
Sentera launches new crop analytics
Sentera recently launched seven new crop health and performance analytics, which operate inside its FieldInsights product. Machine learning is at the heart of Sentera's success. Once a drone captures aerial imagery, Sentera's programs go to work. Existing capabilities included male and female stand count in seed fields, stand count in corn, crop health analytics, and tassel count for corn.
The new analytics include canopy cover, crop area for digitally tracking field borders, elevation and hydrology, flowering in plants, height and lodging, residue cover, and weed detection. Visit sentera.com.
Biological delivery systems
Meristem, Columbus, Ohio, announces two new, patent-pending delivery systems for biological and biocontrol products. Its Bio-Capsule Technology Planter Box Delivery System can carry, protect and dispense a multitude of biologicals into a seed lubricant blend also carrying micronutrients. Meristem plans to launch it commercially in '23 as part of the Revline Hopper Throttle line. The new technology delivers live microbes in powder form to the seed.
The Microbilize patent covers a liquid formulation that enhances microbe health and vigor, and speeds reproduction at the target organism. It uses a surfactant system to increase shelf life and performance of microbes. Microbilize technology improves Excavator, Meristem's residue management and nutrient release product. Visit meristemag.com.
Nitrogen fertilizer industry on its head?
Nitricity, a California-based ag startup you've likely never heard of, says it will revolutionize the nitrogen fertilizer industry, with product on the market in as soon as two years. Spokespersons say the company's technology can produce nitrogen locally for agriculture using only air, water and renewable energy, primarily wind and solar.
Sound too good to be true? People with money beg to differ. Nitricity just raised another $20 million in investment, meaning it has raised $27 million so far. The electrified nitrogen production concept worked successfully in commercial-scale testing in California. Visit nitricity.co.
Subscribe to receive top agriculture news
Be informed daily with these free e-newsletters
You May Also Like
---