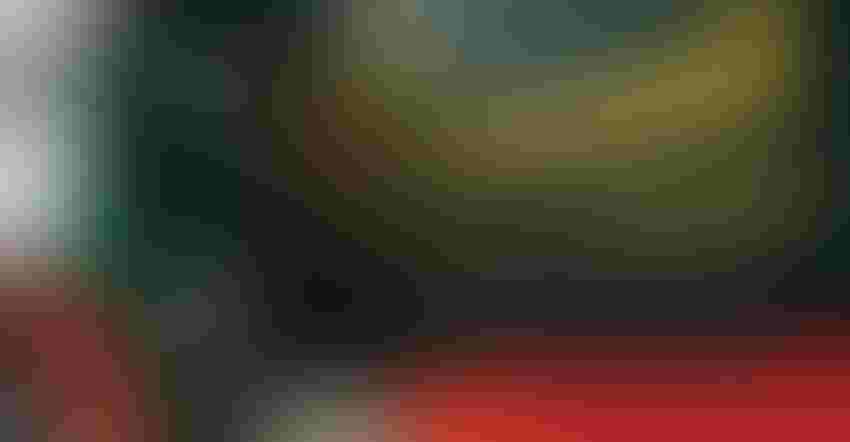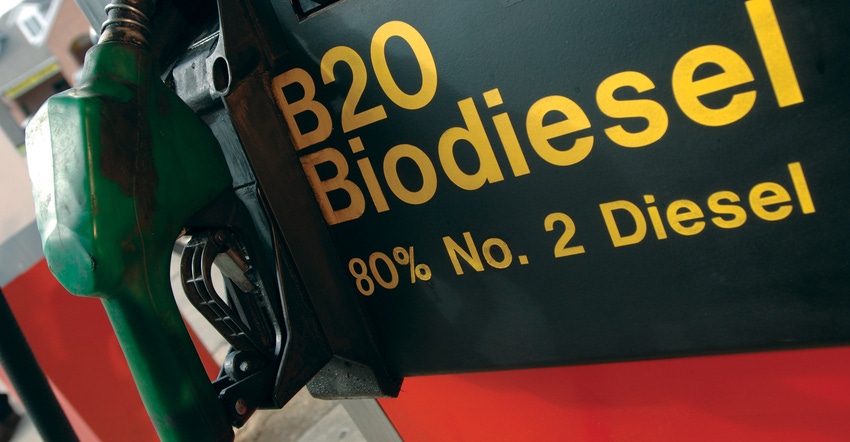 BOOSTING BIODIESEL: "Try it; you'll like it." That's what United Farmers Cooperative is telling farmers who are reluctant to burn biodiesel in their tractors and trucks. In a four-month trial using B20 vs. B5 in identical trucks last year, the B20 truck had better fuel economy and saved the co-op money.
A demonstration by an Iowa farm cooperative aims to persuade more farmers in the state to use biodiesel. United Farmers Cooperative, based at Afton in southern Iowa, put two trucks head-to-head to compare how blends of 5% and 20% biodiesel (B5 and B20) performed. The B20 truck won.
The four-month trial in 2016 had identical company automatic 18-wheelers with Volvo engines fill up with biodiesel from United Farmers Cooperative blender pumps. Darin Schlapia, the co-op's energy operations manager, kept records on differences in miles per gallon between the trucks. At the end of the trial, the B5 truck averaged 5.19 mpg. The B20 truck averaged 5.84 mpg.
"By using B20, our truck averaged 0.65 mpg better fuel economy, saved 10 cents per gallon on fuel costs, benefited our ag economy, and reduced dependence on foreign oil," Schlapia says.
Getting the word out about biodiesel
Total fuel cost savings for the B20 truck amounted to $1,960 during the trial period. This included cost savings from B20, which last year sold for a lower price than diesel or B5, thanks to strong federal and state incentives.
"We want to get the good word of biodiesel out there and encourage more farmers to use it," Schlapia says. "Although we've seen biodiesel sales increase fairly dramatically in the last year, it's surprising how many farmers say they don't want to try it because of what they heard about it 10 years ago. We're no longer seeing problems … only success."
More than 95% of biodiesel production in Iowa today is from BQ-9000-accredited producers, the biodiesel industry's quality assurance program.
"While not everyone sees the mileage improvement we saw in our demonstration, the enhanced lubricity, high cetane and cleaner-burning nature of biodiesel are all factors that can lead to longer engine life and better overall performance," says Steve Howell, senior technical adviser for the National Biodiesel Board. "Improvements in the specifications and attention to fuel quality over the last 10 years have virtually eliminated the issues some users may have seen in the past with B20, even in winter."
Iowa infrastructure program
United Farmers Co-op's Mount Ayr location in southern Iowa includes a retail farm store and public fueling pumps offering on-road B5, B11, B20, B30 and B99. The cooperative received a federal grant as well as a $50,000 infrastructure grant through the Iowa Renewable Fuels Infrastructure Program to help make biodiesel a permanent part of its business model. The RFIP is up for renewal in the 2017 Iowa Legislature.
"There's no question Iowa's pro-biodiesel programs, like the infrastructure grants, have been a valuable part of our decision to offer biodiesel to our customers," says Schlapia. "But we are also owned and run by our members, so we're here to support what they grow. And in turn, we need more farmers to support biodiesel. There's no reason they shouldn't all plant with B20 this spring."
Iowa is the leading producer of biodiesel. The fuel is made from a variety of resources, including soybean oil, recycled cooking oil and animal fats, and was the first EPA-designated advanced biofuel to reach commercial-scale production nationwide.
The Iowa Biodiesel Board is a state trade association representing the biodiesel supply chain in Iowa.
Source: Iowa Biodiesel Board
Subscribe to receive top agriculture news
Be informed daily with these free e-newsletters
You May Also Like
---