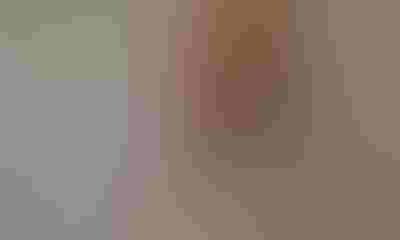 A massive archival system, BeefSys, is still hard at work containing the large amounts of research on beef cattle, forages and pastures at the Texas A&M Overton research center for use in future generations.
The researcher behind it, Dr. Monte Rouquette, fished through reel-to-reel tape, 5 1/4 inch floppy disks, computer punch cards and even handwritten journals to collect it all.
"This is not one experiment. This is many, many, many experiments," Rouquette said. "There's a lot of forage and animal performance data — a gold mine of data."

Dr. Monte Rouquette explains the BeefSys program. (screengrab)
Collaborators on the project include Dr. Charles Long, resident director of research at the Texas A&M AgriLife Research and Extension Center at Overton, and Dr. Greg Clary, Texas A&M AgriLife Extension Service economist, Overton, now retired.
Popular on Beef Producer: What is 'low-stress' cattle handling?
For scientists who have been working in their disciplines before the advent of the personal computer, this is not an uncommon situation, Roquette said. But he finds the fate of some research particularly worrisome today because there are fewer people doing the kind of multi-disciplinary work he and his colleagues have done for years.
Why beef research archiving is needed
"We're going to do fewer grazing studies in the future than we have in the past," he said. "Why is that? Because we have less funding and fewer scientists in forage research across the South. Why is that? Because forages and beef are not as commodity-identifiable as other commodities that may have a more basic or laboratory emphasis."
That's not to say that the work isn't needed, Rouquette said. Environmental changes, such as drought patterns, new plant diseases and an increasingly competitive market situation for beef and forage producers mean the research needs to go on.
"There is almost an urgent need for data archival systems for various crops, fertilizer and animal research," he said. "Funding of all research is an issue, and scientists need access to previously conducted experiments to avoid having to reinvent the wheel.
"The stakeholder doesn't recognize this redirection in forage-based and animal-production systems across the nation. He or she will still want information that can be applied to problems."
Continue reading on page 2 >>
~~~PAGE_BREAK_HERE~~~
Kelli Norman, AgriLife Research programmer analyst, Overton, explained that a relational database stores data together in tables, which have rows and columns much like a spreadsheet.
"But a database can have many different tables, depending on the scope of the data – the broader the scope, the more tables needed," Norman said. "While all databases and spreadsheets allow the user to access records in a specific table, the strength of a relational database is the ability to access 'related' records across all tables, by use of a common field, referred to as a key."
The key in BeefSys is assigning each animal a unique ID number, which allows researchers to access related data that may be spread across many tables: medical, calving, grazing, carcass traits, breeding and more, she said.
Norman has been managing the database since its inception in 2002, she said.
Recent additions include Brahman data and entries from the TAM AgriLife McGregor station.
Related: 6 steps to determining a 2015 pasture rental rate
Norman said the bull breeds with recorded research include Angus, Brahman, Tuli, Simmental, Bonsmara, Limousine, Santa Gertrudis, Brown Swiss, Beefmaster, Senepol, Brangus, Hereford, Braunvieh, Charolais, Chianina, Holstein, Nelore and Romo.
The modern relational database format will allow researchers to compare performance of F-1 cows and their offspring on different pasture systems over an array of widely varying climatic conditions.
Rouquette foresees scientists using it for statistical analysis, creating decision-making tools for stakeholders in such areas as sustainable pasture management strategies, economic assessments and risk studies –both biological and financial – associated with pasture livestock operations.
Source: Texas A&M AgriLife
Subscribe to receive top agriculture news
Be informed daily with these free e-newsletters
You May Also Like
---