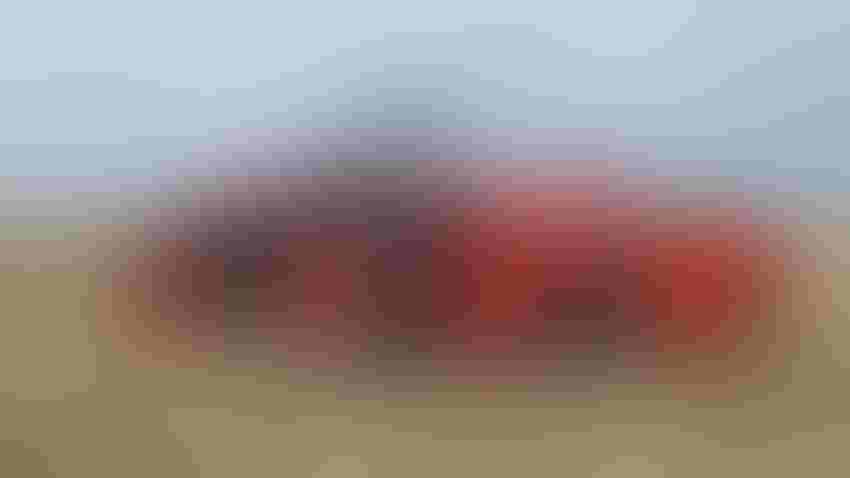 NO DRIVER: Sabanto is rolling out tractor autonomy system retrofits across North America through a dealer-partner network.
Sabanto Inc.
An accomplished young farmer was recently asked when he thought autonomous tractors would be commonplace: 2035? 2050? He said more like 10 years, and perhaps in five.
If companies like Sabanto Inc., Itasca, Ill., stay aggressive, he could be right. Sabanto developed tractor autonomy system retrofits for almost any make and model. Recently, the company focused its efforts on establishing a network of dealer-partners to span North America, supporting autonomous equipment.
To date, Sabanto's network includes nine companies: Ag Info Tech, serving Indiana, Ohio, Pennsylvania and western New York; Linco-Precision for Illinois and parts of Indiana and Wisconsin; Vanderloop Equipment in eastern Wisconsin; Ag Technologies in the Southeast; GPS Ontario for parts of Canada; ModernAg for near-Western states; South Plains Precision Ag for Texas and eastern New Mexico; Vantage Sierra Cascade for the far West; and Vantage South for parts of the South.
Sabanto emphasizes these independent businesses have provided precision technology for 15 to 20 years. See sabantoag.com.
Prepping for autonomy
CNH Industrial will purchase Hemisphere GNSS, a global leader in satellite-positioning technology, from UniStrong, a Chinese company. Marc Kermisch of CNH Industrial sees it as a critical step to advancing automated and autonomous solutions for ag and construction. Coupled with Raven-branded tech, this acquisition gives Case IH full control of precision and navigation technologies.
One smart spray
Get used to the new name for Bosch BASF Smart Farming, the joint venture that will sell technology allowing farmers to use a camera-based system to detect weeds in milliseconds and precisely spray only when necessary. Officials say the tagline for the new product will be "Precision Made Smart." See onesmartspray.com.
Future of safety
There is a lot of "future" on the doorstep. Researchers at the University of Illinois appreciate the excitement surrounding so much new technology, but also wrestle with the need for new safety measures and regulations. Through a recent study on safety issues related to autonomous machines, researchers concluded that developers are using a variety of multifaceted sensors to control these machines safely.
Sensor types include 3D laser scanners, ultrasonic sensors, remote sensing, stereo vision, thermal sensors and high-resolution cameras. Team member Salah Issa notes that sensors must be sensitive enough to stop the tractor if a person or animal darts in front of it. That's doable — even your garage door can do that. But will the human be smart enough to reset it? Can the machine learn to reset itself?
New plant products
Here are recent market introductions from the following companies:
Innvictis Bioscience. Revv-Up is a new-generation microbial that enhances phosphorus availability. It can be blended with liquid fertilizer or tank-mixed, and purports to produce stronger root mass, improved plant vigor and more yield.
Sipcam Agro. Mevalone is a naturally derived biofungicide with Sustaine technology. Right now, it is not approved in every state. Primary use today is controlling bunch rot in grapes.
Helm Agro. Scyon is a nutrient-based, metabolite product used in wheat and other crops. It bolsters plant resiliency in adverse conditions. Meanwhile, aCalsa SC is a biostimulant that provides good results when combined with calcium.
Biowish Technologies. A Biowish fertilizer enhancement is now available at seven ADM fertilizer terminals. It's an option to use instead of urea, MAP, DAP and NPK blends. Biowish bills it as an enhanced efficiency fertilizer.
Certis Biologicals. Kocide 50DF is a new, more powerful copper biofungicide, used primarily by citrus and specialty crop growers.
Subscribe to receive top agriculture news
Be informed daily with these free e-newsletters
You May Also Like
---