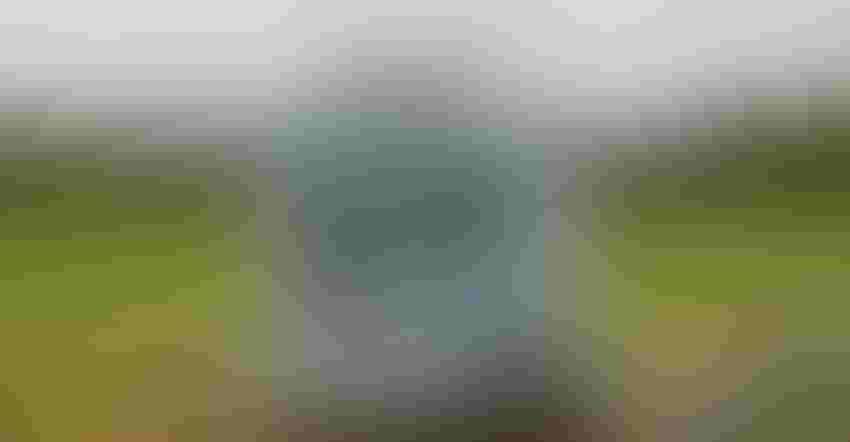 READY TO LAUNCH: The American Robotics autonomous drone "Scout" sits atop his takeoff and landing spot, ready to take off to collect images from a Winfield AnswerPlot tour near Hesston on Aug. 8.
When precision ag enthusiasts first met drones, a match made in science began to flourish and it's been growing ever since. It shows no sign of slowing down as a recent demonstration in a remote cross-section of farm fields in central Kansas demonstrates.
The latest in drone technology was tested for three weeks in late July and early August at three locations in Kansas. At the end of the Kansas test on Aug. 10, it was scheduled to move on to three weeks of testing in Illinois.
The platform is American Robotics, which developed a stationary, autonomous drone named "Scout." Scout "lives" in a box at a fixed location and takes off several times a day to collect images of selected nearby farm fields. The drone then returns to recharge batteries, download images and convert them to easy manipulated files, stitch together maps, and transmit the processed data to a "home" computer, which can be nearby, dozens or hundreds of miles away.
The drone is designed to be permanently located in one spot, flying missions for a lifetime from that location.
It differs from other drones offered for the ag market in that it does not require an operator or pilot on the scene. It is an autonomous device, capable of being programmed to perform its tasks from a remote location for up to a year at a time. It wakes up, launches, flies a mission, returns, lands on a precision spot, goes into its "house," downloads and processes images, and recharges its batteries, all on its own with no human present and no pilot control.
AWAY HE GOES: The autonomous drone climbs to 200 feet, then flies a predetermined pattern across a field. At the end of the flight it comes back to the box, downloads and processes data, sends the processed data to a pre-determined computer, recharges its battery, then takes off for its next mission — all without a pilot or operator on site.
It can do this up to four or five times a day or more, depending on field size and distance from the base site.
On Aug. 8, one of those drones was being demonstrated near Hesston in Harvey County, Kan. The day before, another drone flew over fields in the Wamego area. A third has spent the last three weeks surveilling fields near Clay Center. All three have been working with partner, WinField United, along with interested local potential partners, such as cooperative and research groups.
"We had heard about this developing technology during the winter and learned that American Robotics wanted to do some testing, and we wanted to be involved," says Troy Walker with Mid-Kansas Cooperative, which is headquartered in Moundridge. "It's a chance to be in on the ground floor of testing, tweaking mechanics, hardware and technology. It's exciting."
MKC was already working with WinField United and the Answer Plot program in Wamego and Hesston and saw an opportunity to partner with them in evaluating the American Robotics drone.
"The idea is that this drone in a box, Scout, will live in a field for a year or two with little or no intervention by people," Walker says. "In order for drones to really find their place in ag, this is the step that has to happen. They need to be autonomous. It takes way too much time and work for most farmers to be able to get the full value of the data that drones can collect, especially if you have a fairly large operation."
Walker says the autonomous drone offers an answer to one of the most time-consuming aspects of traditional drone data collection – analysis and conversion to a format that can easily be utilized by other machinery.
"When you fly 1,000 acres, you have about 30 gigabytes of data or more," he says. "The time to process that data is a real issue for most producers. With this system, the drone processes the data, stitches it into maps and condenses it into a few megabytes that can be sent over a cellular network, a front-end program or cloud-based software that you can see on your computer or tablet."
Walker says the high-resolution photos from the drone's low-altitude flight offers the ability to see really high details in the fields it photographs. While it is now targeted toward getting the autonomous data collection and transmission down, the future potential to connect to other data-gathering sensors such as soil moisture probes or crop health programs is exciting, he says.
Walker says MKC is looking into the potential for the cooperative to purchase and locate autonomous drones that could fly fields for a number of customers and return data to them. These customers could then share that data with the co-op or other service providers.
TESTING UNDERWAY: Vijay Somandepalli, founder of American Robotics, the creator of an autonomous drone system, says that the company conducted tests in Kansas for three weeks in July and August and in Illinois in August. He said they have partnered with Winfield AnswerPlot and Mid-Kansas Cooperative to secure test sites near Wamego, near Hesston and near Clay Center in Kansas. MKC is interested in purchasing the system.
American Robotics founder Vijay Somandepalli is personally supervising the test sites in the Midwest. While the company is based in Massachusetts, he says he knows the customers are in the Midwest and he wants to make sure that the final version of the Scout meets their needs.
An important goal, he says, is to get a waiver from Federal Aviation Administration guidelines that allow the American Robotics drone to fly beyond the line of sight, something that will enable it to cover thousands of acres for multiple clients from a single drone "home base."
The Scout can currently fly for about 30 minutes in average winds.
Vijay says Scout is also able to monitor local weather conditions such as wind, rain and lightning, and make its own decision to safely initiate a mission.
He says one of the many future steps for the autonomous drone program is for it to be able to relate to other remote information gathering devices such as soil moisture probes.
"I'm excited about all the other monitoring technology that we might be able to integrate with," he says. "I think we are on the very outer edge of an exciting new era of technology."
Subscribe to receive top agriculture news
Be informed daily with these free e-newsletters
You May Also Like
---