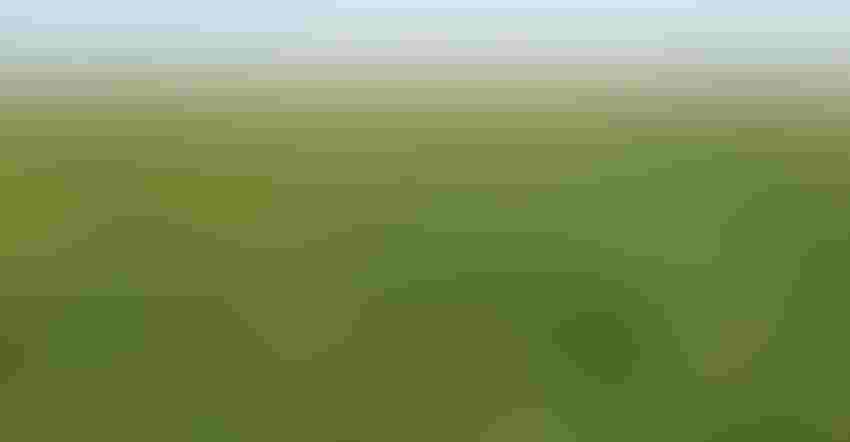 BETTER THAN EXPECTED: For many farmers in Iowa, bean yields in 2017 generally came in below last year's record highs. But they surpassed expectations after dry summer weather struck most of the state.
With the 2017 crop season wrapped up, taking a little time to look back at the type of year we had was enlightening (and humbling).
Part of an agronomist's role is to watch regional trends in weather, field and crop conditions, weeds, insects, diseases or anything else that might impact our crops. As we share the information we gather with other agronomists and farmers, we can take a proactive approach to these challenges.
Sometimes this works out well; other times I'd just as soon everyone forgot about some of my predictions. As we start planning for the 2018 crop year, here are a few hits and misses from 2017 that will help with preparing for 2018.
Watch out for imbibitional chilling. As Mark Licht and I put that article out on April 24 warning about cold soils and chilling, planters were rolling and field conditions were pretty good across the state. We didn't want to put a complete stop to planting, but with cold temperatures and rain in the forecast, there were some decisions that could be made.
Some farmers took the opportunity to prioritize planting hybrids with strong seedling disease scores and good emergence and early growth ratings. Others took a break from planting and waited for the cold rain to pass.
Whatever decisions Iowa farmers made at the time, they turned out to be pretty good ones. While much of the Corn Belt saw record acres of corn replanted, we fared pretty well across Iowa.
Looking toward 2018, the 2017 experience can help build on how we approach current planting date recommendations across Iowa that start as early as April 11.
As we enter the early end of the planting date range for your part of the state, if soil temperatures are in the high 40s and climbing, and the five- to seven-day forecast looks good, the odds are with us for successful stand establishment.
Remember the cool, wet spring. But if it calls for cool wet weather, your 2017 experiences may be able to help fine-tune your next steps. I'm guilty of saying I'd rather gamble and plant in "decent" conditions in the early end of the window than wait for "perfect" conditions toward the end of the recommended planting window.
In support of my case is Exhibit A — spring weather in Iowa — which can slam the planting window closed for extended periods of time. Exhibit B is often when I talk about how durable today's genetics are; the term "nearly bulletproof" comes to mind.
But just to balance things out, it is good to remember the 2017 experience in other states. While nearly bulletproof, when pushed too far, even today's genetics can run into trouble in a cold, wet spring. So while the apocalyptic stand loss issues that Mark and I wrote about didn't materialize in Iowa this spring (swing and a miss), it's good info to keep in mind for spring 2018.
Cool temps and burndowns. When we published that article in late April, it occurred to me that almost every spring brings a lot of questions on the topic. As we push planting and spraying dates earlier over time, it puts more pressure on our herbicides to perform in cold weather.
Looking ahead to 2018, the extended 2017 harvest season meant less fall spraying got done. The same weather that slowed down fieldwork was apparently great for weeds; they are off to a strong start this fall so plan accordingly for next spring.
Soybean pests: What if we stay dry? We stayed dry in a lot of the state, and wow, do you remember all those spider mites, soybean aphids, grasshoppers and the charcoal rot that I warned you about? Yeah, neither do I, since they never really materialized (which is OK with all of us). Swing and a miss.
Fire prevention and management tips for harvest. Another swing and a miss. After a lot of us suffered through a hot, dry summer, field fires were a concern. That changed in a hurry. On the bright side, we did get some of our subsoil moisture replenished, and weather finally got better in late October.
What to watch out for — midsummer scouting. In mid-June as I wrote about the virtues of scouting for common midseason foliar diseases and insects like Japanese beetles and soybean aphids, it seemed like a really good idea. So did asking for everyone to be watching for and taking steps to limit the potential movement of Palmer amaranth into more Iowa fields.
Whoever came up with the ideas for "New" Coke or the Paperwork Reduction Act probably thought those were good ideas at the time, too, so at least I'm not alone on the island of "good ideas gone wrong."
It doesn't make me feel better sharing this, but in hindsight, Japanese beetles did pop up in surprising numbers in areas where they hadn't been an issue before.
And while Palmer amaranth didn't take over the state this summer, it did spread further. So this year's swing and a miss are still issues we will want to keep an eye on in 2018, since both of these pests expanded their range and can create big problems in a short time.
Dicamba dilemma, the saga continues. There were a lot of meetings, interviews and articles I got to be a part of on the dicamba soybean topic over the last several years as we headed into the 2017 launch year, so many that I lost count.
We covered a lot of ground in those, but one thing I was adamant about all along is this statement: "As both an applicator and a trainer working with Iowa's private and commercial applicators, I know we can handle the responsibilities that come with the use of dicamba on DT soybeans."
It's "on the record" all over the place, I own it, and I won't call that a swing and a miss. I'm not dismissing the 107 formal complaints registered with the state, nor the estimated 150,000 acres of Iowa soybeans damaged by off-target dicamba drift.
Some of the investigations are still in progress, so we aren't sure what happened, and of course I didn't get all the information or have the opportunity to look at every case of off-target dicamba.
In the majority of incidents I worked on, our private and commercial applicators followed the label. University and industry scientists are working toward discovering what happened so we can reduce the risk of off-target movement in 2018.
Here's a prediction that should be better than most of the ones above: I'll go more in-depth on the dicamba issues in an upcoming article. Happy Holidays!
McGrath is the On-Farm Research and Extension coordinator for the Iowa Soybean Research Center at ISU. Contact him at [email protected].
Subscribe to receive top agriculture news
Be informed daily with these free e-newsletters
You May Also Like
---