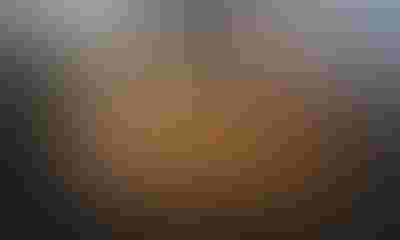 Farmers pulled the trigger on grain sales this past week to make cash rent payments or have money to tax bills.
The selling occurred even though they didn't like the prices. Corn prices in the Chicago futures were down 5% in February and soybeans were down 3.2%. The monthly drop in corn was the largest since July and the soybean drop was the largest since August.
"I think guys just started giving up last week. Cash rent payments are due," said a central Illinois dealer.
Similar reports were heard across Iowa, with some farmers also raising cash for pending tax bills.

Grain is moving even though farmers don't like the prices. (Photo: RGtimeline/Thinkstock)
In central Illinois, soft road beds caused by wet conditions prompted counties to temporarily ban truck traffic on them. However, grain dealers said farmers largely anticipated the move and hauled in grain prior to the posting.
Rain or snow is forecast this week for much of the Midwest with five to seven inches forecast for parts of north-central Iowa on Wednesday. Up to 1 inch was forecast in central Illinois then.
An Iowa grain dealer on the Mississippi River said it may be able to load and ship grain barges next week once work is completed late this week on a lock downstream.  However, demand for grain at the Gulf has been light and cash bids on the river have come down, the dealer said.
CIF soybeans for March at the Gulf are bid about 45 over the March versus 54 about a week ago. Corn for March is bid about 42 over versus 46 a week earlier.
USDA's weekly export inspections on Monday had corn shipments at 29 million bushels, down about 19% from a week ago and well shy of the pace needed to meet USDA's annual forecast. South Korea, Mexico and Japan were the leading destinations. Year-to-date shipments are down about 20% from a year earlier.
Soybean shipments of 38.5 million bushels also were down from a week ago but still easily topped the pace needed to meet USDA's annual forecast. China was the leading destination, with Indonesia and Taiwan taking large amounts. Year-to-date shipments for the crop year are down about 8% from a year ago.
Weekly wheat shipments of 13.7 million bushels were up from the previous week but short of what was needed to meet USDA's annual forecast.  South Korea and Mexico were the leading destinations. Year-to-date shipments are down about 13% from a year ago. 
USDA's grain transportation report released late last week said grain rail car loadings for the week ended Feb. 13 were up 1% from a year ago.
In the report's fuel segment, USDA said the average retail U.S. diesel fuel price on highways for the previous week ended Feb. 22 was unchanged from the previous week at $1.98 per gallon. A week ago, USDA said the $1.98 was the lowest average price since February 2005.
Weekly Grain Movement - Feb. 23, 2016 - Higher prices and warm weather prompt sales.
Weekly Grain Movement - Feb. 16, 2016 - Higher market prompts soybean sales
Subscribe to receive top agriculture news
Be informed daily with these free e-newsletters
You May Also Like
---