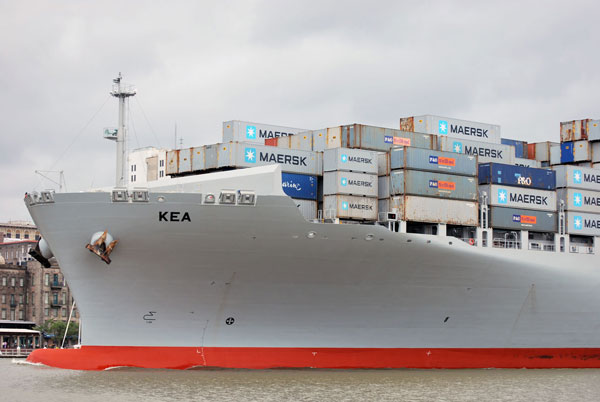 CARGO SHIP eases down the Savannah Canal on its way to the world.
Tough tariff and trade talk between China and the U.S. reached intense levels and sent a shockwave through U.S. ag country earlier this month. If the talk of a trade war was a bit overstated at the time, the battle lines were certainly being drawn, and U.S. farmers were unwittingly caught in the crosshairs.
On April 4, China said it intended to impose a 25 percent tariff on imports of U.S. soybeans and other U.S. agricultural commodities like wheat, corn, cotton, sorghum, tobacco and beef. It was China's latest, up until then, tit-for-tat retaliation against President Trump's tariffs on a slew of Chinese goods such as steel, aluminum and high-tech products.
Do any research or reading into the history of U.S. or global tariff policy, and you'll quickly find the U.S. Tariff Act of 1930, which is more infamously known as the Smoot-Hawley Act, named after Senator Reed Smoot and Representative Willis Hawley, both of whom spearheaded the bill, which was signed into law June 17, 1930, by President Herbert Hoover.
The spirit of Smoot-Hawley initially wanted only to raise tariffs on some agricultural products entering the U.S., but the act blossomed by the efforts of special interest groups into one of the most widespread tariff increases in U.S. history and included some 20,000 goods. The act is widely blamed for fanning the flames of a global trade war following World War I. The act's aggressive protectionism became the poster-boy for bad trade and tariff ideas soon after it was passed. By 1932, both Smoot and Hawley were voted out of office.
Related:US soybean farmers say China's tariff potentially 'devastating'
Most economists don't blame the act for the Great Depression, but they do agree the act likely worsened its affect.
U.S. tariff actions before the Smoot-Hawley Act were largely a power levied in our legislative branch of government, or initiated and carried out solely by Congress. But due to the failures of the Smoot-Hawley Act and some other tariff missteps in the1800s, Congress, in a very rare public Our Bad!, pretty much relinquished the tariff power to the executive branch.
And President Franklin Roosevelt was glad to take the power out of Congressional hands. Roosevelt signed the Reciprocal Trade Agreements Act into law in 1934, and it gave the president power to negotiate bilateral "reciprocal trade agreements" with other countries, ushering in freer, more liberal trade policies well into the 1990s and eventually leading to the 1994 creation of the World Trade Organization.
Good luck. Take care, and thanks for reading.
About the Author(s)
Subscribe to receive top agriculture news
Be informed daily with these free e-newsletters
You May Also Like
---