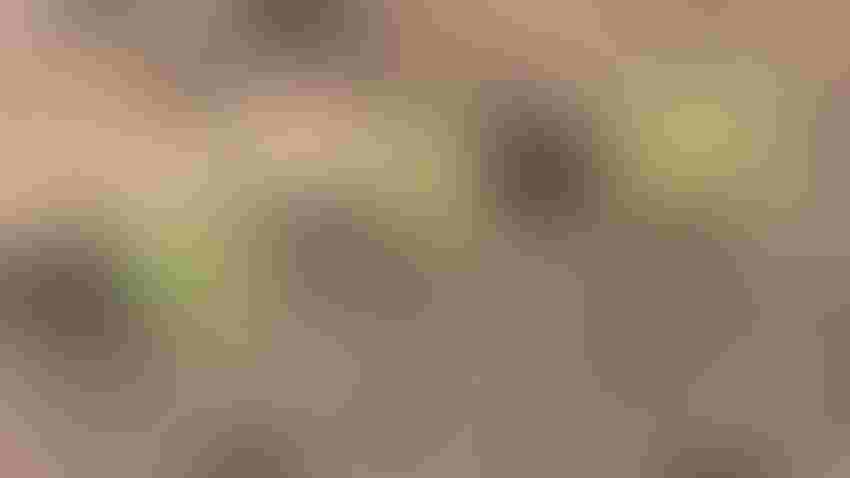 SOYBEANS: "The goal is to get high-yield soybeans, and to do this, we need to kill any unwanted plant that could rob that potential yield and start out with a clean field," says Stephanie Porter, agronomist with the Illinois Soybean Association.
Holly Spangler
As planting kicks off across much of the Midwest, it's prime time to practice preventative pest measures before damage impacts soybean stand and yield.
Stephanie Porter, an agronomist with the Illinois Soybean Association, says a combination of factors could contribute to increased pest pressure this spring, especially in fields with cover crops or reduced tillage.
"More people want to plant early, and we can assume that spring conditions will be cooler and wetter," Porter says. "We have to be realistic about these factors bringing on some pests."
Porter says it's important to plant soybeans between 1.75 and 2 inches deep, and to ensure that seed slots close during planting so pests don't have an easy meal.
In addition, this year's mild winter could mean a greater prevalence of several spring pests.
Her top five pests to keep an eye out for this spring are weeds, voles, slugs, bean leaf beetles and grubs.
1.Weeds. Porter says the No. 1 nemesis for soybeans are weeds.
"You can lose a ton of yield from weeds in soybeans," she says. "One of the main things is to keep fields clean by starting clean. A lot of times we're putting down a pre-applied residual herbicide at the beginning of the season that stays in the soil to eliminate weeds before they germinate."
Planting in cool, wet conditions can result in chemical injury to young soybean plants from residual PPO or Group 14 herbicides.
"People often panic because it looks worse than it is," Porter says. "But normally the stand is still there."
Still, waiting for the right growing conditions is key.
"When we plant earlier, we get an earlier canopy for that late-season weed control," Porter says. "But it's a balance; we have to start clean to keep those weeds from causing yield injuries the rest of the season."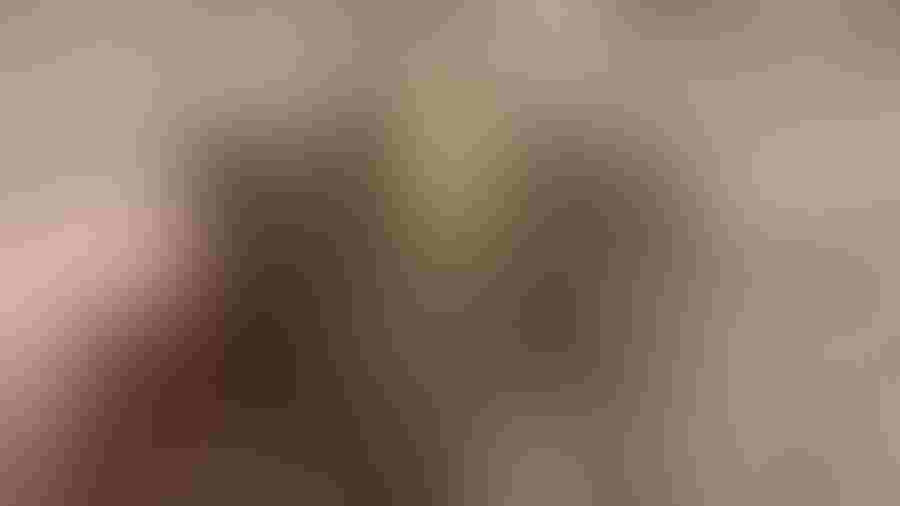 DAMAGE: This soybean plant has damage from residual PPO or Group 14 herbicides. "People often panic because it looks worse than it is," says Stephanie Porter, agronomist with the Illinois Soybean Association. (Courtesy of Stephanie Porter)
2. Voles. Scouting for voles is a must before planting, as these small mammals can have potentially big impacts on yield.
Vole populations can fluctuate and are especially prevalent following a mild winter. They tend to be heavier in fields with cover crops.
"You could have anywhere from 15 to 45 voles per acre up to 600 voles per acre, and that becomes the problem," Porter says. "They have little colonies and attack in circles, resulting in areas for weeds to grow."
To manage pressure, it's pertinent that the seed slot is closed, and seeds are planted 1.75 to 2 inches deep. The most critical time for vole control is the first 21 to 28 days after planting, before soybean plants are 6 to 10 inches tall.
To terminate vole colonies, Porter says to eliminate their food and shelter by killing the cover crop three to four weeks prior to planting. If you really want to plant into the cover crop, then natural predators like owls, hawks and kestrels will feed on the vole population. Rodenticide is also an option, although, she adds, that effectiveness may vary.
3. Slugs. Spotting slugs can be tricky, because they feed at night in cool and wet conditions.
In addition, Porter says, slugs are more prevalent in no-till or cover crop situations in fields with a high amount of crop residue.
Soybeans are at a greater risk than corn because their growing point is above ground for slugs to feast on.
Slugs are mollusks instead of insects, so insecticides will not control them. Fortunately, slugs begin disappearing in temperatures greater than 80 degrees F.
Porter's advice for combating slug damage is to encourage a fast-growing, vigorous soybean plant.
"Anything we can do to help make that plant get up and go," she says. "That might be your planting date, that could be your seed genetics, or maybe the use of pop-up fertilizer."
4. Bean leaf beetles. Conditions this year could be conducive for bean leaf beetle pressure.
Bean leaf beetles are the first insect to come out of the ground each spring, and their pressure increases after a mild winter. Porter says they will produce several generations, so if a field had bean leaf beetles in prior years, this year they may be problem.
"They're going to go to the first field they find and devour those poor little early-planted seedlings," she says.
Fortunately, soybeans can tolerate a feeding of 30% defoliation before bloom, or two to four beetles per plant at the VC or V1 growth stage, before yield is impacted.
Bean leaf beetles pose an additional threat as a vector for bean pod mottle virus, resulting in delayed maturity and yield loss.
"Many farmers in Illinois use seed treatments with an insecticide, which is like an insurance policy against bean leaf beetles," says Porter, explaining that a rescue insecticide treatment post-applied is also an option anytime later in the season.
5. Grubs. The juvenile form of May and June beetles, Japanese beetles, and masked chafer beetles are a challenge to control.
In a no-till or cover crop situation, grass provides an environment for the beetles to lay their eggs.
Check for grub pressure prior to planting by digging in the soil. Porter says two or more grubs per cubic foot could signal an issue.
"As the planter is rolling through, you might notice birds swooping down, eating the grubs," Porter explains. "They're a great natural predator, but also a huge red flag that you have grubs out there."
Unfortunately, insecticides are not labeled for below-ground grub control. And in fields where the stand has been impacted by grub pressure, you may have to replant.
To successfully manage all pests, awareness and prevention are key.
"When dealing with pests, it's best to practice an integrated approach, because just one thing isn't going to help cure these problems," Porter says. "Most farmers want to press the easy button, but these are complicated critters that are hard to control."
Subscribe to receive top agriculture news
Be informed daily with these free e-newsletters
You May Also Like
---