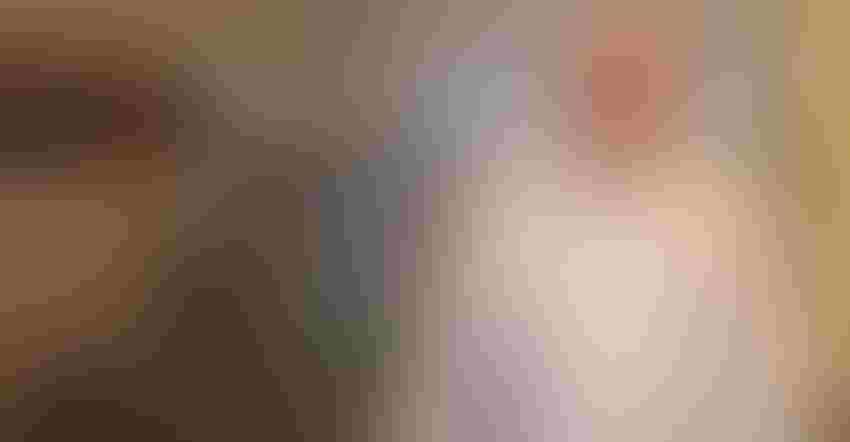 HAPPY CHEF: Bruce Haumesser, executive chef at Purdue, says his chefs are happy using high-oleic soy oil because it is a clean, easy-to-use product that lets flavors shine through.
David Rodibaugh, Rensselaer, Ind., has a dream. He would love to see healthier soybean oil used in more places. Rodibaugh, a member of the Indiana Soybean Alliance board of directors, was one of many farmers urging ISA to work with Purdue University to try a commercial, high-oleic soybean oil in its dining courts.
That was three years ago. Ed Ebert, senior director of grain production and utilization for ISA, says in response, ISA helped Purdue conduct a test with Plenish high-oleic soybean oil in one of its five food courts serving Purdue dormitories. Plenish oil is produced from soybeans developed and sold by Pioneer that contain high-oleic oil. Monsanto, now Bayer, also has a healthier soy oil product called Vistive.
"Development of Plenish began about six years ago," says Marshall Martin, assistant dean in the Purdue College of Agriculture. "Soybeans grown specifically to produce the oil have about 69% high-oleic oil, much higher than in regular soybeans. Both this oil and the product Monsanto developed have cardiovascular health benefits."
The first test at Purdue three years ago was with 100% high-oleic soy oil in deep fryers. The test was successful — both chefs who worked with the oil and students who consumed the food cooked in the oil reported positive results. The biggest obstacle was price: The soy oil was more expensive than vegetable-based cooking oil.
Next step
With farmers like Rodibaugh continuing to push to get high-oleic oil used at Purdue, ISA agreed to help offset the cost difference if Purdue would use more high-oleic oil. "Before that could happen, the tariffs came along and prices shifted," Martin says. "By the time Purdue was ready to start using more soy oil, it was cost-competitive on its own."
The switch occurred in January. Three of five of Purdue's dining courts now use a 50-50 blend of Plenish oil and vegetable oil for all frying and cooking, with plans for that to continue. One of the other two food courts is devoted to allergen-free foods, and the other features ethnic foods.
"Our chefs are very pleased with the high-oleic oil," says Bruce Haumesser, director of culinary operations at Purdue and executive chef for Purdue Dining and Catering. Until recently, he was in charge of the Sagamore Room, a student-run, premier restaurant on campus.
"We've used 100% high-oleic oil here, and it has worked out very well," he says. "It lets the flavor of the food come through better compared to some other products. We also find that it works well with salads [dressing] too."
Student reaction
For a product to succeed, it must do more than be cost-competitive and satisfy those who work with it. It must also satisfy consumers. Or in this case, it must be accepted by Purdue students eating in dining courts.
"We did table tests and used other methods to get feedback," Barb Frazee says. "Results have been positive. It's a quality product."
Frazee is assistant vice provost for student life and has worked closely with residence halls and food service during her career at Purdue. "We continue to be proactive with our students on the value of eating healthy," she says. "We also like to use locally grown and sourced products as much as we can. High-oleic soy oil meets those criteria."
Subscribe to receive top agriculture news
Be informed daily with these free e-newsletters
You May Also Like
---