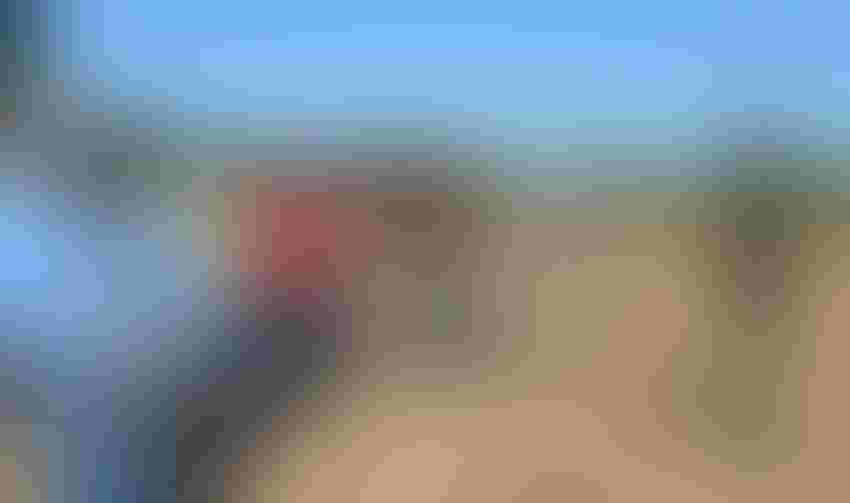 Virginia Tech Extension Entomologist Dr. Sally Taylor, at the Eastern Virginia Agricultural Research and Extension Center Soybean Field Day in Warsaw, said in early-season, farmers need to focus primarily on foliar feeders. After the pods are formed, they need to focus on scouting for pod feeders
John Hart
Job one in integrated pest management or IPM for soybeans is scouting.
Dr. Sally Taylor, Virginia Tech Extension entomologist, urges soybean  farmers to scout for insects when making spraying decisions. She encourages farmers to ask the question: "When do I have bugs in high enough numbers to justify the cost of using chemicals, justify trips across the field and save bushels of yield?" You need to do that before making an insecticide application.
Speaking at the Eastern Virginia Agricultural Research and Extension Center Soybean Field Day Sept. 24 in Warsaw, Taylor said in early-season, farmers need to focus primarily on foliar feeders. After the pods are formed, they need to focus on scouting for pod feeders.
Most of the damage to soybeans and most of the yield loss is caused by the pod feeders. Foliar feeders tend to cause mostly cosmetic injury.
"In early-season soybeans, we are primarily looking for defoliators. Before pods develop on the plant, for once a week or maybe once every 10 days, go into that field in a few places to make sure you don't have more than 30 percent foliage loss," Taylor advised.
Stink Bugs Up
If foliage loss is greater than 30 percent, which is rare, Taylor encouraged a spray to control foliar insects. Usually, a spray is not justified at this stage. Pod feeders are a different story.
"When we have small pods developing on the plant, that's when I start using a sweep net in scouting. Go to several locations in the field, and depending on the size of the field, make up to 15 sweeps. Count the number of stink bugs. Count the number of corn earworms. They're the pod feeders," she said.
Taylor said stink bug numbers are increasing across Virginia. She credits more no-till, which is a good practice, but it also gives stink bugs an over-wintering habitat. The corn, small grain, soybean rotation also works to increase stink bug numbers.
At the Eastern Virginia AREC, Taylor and her team are conducting research on the effects of an IPM approach on insects in full-season and double-crop soybeans. They are examining both Group IV and Group V soybeans. Taylor said maturity groups can impact insect pressure.
The Mix
"Once we had pods on this plot, we started scouting. We hit thresholds pretty quick in those Group IV and much later in Group Vs. That's a good lesson from this test. When you are planting more than one maturity group, don't assume that just because you have one field with high bug numbers you are automatically going to have all fields with high bug numbers," Taylor said.
Their research this year is examining four different treatment options: Untreated; a tank-mix (Bifentrhin at 6.4 ounces per acre with an R4 fungicide application); an IPM approach of spraying only when thresholds are exceeded; an IPM approach with premium insecticides when worm thresholds are exceeded; and an IPM approach with all scouting and spraying terminated at growth stage R 5.5.
Taylor strongly advised against using a tank-mix of insecticides with herbicides and fungicides, a practice favored because crop producers want to avoid repeated trips. She emphasized that tank-mixing insecticides without scouting will likely have little, or detrimental effect, on insect pest pressure. This is particularly true for slugs and is increasingly true with stink bugs. This is because insecticides kill natural enemies that help keep pest populations below economic thresholds.
Taylor said a good approach for controlling stink bugs and other pests is the standard IPM treatment of scouting once a week to every 10 days and spraying only when you meet thresholds. When worm pressure is high, farmers need to turn to a worm product rather than a broad-spectrum insecticide when stink bugs are not found. This will help prevent their buildup later in the season.
Subscribe to receive top agriculture news
Be informed daily with these free e-newsletters
You May Also Like
---