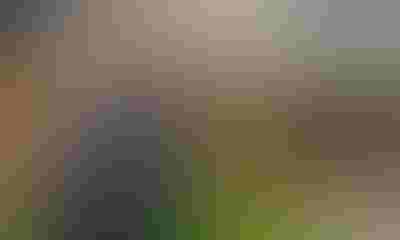 If you take kids to the Kansas State Fair, you don't want to miss a stop in Agriland, the educational and entertainment offering of a collaboration of Kansas organizations.
At Agriland, kids can ride ide in a virtual combine, sift grain between their fingers and milk Blossom, the mechanical dairy cow. Located in the Pride of Kansas building, the cooperative agriculture education exhibit provides an interactive experience for children to learn more about agriculture.
Visitors have the opportunity to touch different Kansas-grown grains, "drive" a combine, walk through the soil tunnel trailer for an under-the-scenes look at Kansas soils, and much more.

MILKING BLOSSOM: One of the highlights for kids visiting Agriland at the Kansas State Fair is milking "Blossom" the mechanical dairy cow.
Agriland will be open Friday, Sept. 9, from 11 a.m. to 9 p.m.; Saturday, Sept. 10, through Saturday, Sept. 17, from 9 a.m. to 9 p.m. daily; and Sunday, Sept. 18, from 9 a.m. to 7 p.m.
"Fairgoers get basic farm to fork education at Agriland," said Robin Blume, education and events coordinator at the Kansas Department of Agriculture. "Agriland provides an interactive opportunity for families to learn about the roles Kansas farmers and ranchers have in producing our food, energy and fiber."
Teachers who visit Agriland can sign up for free lesson plans provided by the Kansas Foundation for Agriculture in the Classroom. These lesson plans connect classrooms to Kansas agriculture by exploring various facets of agriculture and learning how agriculture is important and full of opportunities.
Agriland is a collaborative effort of the Kansas Beef Council, Kansas Corn Commission, Kansas Cotton, Kansas Dairy Association, Kansas Foundation for Agriculture in the Classroom, Kansas Grain Sorghum Commission, Kansas Soybean Commission, Kansas Sunflower Commission, Kansas Wheat, Kansas Conservation Partnership, Kansas Agri-Women, Nutrients for Life and the Kansas Department of Agriculture.
KDA advocates for and promotes the agriculture industry, the state's largest industry, employer and economic contributor. Agriland provides Kansans of all ages and backgrounds the opportunity to learn about agriculture in Kansas.
For more information about Agriland, check out the exhibit's Facebook page at www.facebook.com/kansasagriland or contact KDA at [email protected] or 785-564-6756.
Source: Kansas Department of Agriculture
Subscribe to receive top agriculture news
Be informed daily with these free e-newsletters
You May Also Like
---