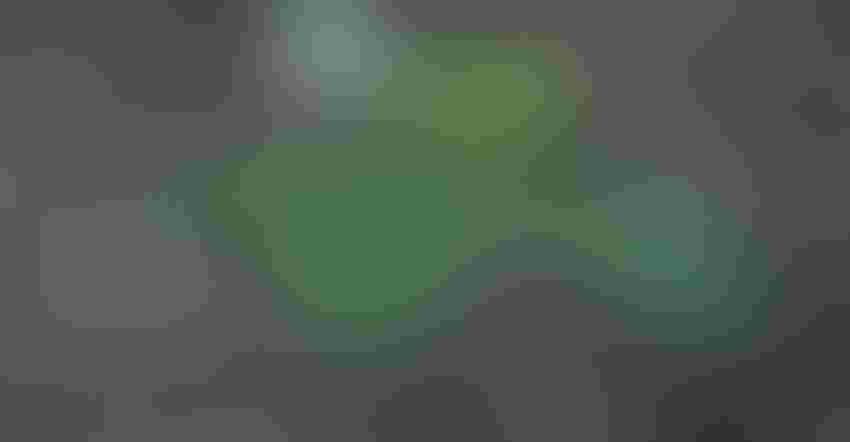 GOOD START: Effective seed treatments that provide protection from seedling diseases eventually mean more bushels in the bin.
Yield potential is highest at the start of each crop season. One of the most significant measures you can take to maximize your soybeans' yield potential is to protect them from early-season diseases.
Seedling diseases such as phytophthora, pythium, fusarium and rhizoctonia have historically led to significant yield loss in soybeans. Beans in their critical early-growth stages need a proven level of protection from these diseases to prevent stand loss and damping-off. But selecting just any seed treatment may not provide adequate protection; that's why it's important to know what's on your seed going into 2019.
Don't be fooled by color
"Growers need to understand not all seed treatments are created equal," says Randy Kool, Syngenta agronomy service representative based in central Iowa. "Just because a soybean seed treatment is red in color doesn't mean it will perform the same as other red soybean seed treatments out there."
Since many generic-blend soybean seed treatments are red in color, just like the premium soybean seed treatments available, this can be confusing. Kool recommends looking beyond color and find out exactly what's on the seed and how the treatment has performed in tests. He offers the following advice and observations:
• Don't get left in the dust. Many generic-blend seed treatments can be poorly formulated and contain outdated technologies that mix together like oil and water. These combinations can result in product separation, which may lead to inconsistent coverage on the seed, dust-off and equipment clogging.
• Prevent early breakdowns. Generic-blend seed treatments may also contain low rates of active ingredients. Without the optimal rates of active ingredients, generic blends can break down early. This means the soybeans could be left unprotected and vulnerable to pest damage.
It's important to select a seed treatment that uses the latest active ingredients at ideal rates to ensure the beans are adequately protected from yield-robbing disease pathogens.
• Stay on track. Increased plant stand means increased yield potential. When roots aren't protected early on, the plant stand later in the season could be at risk. It's important to ensure roots are protected to avoid setbacks and continue the season's momentum. Generic-blend seed treatments often don't adequately protect root health, so make sure you request a seed treatment that does.
• Finish strong with a proven seed treatment. "CruiserMaxx Vibrance Beans seed treatment, a combination of separately registered products, is proven to perform across real-world environments," Kool says. "It's a premix of active and inert ingredients that bind together as a consistent formulation, distributing evenly on each seed. This minimizes dust-off and equipment-clogging issues growers may have previously experienced with generic blends."
It also contains the Rooting Power of Vibrance "for protection of the entire root system through soil mobility and long-lasting systematic activity," he adds. In a Syngenta field trial where soybeans were measured under heavy disease pressure 28 days after planting, the beans treated with a generic seed treatment had only a 56% plant stand. In the same trial, beans treated with CruiserMaxx Vibrance Beans had a 95% plant stand.
"Make sure you're selecting a seed treatment that helps maximize the plant stand and contributes to your bottom line," Kool says. "Take a look at our online infographic for a head-to-head comparison of seed treatment options."
Source: Syngenta
Subscribe to receive top agriculture news
Be informed daily with these free e-newsletters
You May Also Like
---