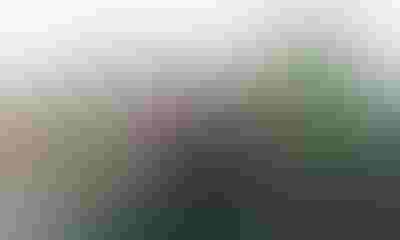 A 15-year veteran of helping Iowa farmers improve their cropping practices has joined Iowa State University's agronomy faculty. On Aug. 1, Mark Licht began his new role as an assistant professor in the department of agronomy, focused on integrated cropping systems extension. His work will aim to improve crop productivity, profitability and stewardship of natural resources.

FINDING ANSWERS: The ISU Agronomy
"Sometimes to get the best fit for a position, you have to grow your own," says John Lawrence, associate dean in the College of Agriculture & Life Sciences and director for Agriculture & Natural Resources Extension and Outreach. "Mark excelled as an Extension field agronomist in west central and central Iowa before starting his doctorate program. He understands Iowa fields and has worked closely with Iowa farmers and their crop advisers."
Focus is on current and emerging issues in Iowa crop production
Licht worked in ISU Extension programs for nearly 15 years, serving as an ISU Extension program specialist, Extension field agronomist and most recently as an Extension cropping systems agronomist.
As a faculty member, Licht's Extension and research responsibilities will address current and emerging issues of agronomic production systems in Iowa, enhancing cropping system performance by promoting practices such as integrating diverse cropping systems and precision ag technologies. He also will teach agronomy classes.
Licht earned a bachelor's degree in agronomy and ag Extension education in 2000; a master's degree in soil science in 2003; and a doctorate in crop production and physiology in 2015; all from ISU.
New leadership at ISU Research Farm
In other news from Ames, it was announced that ISU's Ag Engineering/Agronomy Research and Demonstration Farm near Boone has new leadership.
Mike Fiscus has been appointed superintendent of the farm and Nathan Meyers has been named the farm's agricultural engineering manager. Both are Iowa State alums. Fiscus earned a bachelor's degree in ag studies in 1993 and Meyers earned a bachelor's degree in ag systems technology in 2009.
Fiscus has served as the farm's co-manager since 2003, and in a variety of field research capacities since joining ISU in 1995. He previously shared management of the farm with Richard VanDePol, who retired Aug. 3, after 39 years with ISU research farms. In his new position, Fiscus will be responsible for overall coordination, budget, personnel, field research operations and primary contact for agronomy researchers. 
Research farm focuses on a number of projects, and visitors
Meyers has worked at the research farm since 2011. As the ag engineering manager, Meyers will be responsible for the shops, the extensive machinery fleet, ag engineering facilities and GPS applications. He will be the primary contact for ag and biosystems engineering faculty and USDA researchers.
Research at the farm focuses on corn, soybeans, biomass sorghum, soil management, water quality, ag machinery and a variety of other agricultural topics. The research farm's staff includes Zachary Koopman, Ethan Thies, Dale Niedermann and Jeff Erb who, along with Fiscus and Meyers, form a team serving more than 100 research projects and hosting several hundred visitors annually.
Subscribe to receive top agriculture news
Be informed daily with these free e-newsletters
You May Also Like
---