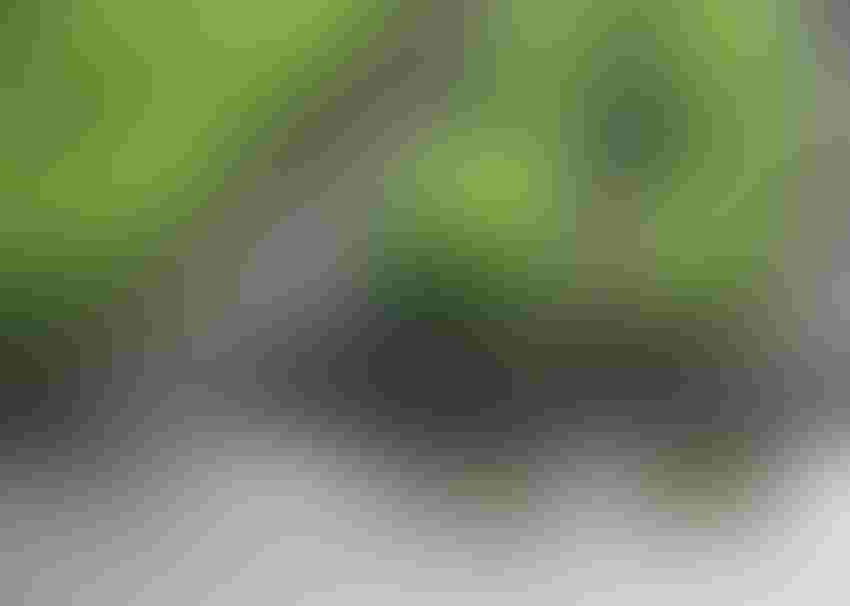 Producers are making their way back into the field after more than two weeks of heavy rains and flooding. Many producers had to decide whether to continue with a damaged crop or to replant.
For those working to save soybean crops in the field, Alabama Cooperative Extension System entomologist Dr. Tim Reed has some insect scouting tips.
Cutworms
Cutworms are large, greasy worms that may be difficult to see. These insects burrow into the soil during the day and come to the surface to feed at night. These worms can hide underneath the residue between rows—especially in cover crop residues.
Cutworms will clip or notch seedling corn, cotton, peanut and soybean plants near or slightly above the soil surface. They also feed on the leaves of these plants, sometimes pulling the plant beneath the soil surface. These pests are often in the field feeding on existing winter vegetation until it is removed or too far decomposed to be an adequate food source. Reed said producers should consider a pyrethroid insecticide application at both burn down and at planting in high-risk areas—which include fields with cover crops and fields formerly in pasture. These worms tend to thin a stand gradually over a two week period.
Thrips   
Thrips are always present on soybean plants, but do not pose the same danger to soybean plants as they do to cotton plants. They are are rasping/sucking insects, less than one-tenth of an inch long. These pests feed and reproduce on leaves and buds of soybean seedlings. They can cause stippling effects or crinkling of leaves and may require treatment in some situations.
Related:China may buy record volume of U.S. soybeans
"Thrips vector the soybean vein necrosis virus in North Alabama," Reed said. "Check for thrips by shaking the plants over a white surface, like a notepad or handkerchief."
Immature Wireworms  
Immature wireworms are the immature stage of click beetles. These pests can feed on the soybean seeds as they germinate.
Three-Cornered Alfalfa Hoppers
Three-cornered alfalfa hoppers (3-CAH's) are approximately one-fourth of an inch long with piercing/sucking mouthparts. They use their mouthparts to girdle soybean plants, causing plants to fall over. Three-cornered alfalfa hoppers will girdle the lateral branches, main stem and leaf petioles. It is difficult to sample 3-CAH's with a sweep net when they are in the first trifoliate stage and less than three inches tall. It may be necessary to crawl along the row and look for damage and hoppers which may be on the stem, on the ground and near the plant.
These pests are not easily confused with other soybean pests. The adults overwinter and lay eggs inside the plant, making them difficult to see.
"It is thought that the girdling done by these insects interferes with photosynthesis and the flow of nutrients to developing seed," Reed said. "Injury may not be noticeable until producers are in the field sampling for insects and the soybean plants fall over."
Neonicotinoid seed treatments on soybeans have been shown to reduce girdling by 3-CAH's.
Lesser Cornstalk Borer
Lesser cornstalk borer larvae will be an issue in dry weather and sandy soils. Eggs are laid on the stems of seedling plants. After hatching, they burrow up and down the stems of the plants they attack. Burrowing weakens the stems and can cause the plants to fall over and die.
Lesser cornstalk borer larvae characteristically wiggle violently when disturbed. These pests are capable of burrowing from the bottom to the top of a 12-inch soybean plant. Pheromone traps are useful in monitoring adult moth activity. Auburn University researchers developed a predictive model which uses rainfall data and moth trap catch data to help farmers estimate when the chances of an economic infestation are higher.
Bean Leaf Beetles
Bean leaf beetles are a sporadic pest of soybeans in Alabama that come in several different color stages.
"Although they aren't as big of a pest as they used to be—especially in the Blackbelt—bean leaf beetles can move into a field of seedling soybeans and cause quite a bit of defoliation, especially along field borders," Reed said.
Podworms
Podworms feed on soybeans in the pod. These pests feed higher up on the plant in the mornings. In the afternoons as temperatures rise, these pests move to the lower parts of the plant. Podworms have the potential to ruin an entire soybean crop. Podworms are sometimes not uniformly distributed within a field and numbers can vary from one sampling site to the next, especially when sampling with a ground cloth.
Research has shown that soybeans that suffer 100 percent de-podding at the R3 stage can recover with good moisture, and only suffer a 5 percent yield loss. However, if the de-podding occurs at the R5 stage the yield loss can be 70 percent.
Stink Bugs
Stink bugs are insects that can cause a lot of damage to soybean crops during their long lives. Adults can live for up to two months, while immatures take 30 days to go through five instar stages. Adults lay 30-130 eggs per egg mass, and these eggs generally hatch within five days during the summer. As beans within the pod get bigger they tend to suffer less damage from stink bugs. However, the invasive red banded stink bug is capable of doing more damage to larger soybean beans than our native stink bug species.
Kudzu Bugs
Initially entomologists in the state were very concerned about the kudzu bug and their ability to reduce soybean yields in Alabama. While insecticide treatments were required during 2013 and 2014, populations have been controlled in almost every field in 2015 and 2016 by a fungus and a parasitic wasp. Without natural enemy suppression, kudzu bugs are known to reduce the number of pods per plant, the number of seeds per pod and yields by 20 percent.
More Information
Find more detailed information about each of these soybean pests and treatment options in the Alabama Agronomic Crops Webinar recording here. For more information, visit www.aces.edu.
About the Author(s)
Subscribe to receive top agriculture news
Be informed daily with these free e-newsletters
You May Also Like
---