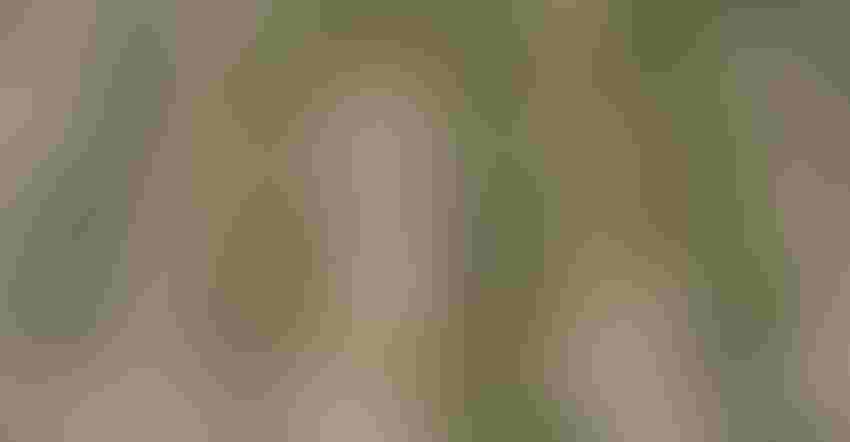 NOT FINAL STAND? This stand check revealed about 125,000 soybean plants per acre. Purdue's Shaun Casteel says that would likely be around 110,000 plants by harvest. But it's still more than enough.
Tom J. Bechman
Try this brain teaser on your neighbor. If you count 120,000 soybean plants at V2 using the hula-hoop method, how many soybean plants will you have at harvest?
You will have 120,000, right? Purdue Extension soybean specialist Shaun Casteel points to 58 site years of soybean research and says, "No, you won't have 120,000 soybean plants per acre.
"It would likely be about 15% less. The range is 10% to 20% fewer plants at harvest than at V2. So, expect to lose 12,000 to 15,000 plants from 120,000, leaving about 105,000 or slightly more at harvest. But that's still plenty of plants for full yield potential."
Disappearing act
Where do those soybean plants go? "Soybeans are subject to attrition caused by competition between plants," Casteel explains. "You don't see it in corn. There, if you have 34,000 plants early, you will likely have 34,000 plants at harvest, barring storms or insects. If there are late emergers, some stalks may have a small ear or no ear, but plants will be there.
"It's different in soybeans. Plants that can't compete die off. You will see a higher rate of attrition at higher seeding rates and in drilled fields. With a drill, spacing and seeding depth aren't uniform. Plants that are too close together, too shallow or too deep are at a disadvantage."
Your first reaction may be disbelief. Yet Casteel has solid data. What should your next move be? A knee-jerk reaction might be upping seeding rates so you have more soybeans in the hula-hoop at V2 to make up for the 15% loss.
"That's not necessary, especially if you plant soybeans with a planter," Casteel says. "Seeding rates for soybeans have always had a large safety factor built in, all the way back to when farmers judged planting rate by bushels and pounds per acre instead of seeds per acre.
"That safety factor is still there. The only thing different is that we're learning more about soybeans and their growth habits. Plant attrition between V2 and harvest has always occurred. We've simply documented it."
Bottom line seeding rates
If you plant 140,000 seeds per acre and achieve 120,000 plants per acre at V2, you're still in great shape, Casteel says. That's still well over 100,000 plants at harvest. In fact, if you have 100,000 plants at V2, it's still enough. You would likely still have 85,000 to 90,000 plants at harvest.
And recognize that soybeans emerging late might swell the plant count but contribute very little to yield, Casteel says.
"The fact is that based on my trials with low seeding rates, if you have 80,000 plants per acre at V2, it's enough," Casteel says. "In some cases, 70,000 plants at V2 may even be enough.
"At 80,000 plants per acre, our data shows attrition will be less, likely just 5% to 10%. Some of it depends on time of year and equipment, too. If it's mid-June and beans were drilled, you may need more plants. But for the most part, those populations would still be adequate to reach full yield potential."
About the Author(s)
Subscribe to receive top agriculture news
Be informed daily with these free e-newsletters
You May Also Like
---