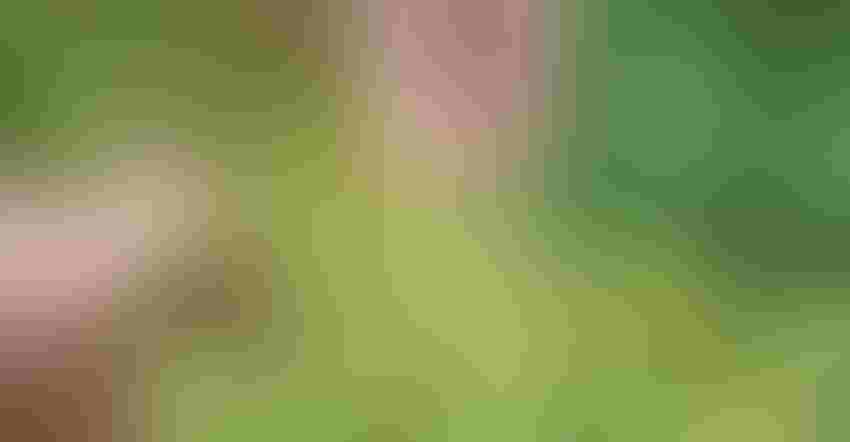 MISSING BEAN: Three-bean pods can add up to good yield if there are enough of them and each is filled with three large soybeans. Yet note the missing bean in this pod, possibly aborted due to dry weather.
As yield results trickle in for soybean fields that were planted on time or to early-season varieties, the yield range is as wide as the season was erratic. Anecdotal reports from trusted sources place early yield reports all the way from 27 to 80 bushels per acre.  Most producers have yet to report, with many late-planted fields maturing considerably behind schedule.
The lowest reported yields are from areas with sandy soils or soils with gravel underneath that were also hit with late-season dry spells. The best yields are from isolated areas that were fortunate enough to plant in early May, and that also caught rains during key times in soybean reproductive development.
Steve Gauck expects a lot of fields will fall somewhere in the middle. Gauck is a sales agronomist for Beck's, based near Greensburg, Ind. Beck's sponsors Soybean Watch '19.
"We knew back in August that late-August and September weather patterns were going to be crucial for soybean yields this year," Gauck says. "That's because a large portion of the crop was planted much later than normal."
Typically, the critical period for pod fill comes in early to mid-August. Even though soybeans respond to photoperiod as a signal to begin flowering, late planting still backs up the reproductive process and overall maturity. This season is proof of that phenomenon, Gauck notes.
"We need ample moisture during pod fill to get larger beans and achieve top yields," he says. "Areas which missed rains in August and into September became short on moisture when soybeans were still filling pods, and even attempting to add more pods near the top of many plants."
Field observations
Walking the Soybean Watch '19 field in mid-September, in the heart of pod fill this year, Gauck noted that while the field looked good overall, moisture was becoming a limiting factor. The crop needed a good rain to help plants continue to add more pods at the top of plants, and to fill beans within pods. What the area received instead over the next two weeks were small showers with limited total rainfall. How that plays into final yield remains to be seen.
"We already saw signs that some abortion of beans within pods was occurring, especially in the variety which was a few days ahead on maturity," he says. Gauck says plants can abort flowers during flowering, they can abort pods during pod set, and they can also abort individual beans within pods during pod fill. He saw pods that started out with the potential for three beans, but one was missing. He also spotted some two-bean pods.
To be fair, there were a few four-bean pods with all beans developing. The real determination on final yield will be how well beans in pods fill out, no matter how many beans are in each pod.
"Size of beans is a big deal when it comes to yield," he concludes.
Subscribe to receive top agriculture news
Be informed daily with these free e-newsletters
You May Also Like
---