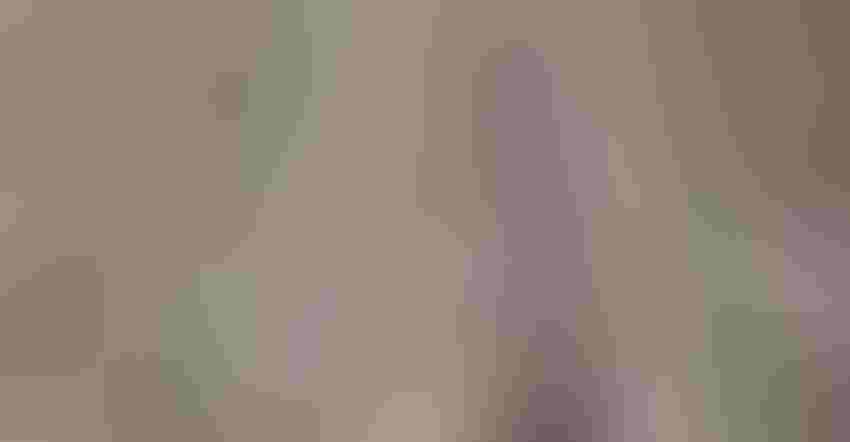 TOO THICK OR JUST RIGHT? Your grandpa would have loved this soybean stand. Shaun Casteel says you don't need this many plants and could lower seed cost per bushel by backing off on seeding rate.
If you need to trim soybean production costs in 2017, seeding rate is a good place to start. Shaun Casteel, Purdue University Extension soybean specialist, is convinced that many farmers could lower production costs without impacting yield potential by trimming seeding rates significantly.
"Soybeans are resilient and can compensate for stands of lower population," he says. In fact, Casteel recommends a final population of 100,000 to 120,000 plants per acre in any row width. "That still has a safety factor built in," he adds.
Meanwhile, Casteel realizes many producers are still seeding at 120,000 to 180,000 seeds per acre. "If you're still using a drill, you may need a higher rate, but if you're using a split-row planter, which many people are, there's a lot of data that says you don't need to aim for populations which are that thick."
Casteel gets attention at meetings by showing a photo of a stand with 50,000 plants per acre. The first reaction of almost everyone is, "Tear it up and start over." Yet from an agronomic standpoint, Casteel says there could be minimal yield loss compared to a thicker stand.
"We're not recommending that you go that low," he says. "Things like weed control and canopy closure come into play. We're just making a point. Modern varieties can produce good yields with fewer plants per acre than what you might think."
Economics
Michael Langemier and Jim Mintert, both ag economists with Purdue's Center for Commercial Agriculture, saw a chart Casteel had prepared that showed how many dollars per acre a producer could save by cutting seeding rate.
"We encouraged him to do the same thing on seed savings on a cost-per-bushel-of-production basis," Langemeier says. "We're encouraging farmers to think in terms of cost of production on a per-bushel basis as they prepare crop budgets for 2017. It's easier to figure out where your breakeven point is counting all costs." It's also clearer just how much seed prices and soybean selling price affect cost per bushel of production, he adds.
Casteel obliged. He prepared a chart (see below) showing how much farmers could save per bushel of production if they dropped seeding rates.
He selected two possible reductions in rate: 20,000 seeds per acre for those who have already cut back some in past year, and 40,000 seeds per acre for those still planting in split rows and dialing in 160,000 seeds per acre.
If you reduce seeding rate by 20,000 seeds per acre, harvest 52 bushels per acre and pay $60 per unit for seed, you can drop production costs by 15 cents per bushel with this one change, Casteel observes.
If you can reduce seeding rate by 40,000 seeds per acre, you can trim 31 cents per bushel off cost of production. If you pay more for seed, savings in seed cost are somewhat higher. If soybeans yield more, savings are somewhat less per bushel produced, but you still save money. Any savings will help you move toward breakeven for all costs, Langemeier says.  
Subscribe to receive top agriculture news
Be informed daily with these free e-newsletters
You May Also Like
---