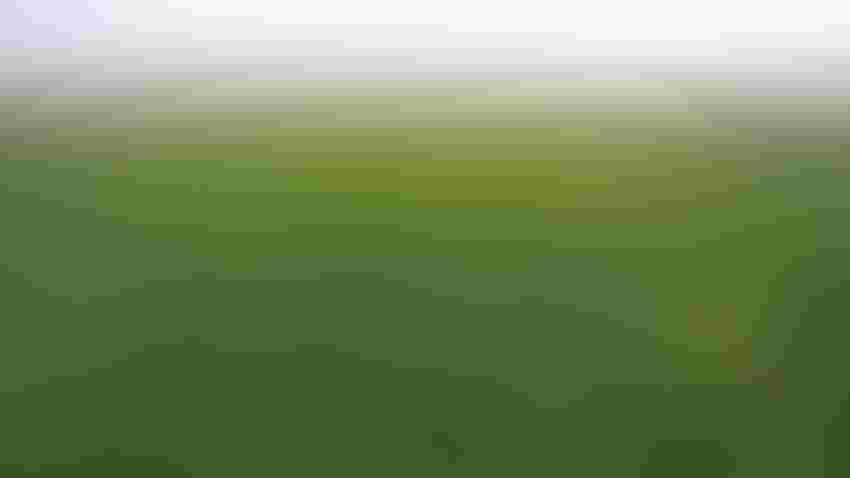 WORTH SPRAYING? Would you spray this field just for volunteer corn? Or would you at least include a herbicide to take it out if you were spraying the field anyway?
Tom J. Bechman
When is there enough volunteer corn in soybeans to justify spraying? What do I use? Should I make a separate pass? What about thistle escapes?
The Indiana Certified Crop Adviser panel answering this question includes Betsy Bower, agronomist for Ceres Solutions, Terre Haute; Abby Horlacher, Nickel Plate Consulting, Frankfort; and Brian Mitchem, proprietary products manager for Nutrien Ag Solutions, Fort Wayne.
Bower: Volunteer corn is competitive at very low populations. Various research from several universities indicates that a population of 3,500 plants per acre, just 1/100 of a normal corn stand, equals a 10% yield reduction. If you are growing 70-bushel-per-acre soybeans and yield reduction is 10%, it's now 63 bushels per acre. At 7,000 corn plants per acre, yield impact jumps to 27% reduction, or around 13 bushels per acre.
Clumps of volunteer corn can reduce yield even more. Research at Minnesota and Illinois indicated that depending on location and year, yield was reduced 1% for every 75 to 115 clumps per acre.
Much of our volunteer commercial corn is glyphosate-tolerant, so we turn to our traditional soybean grass products. New trait packages add complexity to controlling volunteer corn. See your local ag retailer for specifics, but here are a few guidelines:
Roundup Ready 2 and LibertyLink soybeans. Labeled rates for control of volunteer corn for products containing clethodim, such as Select Max and others; fluazifop, known as Fusilade DX; and quizalofop, known as Assure, can be used. Rates on labels are provided for zero to 12-inch or 13- to 24-inch-tall volunteer corn.
Engenia, XtendiMax or Enlist One. These can cause reduced control of volunteer corn or other grasses due to antagonism. Rates of postemergence grass herbicides must be increased to compensate.
Highest rates. For fields with heavy volunteer corn and/or numerous clumps, use the highest labeled rates.
Horlacher: Clethodim is the active ingredient of choice to combat volunteer corn. Volunteer corn does not look aesthetically pleasing but usually does not have a big enough hit on profitability to warrant going out with its own herbicide pass.
Depending on genetics, dicamba or 2,4-D are your best herbicides to combat thistles. If you have a large problem, fall burndown may be warranted so herbicide moves down into the root system when the thistle is pushing nutrients into storage to overwinter.
Mitchem: Volunteer corn is one of the most competitive weeds in a bean field. The return on investment with a herbicide application has a low plant density. In studies, a density of 75 plants per acre results in 1% yield loss. Also, since volunteer corn has low expression of Bt insect control technology, it can be an insect resistance management issue.
Considering cost of herbicide, it is a wise choice to include it along with the early in-crop herbicide pass. Clethodim is the most popular active ingredient for volunteer corn control. Consult with your retailer for specific formulation. An area of concern has become antagonism of volunteer corn control when used with dicamba trait technologies. Be sure you are using full rates. Use a high-quality MSO- or COC-based adjuvant, if allowed on the label.
Thistle control in soybeans in-season is effectively managed with glyphosate foliar applications. In non-GMO soybeans, a combination of Basagran and Classic plus COC and AMS will be the most effective treatment.
Subscribe to receive top agriculture news
Be informed daily with these free e-newsletters
You May Also Like
---