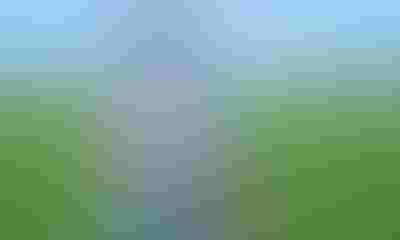 Bill Johnson has walked Indiana corn and soybean fields for 14 years, looking at weeds and making recommendations about how farmers can improve weed control. He also does herbicide comparisons in his own plots, and takes a look at potential new products before they reach the market. And along the way, he trains graduate students, too.
Anyone who talks to the Purdue University weed control specialist for very long, or who listens to his talks at a winter meeting or a field day, knows that he understands farmers. That's one reason why he's emphasizing use of residual herbicides this winter.
TELL THE STORY: Bill Johnson talks to farmers about the need to use residual herbicides to help control resistant weeds.
"I realize many of them are trying to cut costs, and will be eyeing residual herbicides as a place to cut, because they're typically more expensive than what they've applied in the recent past," Johnson says. "But due to weed resistance issues, those simple, cheap programs aren't working as well anymore. If you want relatively clean fields, you've got to start with a residual in most cases."
Almost a farmer
If his farmer mentality comes through at times, and that's why many farmers pay attention to what he says, it's because he almost became a farmer.
"I didn't set out to become a weed scientist," Johnson says. "I grew up on a hog farm in Henry County, Illinois in the northwestern part of the state. At one time it was the hog capital of the world."
Through his 4-H and FFA projects, Johnson had put together a small herd of about 25 sows, and was headed toward entering the hog business. He attended Blackhawk East Junior College, and worked on nearby farms.
So why didn't he end up raising hogs? "Hog prices took a tumble around that time, and it didn't look profitable," he recalls.
Meanwhile, he finished his bachelor's degree at Western Illinois University. With strong mentoring from some professors and with some work experience scouting for farmers and businesses, he decided to pursue graduate studies. He received his Masters and PhD degrees from the University of Arkansas.
It was the days of triazine-resistant lambsquarters and pigweeds running rampant in those parts. Johnson relies on some of the skills he learned then to help farmers cope with resistant weeds today.
He was a weed scientist at the University of Missouri for seven years, before arriving at Purdue in 2002.
"I've had good mentors along the way," he says. "But if hog prices hadn't tanked when I was thinking about going into the hog business, things might have turned out differently."
Those low hog prices were a fortuitous turn for Indiana corn and soybean farmers - not so great an event for weeds!
Subscribe to receive top agriculture news
Be informed daily with these free e-newsletters
You May Also Like
---