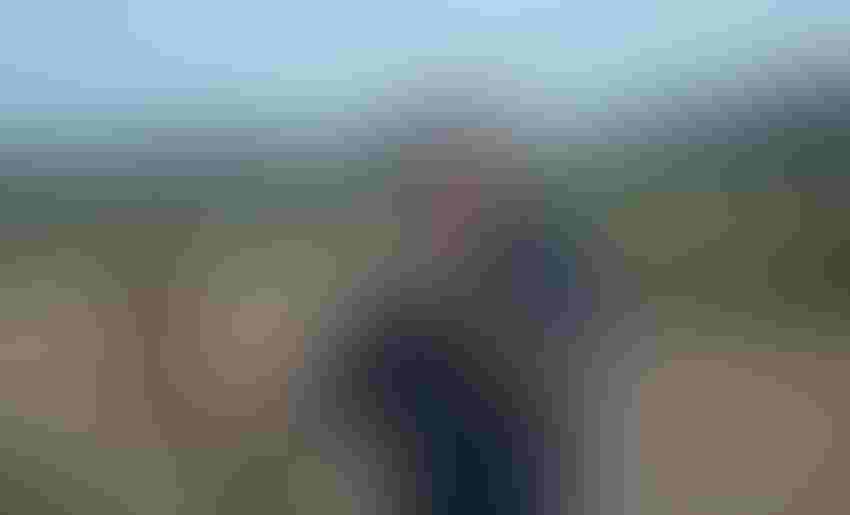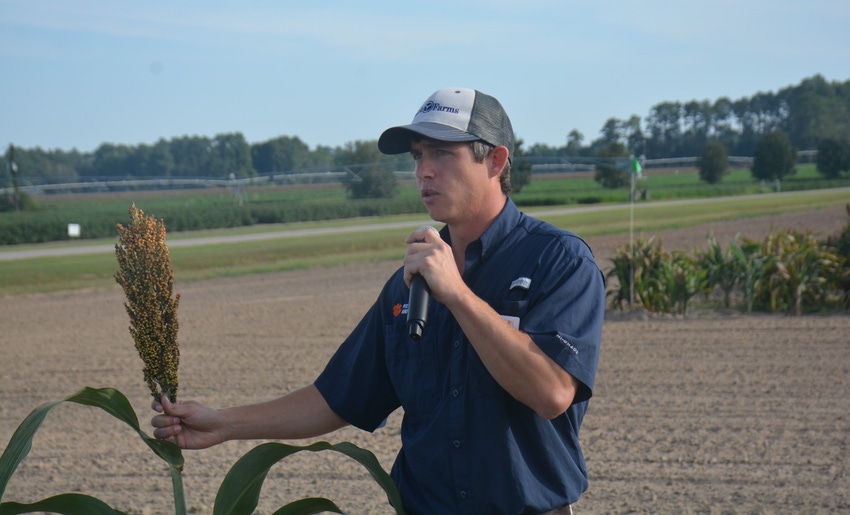 At the Pee Dee Research and Extension Center Field Day in Florence, Clemson University Cereal Grains Breeder Rick Boyles shows a sorghum hybrid developed from parent lines that were released by Clemson in 2019 that is now planted on 12,000 acres across the Southeast, from south Georgia to Pennsylvania.
John Hart
Grain sorghum isn't something folks are used to seeing when driving the roads of farm country across South Carolina, but Clemson University Cereal Grains Breeder Rick Boyles hopes that will soon change because he believes the crop has a fit in the Southeast.
Boyles, who began working with grain sorghum while a graduate student at Clemson in 2013, and continues to work with it today out of the Pee Dee Research and Extension Center in Florence, likes grain sorghum because it is a hardy crop that can withstand all the weather variables common across the Southeastern United States.
Indeed, grain sorghum presents challenges in the Southeast, which is one reason it isn't planted widely in South Carolina. Disease pressure, particularly anthracnose, is an ongoing challenge which lowers the yield potential of the crop.
In his breeding work at Clemson, Boyles and his team are screening lines to produce grain sorghum hybrids that are resistant to anthracnose, fusarium head mold and other diseases. The top aim of the breeding program is to develop varieties that can yield well in South Carolina and other states across the Southeast. He and his team at Clemson are making progress.
"We are working at Clemson to further improve yield, with a target of surpassing dryland corn on a year-over-year basis," Boyles says.
Speaking at the Pee Dee Research and Education Center Field Day Sept. 1 in Florence, Boyles showcased one grain sorghum hybrid made from Clemson parents released in 2019 and is now planted on 12,000 acres across the Southeast from South Georgia to Pennsylvania. Boyles said the hybrid yields well and offers good resistance to anthracnose.
Boyles said grain sorghum demonstrated its place in South Carolina this year when the state saw extreme intermittent dry weather for the first two weeks of July, a time when both corn and grain sorghum are getting ready to move into the reproductive phase.
"Corn has a linear growth rate. It's going to tassel and mature regardless of the weather it experiences. The unique thing about sorghum is that it will literally retain moisture until it does get favorable conditions for growth, it will then head out, pollinate, and proceed to maturity," Boyles said.
In addition to anthracnose and fusarium head mold, Boyles said farmers need to keep an eye out for stalk rot (primarily caused by Fusarium), which can be found when cool, moist conditions patterns follow periods of hot, dry weather. However, this disease remains rare throughout the Southeast.
"Fusarium stalk rot invades the pith, not dissimilar from anthracnose, and can prevent assimilates from moving in to fill the grain. It can also lose its standability and lodges before you can get it with the combine," Boyles explained
About the Author(s)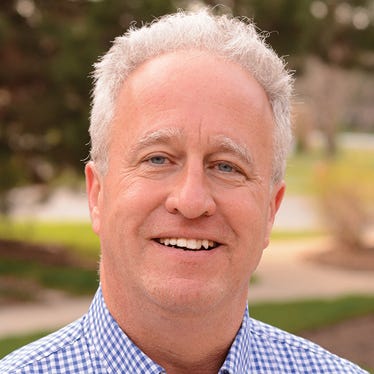 Associate Editor, Southeast Farm Press
John Hart is associate editor of Southeast Farm Press, responsible for coverage in the Carolinas and Virginia. He is based in Raleigh, N.C.
Prior to joining Southeast Farm Press, John was director of news services for the American Farm Bureau Federation in Washington, D.C. He also has experience as an energy journalist. For nine years, John was the owner, editor and publisher of The Rice World, a monthly publication serving the U.S. rice industry.  John also worked in public relations for the USA Rice Council in Houston, Texas and the Cotton Board in Memphis, Tenn. He also has experience as a farm and general assignments reporter for the Monroe, La. News-Star.
John is a native of Lake Charles, La. and is a  graduate of the LSU School of Journalism in Baton Rouge.  At LSU, he served on the staff of The Daily Reveille.
Subscribe to receive top agriculture news
Be informed daily with these free e-newsletters
You May Also Like
---