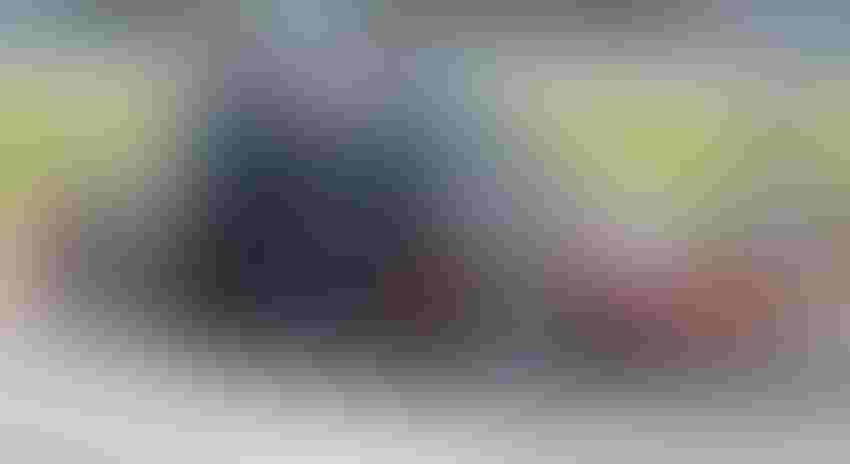 The No. 22 NASCAR truck, sponsored by Sorghum Checkoff, about to take off for his qualifying round at Texas Motor Speedway.
As the No. 22 Chevy Silverado truck races around Texas Motor Speedway at speeds of 185 mph to 200 mph, it, along with 32 other qualifying race trucks, are powered by E15 ethanol — the official fuel of NASCAR vehicles since 2011.
Ethanol, a clean-burning, efficient fuel, is fermented from starch sources such as corn, wheat and grain sorghum, which makes the sponsorship of the No. 22 and its Texas native driver Austin Wayne Self, a natural fit for Sorghum Checkoff.
"This gives us an avenue to talk directly to the consumer," says Executive Director Florentino Lopez, Sorghum Checkoff. "Without having the opportunity to talk to the end consumer, then we can't create an opportunity for the end user to, not only identify with the farmer and what the farmer is producing, but also identify with sorghum and tie it all together.
"Having the opportunity to talk to a consumer directly about what the farm is doing, how the farm is helping that end user, is one of the things that's critical."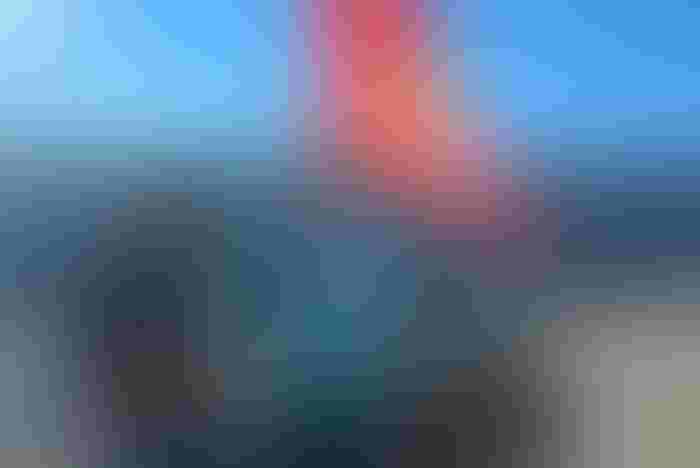 Sorghum producers Craig Meeker and Jim Massey visit on the top deck of the No. 22 hauler prior to the race.
The Sorghum Checkoff Program, overseen by USDA, is funded and run by sorghum producers, with the objective of improving market position through promotion and research while expanding market opportunities, increasing demand and developing new uses. Ethanol currently consumes 20 percent to 30 percent of domestically-produced sorghum.
"E15, and higher blends of ethanol are absolutely key to increased and continued improved farm profitability over the next couple of years," says John Duff, Renewables Program director, Sorghum Checkoff. "Ethanol has been a tremendous outlet for U.S. grain farmers, whether that's sorghum farmers or corn farmers.
"Higher blends of ethanol, whether that's E15 or E85, are key for moving more bushels of grain from the farm into the market and that's the difference between farmers being profitable and not being profitable in this tight margin environment."
SORGHUM PRODUCERS
Joining the Sorghum Checkoff Program staff on pit road at the Nov. 2-JAG Metals 350 race, were Kansas producers Craig and Melissa Meeker, who farm sorghum, wheat, corn, soybeans and cotton in Wellington. Craig said as a sorghum producer he was proud to see the trucks race.
See, Sorghum heats up the track at Texas Motor Speedway
"It just shows what our product can do — it's not just a feed grain. There are so many more things sorghum can do. And I think people seeing ethanol in a car on a race track or a truck on a race track, helps them understand they can put ethanol in their car they drive to go get groceries or go to work every day." 
Corpus Christi farmer Jim Massey, says while he attended the Texas race to support the sorghum race truck team, he says it was even more important to attend in support of his commodity's industry as a whole.
"Just to be here in support of the industry itself because a demand for ethanol means grain, grain from everywhere. It doesn't matter if it's corn or sorghum, grain gets used and creates more demand for sorghum."
As a sorghum producer, he says it's nice to see the crop he grows recognized, but he also hopes other growers will see the benefit of partnering with a NASCAR. "I hope they can see the benefit of participating in an industry (NASCAR) that's supporting ethanol use in such a big way. There's such a large following across the U.S. and with NASCAR fans, and when you've got that many NASCAR fans and ethanol is the way to go, you hope they will then use more ethanol," says Massey.
NEW MARKETS
Prior to 2013, a third of all sorghum production in the U.S. was targeted for ethanol production, according to Lopez.
"Since then, the Chinese market came in and was extremely strong, decreasing the amount of sorghum moving into ethanol to about 20 percent to 30 percent. Of course, there's been some challenges here most recently, but ethanol continues to be a strong domestic demand, and it gives us an avenue, not only to talk to the consumer but also to utilize the resources we have from the farmer to continue to expand."
With no trade with China and limited exports elsewhere, Lopez says U.S. sorghum production for ethanol is back up to a third or more.
But sorghum's market isn't only in exports or ethanol but in a variety of marketplaces. "Since the beginning of time, it's traditionally been used in the livestock industry, but there's been a lot of transition, whether it's into the food side or specialty markets," says Lopez, such as aquaculture in foreign countries or domestically and within the pet food industry.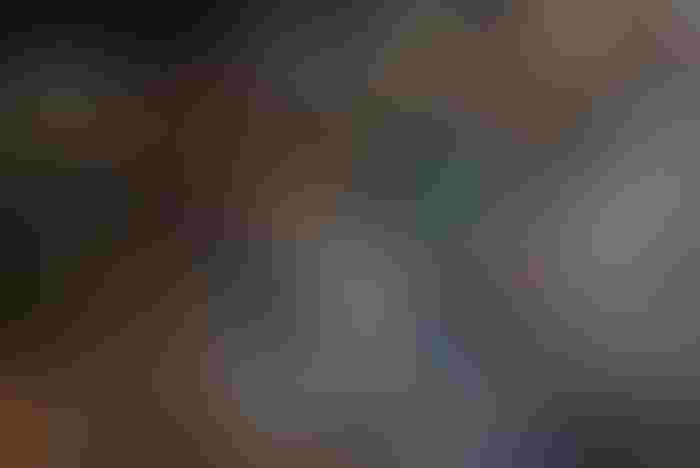 John Duff, Sorghum Checkoff, left, and sorghum producer Jim Massey, watch the race from pit road.
"The pet food industry continues to utilize sorghum in a way that hasn't been traditional. A lot of it goes directly into food. Last count, there are about 124 different products that currently utilize sorghum on the pet-food side, both dog and cat and a variety of other species as well."
While 2018 production is down from recent highs, and sorghum, like other commodities, has felt the effects of trade issues with China, Lopez reports overall, what sorghum has been produced, is "extremely good."
"There's still a lot to come in, so that number might be a lot tighter as we look at it right now, just from the simple perspective of the higher yields being found in Kansas from all the rain that fell earlier in the year."
The Sorghum Checkoff Program has partnered with Self and his #22 truck, owned by AM Racing, for the last two years, along with managing partners GO TEXAN and Don't Mess with Texas.
Subscribe to receive top agriculture news
Be informed daily with these free e-newsletters
You May Also Like
---