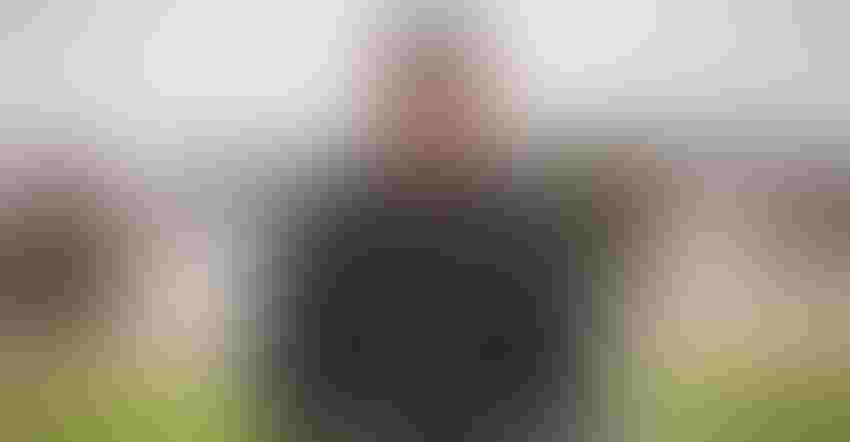 BETTER SOIL: Roger Wuthrich uses cover crops and other conservation practices to eliminate erosion, rebuild soil organic matter and save money on inputs.
Photos courtesy of 4R Plus
Four farmers from different regions of Iowa who use 4R Plus practices have one thing in common: a determination to keep soil where it belongs. After years of conventional-tillage practices, they couldn't stand to watch soil wash away after a heavy rain or blow away with the wind. 
4R Plus involves using precise 4R nutrient management along with conservation practices to enhance soil health and improve water quality. Farmers from varied landscapes are being followed by 4R Plus through the 2020 growing season to learn how practices are used and the agronomic and economic benefits seen. 
No-till stops erosion on sloping ground. Twenty years ago when Audubon County farmer Doug Carter realized he needed to change tillage systems, the rate of adoption for no-till was fairly slow and there was a steep learning curve. But he was determined to make it work. "There have been a lot of advancements made to no-till and planter equipment since I switched tillage systems," he recalls. "Looking back, I know the changes had to be made to stop erosion." 
Soil health benefits add up 
Carter has noticed other soil health benefits through the years. "The soil holds more water and is able to support equipment better," he says. "I'm able to get into fields earlier for planting and harvest. During a wet spring like the last two growing seasons, I was especially glad I didn't have to worry about spending time doing tillage. I'm saving time and fuel." 
Learning how other farmers are seeing additional soil health benefits from cover crops, Carter reached out to the Soil Health Partnership for help getting started. He has participated in cover crop trials on his farm for three years and soil tests show organic matter is improving. 
His goal is to seed a cover crop on fields that get a manure application in the fall and increase acreage each year. "I think we can get some of that nitrogen tied up for the cash crop to utilize," Carter says. 
Carter is optimistic about the 2020 growing season. "Every growing season has its challenges, and I'm learning that improving soil health prepares my farm for the future," he adds. 
Practices used to stop erosion  
In addition to no-till, Davis County farmer Roger Wuthrich has miles of terraces and waterways, and uses cover crops on as many acres as possible to eliminate erosion and rebuild organic matter. "In southeast Iowa, the soil erodes quickly if you don't protect it," he says. Adding these practices also absorbs excess moisture to support equipment to avoid extensive planting delays. 
Besides growing corn and soybeans, Wuthrich added organic wheat production to his farming system to diversify income and crops. The wheat (soft red winter variety) is planted on his most level ground and is tilled for weed control, allowing him the opportunity to make soil structure comparisons. "You definitely don't go into the wheat ground after it rains, but I can plant the other ground because of the improved soil structure that goes with no-till, and come back to the softer soil when it firms," he says. 
Cover crops are planted on the organic ground to help with weed control. This fall, Wuthrich hopes to get back to seeding all his farmland to cover crops. "Besides controlling erosion, soil tests tell me the cover crops are recycling nutrients and improving organic matter," he adds. His plans for the future include preparing for carbon credits. 
Soil prep simplified for planting  
Matt and Nancy Bormann farm the mostly flat landscape in Kossuth County in northern Iowa. Over the last decade, they switched from intensive tillage to strip till, no-till and vertical till to avoid losing any more soil to erosion. That, combined with cover crops, has significantly improved soil structure for timely spring planting. 
In the full corn-soybean rotation, soybeans are no-tilled into green cover crops, or vertical-tilled in one pass. Strips are prepared in the fall for spring corn planting. "This system reduces compaction and creates the perfect seedbed," Matt Bormann says. "The soil holds more moisture, and nutrients have a greater chance of staying on the field where they belong." 

IT WORKS: Matt and Nancy Bormann farm on a mostly flat landscape. The fifth-generation farmers switched from intensive tillage to strip-till, no-till and a vertical-till system. 
When the couple started farming, they remember watching soil leave the farm with a big rain. "The rain drains off the land in one direction and soil moves with the water," he notes. "I wish I had switched to this tillage system sooner because I hate losing soil. Now I'm able to plant sooner and don't leave big ruts after a big rain event." 
After years of doing field trials and seeing positive results of side-by-side comparisons, the Bormanns realize flat land doesn't need to be tilled to be productive. "I hear farmers say they have to work the soil to break up compaction, but tillage is actually the culprit," Bormann says.  
The Bormanns decided to farm more sustainably using 4R Plus practices, seeing value in protecting the soil. "If you have money in another asset, such as a house or a building, you protect it," Bormann says. "If the roof on your house leaks or the steel blows off a shed, you fix it. Why not invest in the soil? The soil is our future." 
Benefits of 4R Plus multiplying  
Tama County farmer Adam Nechanicky also switched tillage systems about 10 years ago to control erosion on his flat-to-rolling ground. He uses no-till on soybean acres and strip till on corn acres. Six years ago, he began experimenting with cover crops and says soil health and economic benefits are accumulating. 
"I switched tillage programs to control erosion. Some of my land is along a creek bed, and I hated watching the soil wash away," Nechanicky says. "Since adding cover crops, I've seen dramatic improvements in soil structure. Now the soil holds more water, and I'm able to get into the field sooner to plant." 
Through the years Nechanicky has become comfortable planting corn and soybeans into green cover crops. "Terminating the cover crop as I plant in spring saves time and money," he says. "Last year, cover crops suppressed weeds and eliminated a postemergence herbicide pass. I was in the field trying to find a weed, and there was nothing to spray." 
Nechanicky also started varying the corn row width in some fields to accommodate earlier seeding of cover crops for grazing his cow-calf herd. This spring he plans to plant two rows of a shorter-season hybrid 30 inches apart with a 60-inch gap. "Every third row is shut off," he explains. "When corn is at about the V4 growth stage in development, I seed an eight-way cover crop mix. When the corn is harvested, I turn the cows out to graze." 
Adopting the mindset that cover crops provide benefits has helped him succeed. "My livelihood relies on the top 6 inches of soil," he says. "I do everything I can to protect and improve the soil and natural resources for generations to come." 
To learn more about these farmers and the 4R Plus practices they use for healthier soils, visit 4rplus.org. 
Source: 4R Plus, which is solely responsible for the information provided and is wholly owned by the source. Informa Business Media and all its subsidiaries are not responsible for any of the content in this information asset. 
Subscribe to receive top agriculture news
Be informed daily with these free e-newsletters
You May Also Like
---