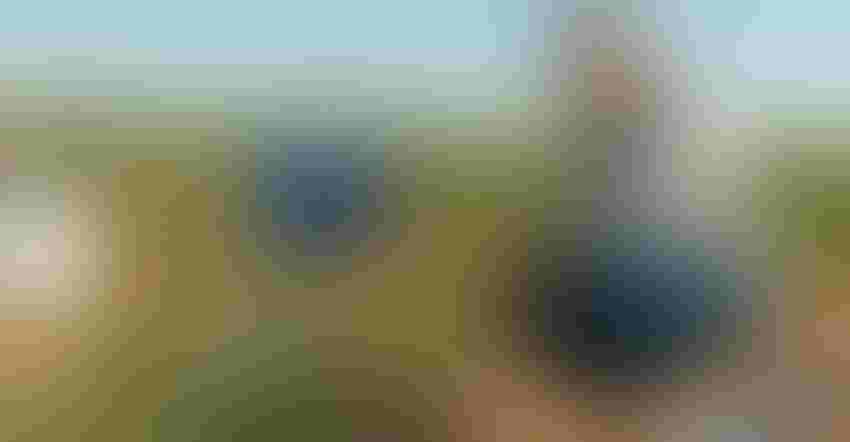 Jairo Diaz is researching fresh market onions in the southern California desert for better nutrient management practices.
Todd Fitchette
Moving fresh-market onion production to 80-inch beds in the desert will require a new approach to irrigation, one that researchers reveal may work.
Jairo Diaz, director of the University of California's Desert Research and Extension Center in Holtville, Calif., is in his fifth year of studying the response of drip irrigation and various rates of nitrogen applications in onions grown for commercial production in the state. The trial compares Terena variety onions on 40-inch and 80-inch beds under the same irrigation and fertilizer application regimes.
Early results suggest the wider beds can yield 20-30 percent more onions through improved efficiencies. Because the wider beds cannot be furrow-irrigated, drip irrigation is necessary to effectively water four lines of onions across the beds.
Though not directly part of his current studies, Diaz said the change to drip irrigation from sprinkler sets can also yield fewer problems with disease as the wetter environments inherent in that form of irrigation can lead to fungal disease problems.
Diaz planted his onion trial in October. The crop will be harvested in May. He used sprinkler sets to germinate and establish the crop, then transitioned to drip irrigation at bulb initiation. He will maintain the drip lines until harvest.
Nitrogen treatments
The purpose of the study is to test the response to various rates of nitrogen. The goal, according to Diaz: learn the nitrogen needs of the plant to avoid overapplication and leaching into the soil. This is particularly critical for the Imperial Valley's desert growing region that sits at or below sea level. The entire region drains into the Salton Sea, a landlocked, inland body of water northwest of Holtville that sits about 236 feet below sea level. The Salton Sea is being carefully watched and nearby practices better managed, to prevent environmental problems.
After a pre-plant application of fertilizer at 300 pounds per acre of 11-52-0, and 20 gallons per acre of 10-34-0, four in-season fertilizer treatments will be assessed: zero pounds, 75 pounds, 150 pounds and 225 pounds per acre.
Additionally, Diaz will test four irrigation levels: 40%, 70%, 100% and 130% of crop evapotranspiration, using a nearby CIMIS weather station. Drip tape is installed at 8-inch spacing from 3.5 to 4 inches below the surface.
By early February Diaz's trial was about halfway through the growing season, a critical period for the maturing plants, he said. This is the time that proper fertilizer and irrigation treatments are crucial in the production of onions. Get it right and yields in the 80-inch beds can achieve 60 tons or more per acre in well-managed fields. This is 20-30 percent more than the irrigated yields on 40-inch beds.
"From now through the next 45 days is critical for nitrogen management," Diaz said in early February.
The current trial is in its second year of funding from a grant by the California Department of Food and Agriculture. Prior funding was provided through the Desert Research and Extension Center budget.
Subscribe to receive top agriculture news
Be informed daily with these free e-newsletters
You May Also Like
---