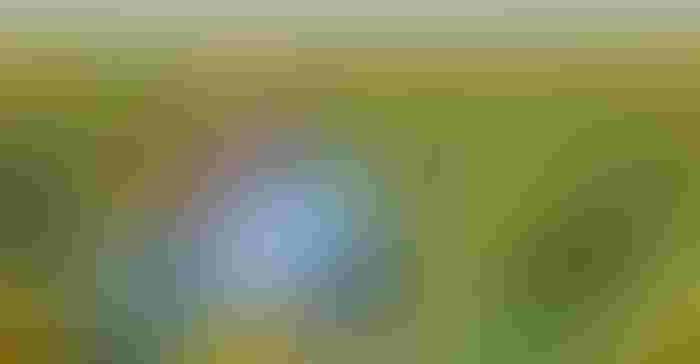 Steve Olson never planned to farm fulltime. The son of a custom harvester, he had intentions of becoming an engineer. In his 20s, his evenings were consumed with master's classes at West Texas A&M; his days, which began at 3 a.m., were spent on the tractor. 
"I enjoyed it," he said of his day gig. "I thought, I can do this part time while I'm finishing up school." He finished school, but never left the farm. That was nearly 30 years ago.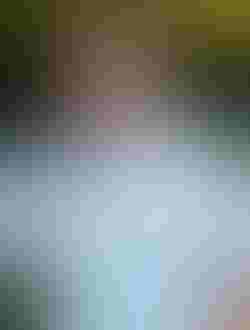 Steve Olson, Hale County, Texas (Photo by Shelley E. Huguley)
Today, Olson and his wife Cindy farm in Hale County, Texas. All their land, which spans about a 30-mile radius, is rented and owned by 15 different landowners. Crop rotation and reduced tillage are key to his land management.  
Olson rotates cotton, seed milo and millet, regular milo, sunflowers, corn, and wheat and runs cattle. "Everything we do, we're trying to build a healthier soil." 
Moment of Change  
Olson will tell you farming has been good to him and his family but he faced a turning point in his career when he and Cindy received an order from Production Credit Association to liquidate assets. "I was broke," he says. "I knew I could not keep farming the way we were doing it." 
His first step? "Pray," he says. "Then we tried no-till, even before Roundup Ready cotton."  
See, Regenerative agriculture evaluation underway
Olson credits a man named John F. Bradley, from the University of Tennessee, for mentoring him. Bradley was one of several researchers who published the 1995 report, "Conservation-Tillage Systems for Cotton" -— a report Olson still has today 
At first, Olson used the report as a guide but eventually contacted Bradley by phone and then in 1998, met him in person at the Beltwide Cotton Conferences. "I don't even know how I found him, but every word that came out of his mouth I was tied to it. 
"Bradley became a good friend. He was trying to help me do this no-till stuff, but we struggled with weed control because our soil wasn't ready for no-till." But Olson could see the cost savings. "That made me believe there was something to this." 
Olson then learned of strip-tillage and the Orthman 1tRIPr. "I visited with our local Orthman dealer and told him I wanted one of those planters. He said, 'That won't work here. Our soils just aren't right for it.' So, I went to the Oklahoma Panhandle and bought a two-year-old (one-tripper) strip-till machine and low-and-behold it did work." 
Soon after, he purchased a new 1tRIPr with a special agreement to not only pick it up from the factory and but have 39 minutes with Orthman's Soil Specialist Mike Petersen. "That meeting sparked a lifelong friendship and developed into a soil health mentorship," Olson says. 
Hardpan 
To determine if his fields had a hardpan, Olson stuck a wire, the kind with a flag attached to the top, into the ground. "I'd feel for the hardpan and if it didn't have it, I would no-till, and if it did have it, we'd run this one-tripper, which helped me figure out how deep to set the thing." 
"If you take care of what's below the ground, it will take care of what's above the ground."  (Photo by Shelley E. Huguley)
While attending a no-till conference in Kansas, Olson found a Dicky-John soil compaction tester with a gauge on it. "It's been amazing because you can understand more how hard that pan really is or if it's not." 
The key, he says, is doing a minimal amount of tillage but, "still making sure you've got an amazing root system. If you take care of what's below the ground, it will take care of what's above the ground." 
Smart tillage 
Olson refers to his tillage practices as smart-till, "because we are going to figure for each field what it needs and cater to that. If it needs to be plowed, we'll plow it. I think guys get married to either plowing or not or married to strip-till. It's not that kind of deal because every field is going to be different."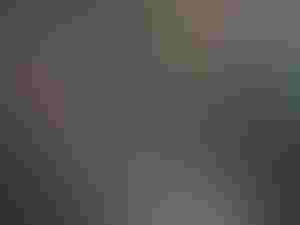 No-till planter (Photo by Shelley E. Huguley)
A common thread across his acres is a lack of consistent annual rainfall and availability of irrigation water from the Ogalala Aquifer, a non-replenishing water source.  
"I think water is the biggest issue we've got to figure out," Olson says. 
Sunflowers 
This year, Olson has more than 300 acres of oil-type sunflowers. He initially planted one field in cotton and rotated to seed millet. But after 2, 4-D drift damaged his crop, he went back with sunflowers July 14. 
"I've got a lot of seed crop this time, seed milo," Olson says. "That (damaged) seed was going to be seed millet, a high value crop, so it was a big blow." 
The sunflower seeds, which will be crushed for oil, are contracted through Red River in Lubbock. Cindy says it was a blessing to find a contract this late in the season. "Steve figured he (Mike Williams) didn't have room for any more and sure enough, Mike was so excited to have more," she says. "That's how God works."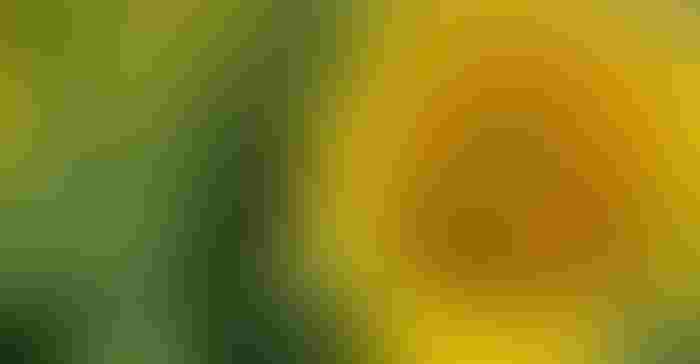 (Photo by Shelley E. Huguley)
The sunflowers were no-tilled due to the soft soil from earlier tillage and not watered until the end of September. "We've had enough rain that this is actually the first irrigation we've had to put on them," Steve says. "We've had some wonderful, timely rains," Cindy adds.  
The Olson's other sunflower field was planted at the end of July. "These were planted a week later than the others and have had no irrigation," Olson says. "As soon as we finish this pass on the corn, we'll come across the sunflowers." 
Previously the field had been in wheat. "We plant the wheat in September and the cattle come the last of October, beginning of November. We run them until the first of March and then pull them off. Then, if it's been dry, we start watering. If it's not, as it's harvested, we no-till into it," Olson says. 
"You can see the manure here," he says as he points. "The manure is a huge benefit. The cattle may cost you water and fence, but they don't cost you anything as far as crop because you are putting them on, letting them do their thing and then pulling them off early, so you've got time to make that wheat." 
But the prolonged drought on the Texas Plains made this a tough year for wheat. "Everything had to be irrigated. You know how dry it was," he says. "It was completely dry here until it started raining in June." 
Olson kneels between the sunflower rows and points at the soil. "These two marks here are where we ran our fertilizer coulters. We run LEPA (low energy precision application) on our pivots, so we only fertilize that LEPA row." He points to the adjacent empty row. "That row won't get any because normally you won't have a lot of roots there."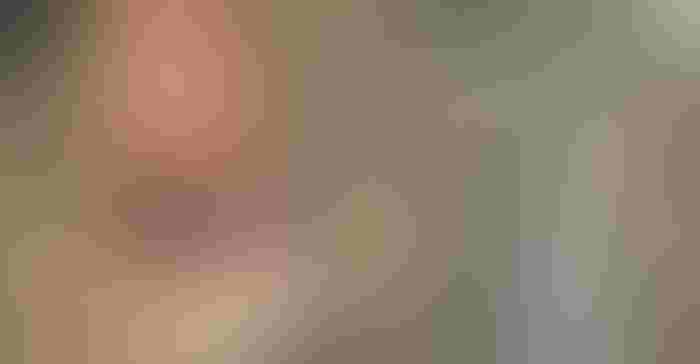 Where Olson ran the fertilizer coulters. (Photo by Shelley E. Huguley)
He then notes the soft ground. "I really believe less plowing is softening the ground. It's completely backwards from what everybody's granddad and dad told them. But my real thought on this water deal is that soil health is going to save us, where we can use every single drop from either irrigation or rain." 
The sunflowers will be harvested at the end of October and then planted to wheat and then cotton. But Olson won't graze this wheat but "try to get some size on it for the cotton." 
Corn 
Adjacent to the sunflowers is a half-circle of corn. "We had cotton on this last year. We just moved over a little bit and no-tilled into it."  
Olson kneels once again, pointing at tiny clods. They aren't dirt, but worm casting or poop. "If we had a shovel, you'd be surprised how many earthworms we have here," he says. He pulls the soil back with his hands. "Look at all the different species of bugs in here. You want all the life in the soil you can get." 
Olson also produces dryland sorghum. "This field was laid out last year. It was going to be cotton, but it was so dry the cotton never did anything. We planted it to wheat in the fall and then killed the wheat and planted."  
He also grows white seed sorghum for Coffee Seed in Plainview. "I thought it was going to be a wreck because it turned off so dry, but I think we are going to have a harvest." 
Subscribe to receive top agriculture news
Be informed daily with these free e-newsletters
You May Also Like
---