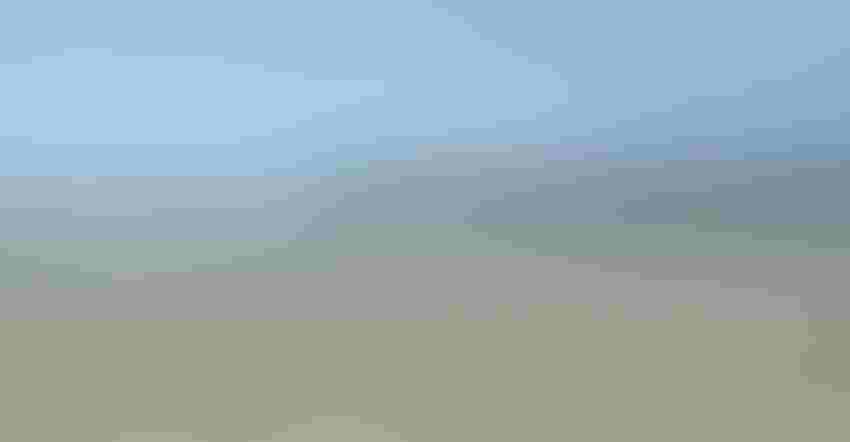 GOLD STANDARD: Bijesh Maharjan, a soil nutrient and management specialist, is proposing the concept Soil Health Gap as a way to establish parameters for benchmarking soil health.
Tyler Harris
When we talk about healthy soil, just what is the upper limit? What are the possibilities and benchmarks by which growers can gauge their track record of no-till, cover crops and other practices? It's a question Bijesh Maharjan, soil nutrient and management specialist at the University of Nebraska-Lincoln Panhandle Research and Extension Center in Scottsbluff, hopes to answer.
Maharjan is proposing the concept Soil Health Gap as a way to establish parameters for measuring baseline soil health and potential for improving soil health.
It's a similar concept to one explored by other Nebraska researchers — the yield gap, or the gap between current yields and the optimal possible yield given ideal weather, soil conditions and management practices. Maharjan decided to apply that concept to soil health.
"Most likely, native soil is already in equilibrium with the environment," Maharjan says. "That's when you've reached the optimum soil health for a given ecosystem. It sets a benchmark. We're testing many different management practices such as cover crops, residue management, and trying to see how we can improve soil health. Maybe it's not feasible to fill 100% of the gap, but at least we know how much closer we're getting toward reaching that level of native soil health. I assume that will also discourage unrealistic claims around soil health, and outline what's really possible."
Soil health standard
So, how might this kind of benchmark be put to use? It might mean measuring certain parameters pertaining to soil health. Take soil organic carbon, for example.
Maharjan recently sampled soils from several different sites in Scotts Bluff County in western Nebraska. This included native shortgrass prairie, soil that has been no-tilled for 15 years, soil that has been conventionally plowed, and soil from a field where subsoil had been exposed from leveling for ease of management.
"What we found was the prairie had the highest organic carbon of all, followed by no-till, then cultivated land, then subsoil exposed land. It's a proof of concept — it makes sense now," Maharjan says. "What stands out for me is, as we farm the land, whether no-till, cultivation or exposed subsoil, we disturb the carbon in the soil — we can see that because native soil has a higher percent of soil organic carbon."
While native prairie had 4.4% (44 grams per kilogram) soil organic carbon, no-till soil had 2.2% (22 g/kg), conventionally plowed soil had 1.8% (18 g/kg), and exposed subsoil had 0.7% (7 g/kg).
"The gap would be about 22 grams per kilogram of soil organic carbon in no-till land," Maharjan says. "That's the amount of carbon that's lost from our topsoil in that farmland. The question is can we build up soil carbon by that amount? If we can, what are the management tools it would require, and how long would it take? With carbon, it's fairly straightforward math, but if you're using a variety of parameters, then you would build that equation differently."
Of course, soil health is measured using a range of other parameters — including soil water infiltration, aggregate stability, root exudates and microbial populations. Maharjan's goal is to establish a benchmark, a standard to measure and compare one's own production system.
Closing the gap
Maharjan also is researching different tools and strategies and combinations of them, how they help bridge the Soil Health Gap, and their efficacy for different regions in Nebraska. These tools and strategies include soil amendments such as high-carbon content coal residue, biochar, different cover crop mixes, reduced tillage, and converting cropland to perennial pasture.
"What works in eastern Nebraska may not work here," Maharjan says. "We are suggesting ways to compare, contrast and determine what works best in a given ecosystem. In the west, we do struggle with cover crops because of lack of water. Still, producers are creative, and some make it work by integrating cover crops into livestock systems as a forage crop. There are some irrigators in the North Platte River Valley that plant cover crops just to keep the ground covered."
Maharjan also envisions a kind of Soil Health Gap map for the state of Nebraska — similar to how maps have been used to track yield gaps in different parts of the world. This effort will be in close collaboration with Nebraska's state soil health specialist with USDA's Natural Resources Conservation Service.
"If you have data points in Nebraska where soil is in a native state, never cultivated, and then data from local farmland, we can collect those data from different avenues and create a map for all of Nebraska farmland," Maharjan says. "In the map, you would see areas in Nebraska where there's a big gap between the local farmland and the native soil. You can see other areas where the gap is smaller. That map would show where there's more potential for improvement."
About the Author(s) Tyler Harris is the editor for Wallaces Farmer. He started at Farm Progress as a field editor, covering Missouri, Kansas and Iowa. Before joining Farm Progress, Tyler got his feet wet covering agriculture and rural issues while attending the University of Iowa, taking any chance he could to get outside the city limits and get on to the farm. This included working for Kalona News, south of Iowa City in the town of Kalona, followed by an internship at Wallaces Farmer in Des Moines after graduation.
Coming from a farm family in southwest Iowa, Tyler is largely interested in how issues impact people at the producer level. True to the reason he started reporting, he loves getting out of town and meeting with producers on the farm, which also gives him a firsthand look at how agriculture and urban interact.
Subscribe to receive top agriculture news
Be informed daily with these free e-newsletters
You May Also Like
---