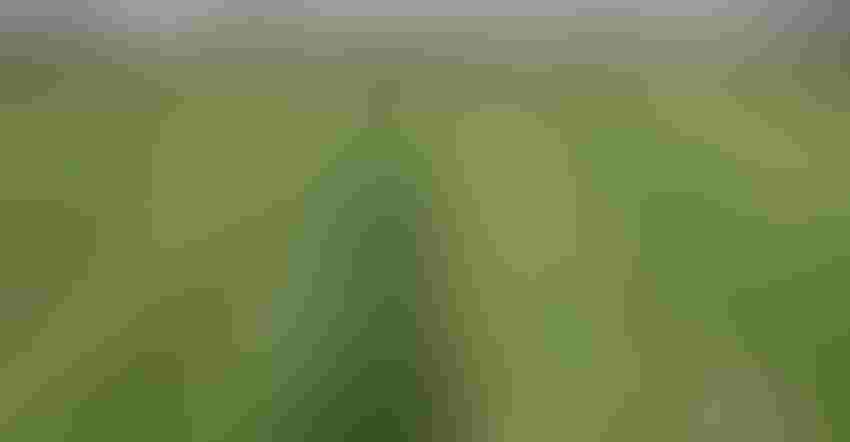 STOP THE WIND: These specialty crop producers also wanted to improve soil health. They grow cover crops after raising a variety of vegetables.
By Ruth Hackman  
Southern Indiana residents were quick to post pictures on social media of blowing sand that blocked visibility on highways this past fall. These Dust Bowl-like pictures were from some of the best melon- and vegetable-producing areas anywhere. 
Blowing sand more commonly occurs in the spring in both southern and northern Indiana. Yet, it can occur anytime. Now is the time to plan to prevent this scenario from repeating in fall 2019.
Think about cover crops while you're planning where to plant specialty crops. You strategize in January and February when selecting hybrids, crop location, spring tillage, planting dates and approximate picking dates. Take planning one step further and think about how you will treat fields after harvest.
While the problem is most obvious for specialty crop growers, corn and soybean farmers aren't immune. Some are venturing into large-scale specialty crops like green beans and cucumbers in traditional farming areas.   
Indiana fruit and vegetable growers should think about what will protect soil after harvest from water and wind, over winter and into spring. They should also consider what will be planted there during the next crop year. It's important to go into your crop year with plans to always plant a cover crop behind produce. 
Plan for cover crops
With produce crops there is usually more tillage and more trips across the field that can result in soil compaction and poor infiltration. Cover crops like cereal rye, annual ryegrass and barley have deep rooting potential and good vegetative growth above the surface that will begin to repair soil structure, reduce compaction, increase infiltration and improve organic matter content. 
Cover crops are part of the healing process for the soil that must occur after produce.   
Plus, certain species of cover crops, such as radish and turnips, act as scavengers of nutrients. Many farmers produce crops requiring a large amount of nitrogen and phosphorus. Living roots of a cover crop latch on to these nutrients left over after the growing season and hold them in place until the cover crop is terminated. 
Don't pinch pennies here
Producers are very quick to look for places to save money. It costs money to plant and establish cover crops. For many, it seems like a "nonproducing" investment. It's always hard to put a value on something when you can't take it to the grain elevator and walk away with a check. 
Think about healing that must occur after raising produce before giving in to temptation to cut out cover crops. The return on the investment in cover crops needs to be calculated by assigning a value to tons of topsoil blown or washed away over winter. Put a value on leftover nitrogen and phosphorus that is lost with leaching and runoff without a cover. And factor in loss of income for the next cash crop due to increased runoff of rain and irrigation water due to poor infiltration and soil compaction. 
When you assign dollars for loss of bushels grown next year, it doesn't take long to have a positive return for the investment in cover crops.
Visit with your local Natural Resources Conservation Service and Soil and Water Conservation District. Staff can offer specific guidance for your crop rotation and share funding opportunities through various conservation programs.
Hackman is a district conservationist with the NRCS based in Washington County, Ind. She writes on behalf of the Indiana Conservation Partnership.
Subscribe to receive top agriculture news
Be informed daily with these free e-newsletters
You May Also Like
---