Mid-South rice crop a mixed bag, producers say
Mid-South rice crop a mixed bag, producers say
Mid-South rice yields were below average for producers interviewed during the USA Rice Outlook Conference in Austin, Texas.Most of the problems were due to excessive heat and/or panicle blight.Overall, Arkansas yields are projected at 6,850 pounds per acre, which is up over last year. But production is down considerably due to a significant reduction in acreage.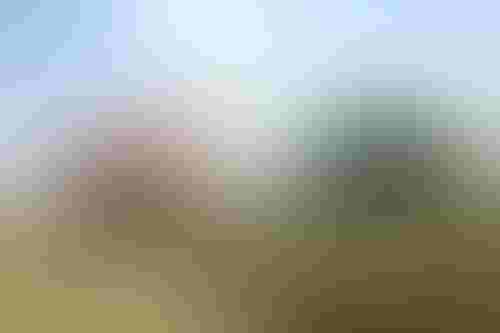 Mid-South rice producers say this season's rice crop was a definite improvement over last year's crop, but yield and quality results are still mixed. The producers discussed their season at the USA Rice Outlook Conference in Austin, Texas.
"Yields were off this year mostly due to the heat," said Marianna, Ark., rice producer Bobby Hoard. "We also had problems with the panicle blight showing up again."
Hoard normally farms between 1,500 acres to 1,800 acres of rice, but cut back to 700 acres in 2011 "because corn is a more viable crop at this time."
Hoard grows primarily public varieties of rice. "I've been growing Wells for years, but I tried two new varieties this year, which turned out real well. Roy J turned out real well and was big improvement over the Wells."
Hoard said his rice acres for 2012 "will depend largely on what the prices command before planting time. We haven't had the opportunity to lock in $6 rice like we did this past year."
Terry Dabbs and his son, Trent, farm 3,000 acres of rice, corn, soybeans and wheat around Stuttgart, Ark. Trent, a member of the 2007 USA Rice Leadership Development Class, came back to the farm after graduating from college in 2001. He and his father formed a partnership two years ago.
This year's rice crop "did a lot better than the year before," Terry said. "In 2010, we had quality problems with low milling yields, low grades and field yields were down too. This year, we got back to having an above-average crop. We didn't bust the bin, but it was a nice crop and our milling yields were back up this year."
This season, the Dabbses produced all but 160 acres of their rice in RiceTec hybrids. The hybrids "work well for us," Trent said. "Some of our ground is marginal rice ground, and we've seen some good yield on them. The hybrids are working for us and we'd like to stay with them."
On whether or not they will increase their acres in 2012, Terry noted, "We're hearing that rice acres may be down 25 percent next year. Northeast Arkansas may actually be up a bit because they weren't able to get all their rice planted last spring. But in our area, there is very little fluctuation on rice acreage. We have our rotations, and our rice depends on how much water we have."
"We've had some good rains over the last few days," Trent added. "I think we're going to be okay. The rain has recharged the reservoirs. This time last year, our reservoirs were dry and everybody was worried."
The Dabbses have a 1,300-acre farm with a 350-acre reservoir, Terry noted. "That's the only water supply it has. We have no wells on that farm."
Drew Whiting, who produces 1,500 acres near Tichnor, Ark., said this year's rice crop "was OK. We planted really early and that kind of helped us with some of the heat issues. The hybrids all held up pretty good, but the varietal rice has been dropping off. Our medium grain rice turned our pretty good."
Brandon Cruax, farm manager for Dunklin Farms, Dumas Ark., says the farm's 1,100 acres of rice, "was kind of mediocre. We started off doing really well on our early-planted rice. When we got into our later-planted rice, and yields started going all over the board, anywhere from130 bushels to 200 bushels.
"Our milling yields really got us too. There were three fields that were planted on the same day, all treated the same, but the yields and milling were all over the place. It was probably a combination of the heat and the panicle blight."
Cruax said the farm will likely stick with the same rice acreage for 2012.
According to USDA's most recent outlook, average rice yield for the 2011 crop is estimated at 7,167 pounds per acre, the second highest on record.
Average yields by state are unchanged from last month's USDA estimate.  Arkansas yields are projected at 6,850 pounds per acre, California, 8,400 pounds, Louisiana, 6,400 pounds, Mississippi, 7,100 pounds, Missouri, 7,200 pounds and Texas, 7,000 pounds.
Although U.S. rice yields are estimated higher than a year ago, production is off significantly from 2010 due to reductions in harvested acres in every rice-producing state except California. Arkansas rice acreage is down 630,000 acres from 2010, Louisiana, 115,000 acres, Mississippi, 120,000 acres, Missouri, 123,000 acres and Texas, 8,000 acres. California rice acreage increased by 35,000 acres over 2010.
With U.S. rice acres decreasing by nearly 1 million acres from 2010, total production dropped from 243 million hundredweight to 188 million hundredweight, according to USDA. Long-grain production is estimated at 117.5 million hundredweight, while combined medium- and short-grain rice is estimated at 70.6 million hundredweight.
USDA projected the 2011-12, long-grain, season-average farm price range at $13.50 to $14.50 per hundredweight, which was unchanged from the previous month. The combined medium- and short-grain farm price range is projected at $15.50 to $16.50 per hundredweight, unchanged from a month ago. The all rice season-average farm price is forecast at $14 to $15 per hundredweight, unchanged from last month.
U.S. rice ending stocks are estimated at 37.5 million hundredweight. Global rice production is projected at a record 460.8 million tons. 
Subscribe to receive top agriculture news
Be informed daily with these free e-newsletters
You May Also Like
---