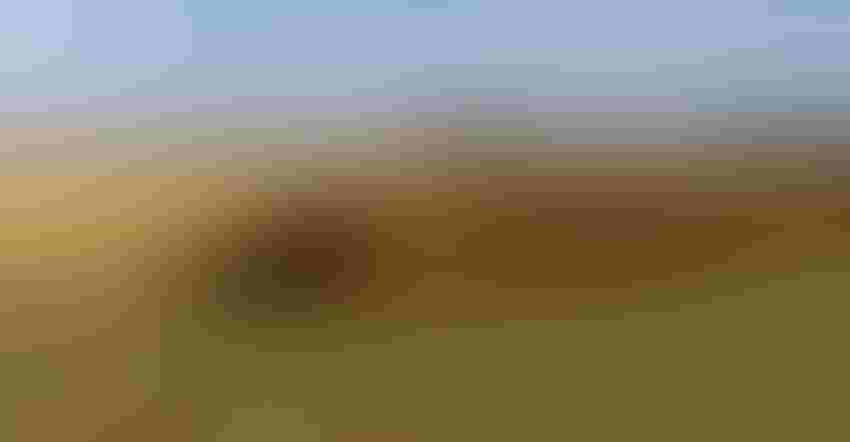 POULTRY WINDROW: To be considered properly staged, litter must be stacked in 6-foot-tall windrows or pyramids so that the cross section of the pile is a triangle, ensuring that any rainwater will be shed rather than infiltrate the pile or pool around it.
Courtesy of Delaware Department of Agriculture
Members of the Delaware Nutrient Management Commission recently approved an emergency order that will allow for a 180-day extension for properly staged poultry litter in Delaware crop fields beginning Nov. 1.
Poultry litter is a natural fertilizer rich in nutrients and micronutrients. When the Delaware Department of Agriculture issued control orders this past spring restricting the movement and spreading of poultry litter because of an outbreak of highly pathogenic avian influenza (HPAI), it caused hardships for some farmers.
Effective Nov. 1, farmers can begin properly staging poultry litter in fields where it will be used next spring. Once the 180-day extension expires, the normal 90-day regulation will resume, resulting in a deadline for spreading field-staged poultry litter of July 29, 2023, or for stack poultry litter on or before April 30, 2023.
To be considered properly staged, litter must be stacked in 6-foot-tall windrows or pyramids so that the cross section of the pile is a triangle, ensuring that any rainwater will be shed rather than infiltrate the pile or pool around it. This is best accomplished with a loader bucket, following delivery to the field by a dump truck or trailer.
The goal of the emergency order is to help producers in preparing and preventing any further spread of HPAI due to continued detections in the wild bird population and recent confirmation of the virus in two backyard flocks in Kent County.
Fall-staging litter will help reduce litter movement when HPAI is expected to be the highest risk for Delaware poultry.
For more information, visit the Delaware Department of Agriculture website.
Register for GenerationNext seminars
A successful farm manager is required to master many aspects of the business. To help the next generation of farmers develop the necessary business and financial skills they need, Farm Credit East is hosting GenerationNext seminars this fall and winter.
Anyone who would like to sharpen their management skills is encouraged to attend. Both in-person and virtual sessions are offered.
GenerationNext is optimal for producers who will be the next-generation operators of a farm business or for entrepreneurs starting their own business. The sessions will cover a range of topics, including leadership and management, human resource development, financial management, production economics, marketing, risk management, and farm transfer and estate planning. 
Starting in November, in-person sessions will be held in central and western New York, and eastern Connecticut. Starting early next year, in-person sessions will be held in northern Vermont, central New Jersey, and western and northern Maine.
The virtual program consists of eight weekly two-hour sessions Jan. 12 and running every Thursday through March 2.
For more information, session dates or to sign up, visit farmcrediteast.com/generationnext. It is not necessary to have an existing relationship with Farm Credit East to attend.
'Own Your Future' forum set
To help dairy farm families begin tackling the process of succession planning and ownership transition, the Professional Dairy Managers of Pennsylvania (PDMP) and the Center for Dairy Excellence will host a forum titled "Own Your Future" from 9:30 a.m. to 3 p.m. Nov. 10 at Janelle Hall in Berks County.
The discussion will encourage dairy producers to think about who will be owning the business in the future and how that can come to fruition. A networking lunch and afternoon tour of Vista Grande Farm will also be part of the forum.
The following panelists will be participating:
Jennifer Voss, Voss Group, is a business and family management consultant with nearly 20 years of GE training, business management and team leadership experience, and another 16 working with many family-owned businesses — including farms — across the eastern U.S.  
Mike and Tony Brubaker of Brubaker Farms have learned from experience, both as the receivers from their own parents and now as they look toward their own retirement and structure a partnership for their children as they return to the farm.
Mike Hosterman, Horizon Farm Credit, has seen it all as one of Pennsylvania's most seasoned ag business consultants working across multiple generations of every conceivable ownership transition, both planned and unplanned.
Mike Peachey, a partner at Acuity Advisors and CPAS, has decades of experience helping agribusinesses be strategic in gaining control over their destiny and a keen understanding, as an unbiased third party, of the sensitivity around intergenerational family businesses and strategies for creating win-win situations for everyone involved.
Lucas Waybright is a former next-generation dairy farmer who is now the dairy grazing project manager at Pasa with a unique vantage point of a young dairyman who, after attempting to find a path within his own family's dairy business, is now certified to help other farm families as a farm succession coordinator.     
The cost is $35 for PDMP members, $50 for anyone else. Janelle Hall is located at 360 Fleetwood Road, Mertztown, Pa.
Call 877-326-5993 for more information; email [email protected]; or visit centerfordairyexcellence.org to be directed to the online registration page.
Register for Women in Dairy Conference
Women in the dairy industry can gain valuable knowledge and network with peers by attending Penn State Extension's Women in Dairy Conference, which takes place from 9 a.m. to 4:30 p.m. Nov. 9 at the Sheraton Harrisburg Hershey Hotel, 4650 Lindle Road, Harrisburg, Pa.
This event is designed for dairy producers, industry professionals and on-farm employees.  
Sessions will cover health and well-being, antibiotic stewardship, personnel management, financial performance, succession planning and value-added dairy.
Maria Pippidis will be the main speaker. An Extension educator with the University of Delaware, her work focuses on farm family resilience, farm stress and financial resilience. She will discuss resiliency as it pertains to women, farm life and family life, emphasizing the importance of communication in helping to achieve a necessary balance in life.
Sponsors for the event include the Center for Dairy Excellence, Central Pennsylvania Food Bank, Horizon Farm Credit, Pennsylvania Dairymen's Association, American Dairy Association North East, Dairy Farmers of America and Maryland Virginia Milk.
Participants must register by Oct. 26. The registration fee is $78, with a special promotion available for groups.
More information about the conference is available on the Penn State Extension website at extension.psu.edu.
Subscribe to receive top agriculture news
Be informed daily with these free e-newsletters
You May Also Like
---