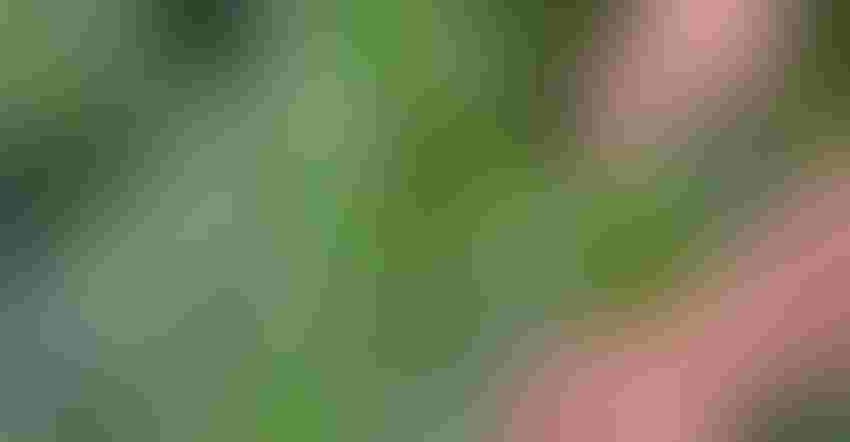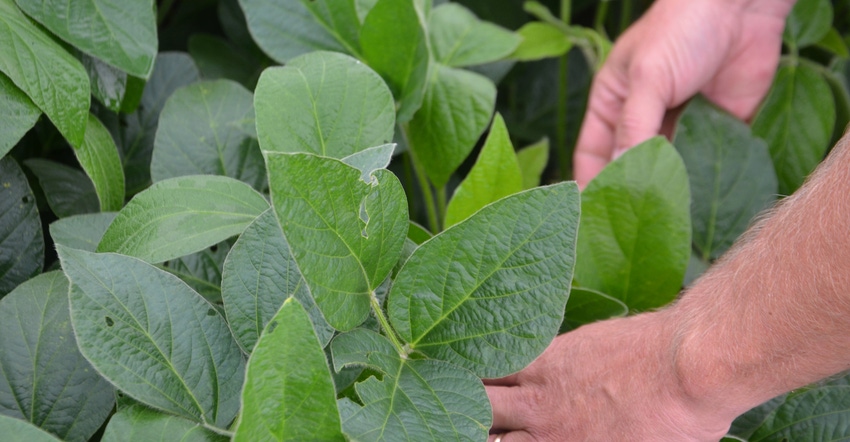 COLOR SIGNALS GROWTH: Note the much lighter green color of the leaf in agronomist Steve Gauck's hand. Lighter color near the top of the plant signals newer growth, Gauck says.
Tom J. Bechman
One year ago, Steve Gauck noticed soybeans in the Soybean Watch field were continuing to grow and put on new leaves, flowers and pods when he inspected the field in late July. The field was setting the stage for very good soybean yields.
Unfortunately, August of 2021 turned off extremely dry, and irrigation wasn't available. "Many late-developing flowers and blooms likely didn't turn into pods and soybeans," Gauck says. "We saw pod abortion and abortion of beans within pods last year after it turned so dry and soil moisture became limiting."
Related: Make preliminary disease ID in field
Despite the dry turn in '21, the field averaged about 66 bushels per acre. Still, the farmer had applied fungicide and was expecting better yields. "The dry weather during a critical time likely took away the top end of potential yield," Gauck says.
Similar scenario
Gauck saw the same prolific midseason new growth when he visited the Soybean Watch '22 field during the last week of July. If anything, the new growth was more intense this year. He spotted many lighter yellow leaves near the upper part of the canopy, indicating recent emergence of new leaves. More leaves mean a bigger factory to capture sunlight and fuel photosynthesis.
"I also saw lots of new flowers opening in the upper canopy," he recalls. "The other striking observation was that in the middle of many plants, where a bulk of the yield potential exists, many nodes were forming bunches of pods — more per node than you often see."
When Gauck visited the field, soybeans were in the early R3 stage, which is defined by the Purdue University Corn & Soybean Field Guide as the stage when you can find a pod at least one-quarter inch long on one of the four uppermost nodes. Typically, when that occurs, there will be bigger pods already formed lower in the canopy.
"Some people wonder that if new growth is still forming in the canopy because conditions are favorable, does that mean the R3 stage becomes longer?" Gauck says. "The answer is, yes, it can extend it. Plants which are actively continuing to put on new growth will likely stay in R3 longer. As newer nodes and flowers develop on top, location of the fourth uppermost node keeps moving."
More yield?
So, will vibrant growth, flowering and pod set result in more yield potential? "We're back again to the same question: What will weather be like in August?" Gauck says. "If there is ample moisture without excessive heat, disease and insect pressure, it should help yields."
The season isn't over, but here's a couple of clues to how yield will end up. Fungicide was applied in very early August to help combat possible disease issues. And unlike 2021, this field received over 3 inches of rain during the first 12 days of August. On Aug. 12, soil moisture was 25%, indicating good moisture reserves. Plus, the field has irrigation. Stay tuned!
Subscribe to receive top agriculture news
Be informed daily with these free e-newsletters
You May Also Like
---