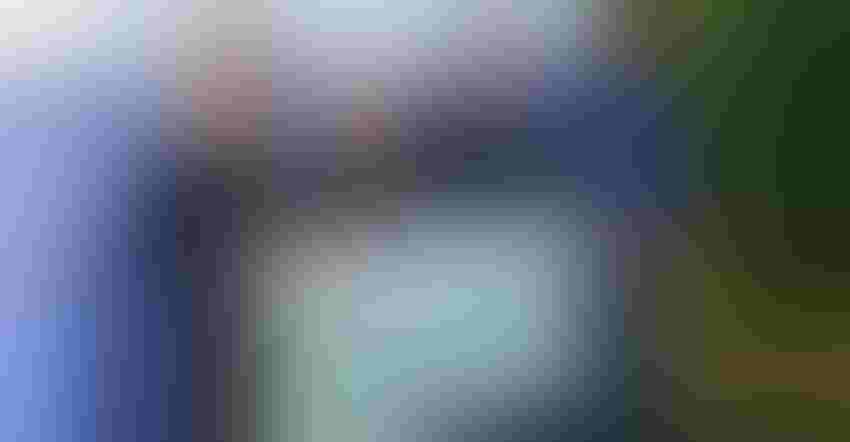 REAP REWARDS: Three students and their advisor from the Bureau Valley FFA Chapter in northern Illinois traveled to Sheridan, Ind., to be part of the Corteva field day recently. From left are Stephanie Gripp, Katie Bannick, Wyatt Wessel and Will Anderson, advisor.
A program initiated by Mycogen Seeds is helping participating FFA chapters in multiple ways. Corteva Agriscience spokespeople say students have gained skills in the art of selling, met local farmers and earned money for their FFA chapters through the Turn the Bag Blue and Gold program.
Members of the Bureau Valley FFA Chapter from Bureau County, Ill., made the trek from northern Illinois to central Indiana recently to explain what they learned from the program, and to receive a check for their efforts. Chapter members and their advisor kicked off the annual Corteva field day for the media held at the Corteva demonstration farm near Sheridan, Ind.
Other Illinois FFA chapters also participated in the Mycogen program. In Indiana, the South Newton FFA and Eastern Hancock FFA chapters took part.
Jake Froelich, territory manager for Mycogen in northern Illinois, explains how the program worked. "We held training sessions for the students last fall, and then they visited farmers and sold seed," he says. "Sometimes we went along as mentors at first. Their chapter received credit based on how much seed members sold."
More than 20 members of the Bureau Valley FFA took part in training, and 14 sold seed, Froelich says. The chapter collectively earned $7,490 from Mycogen.
"That money is going to help us start a fund to build an animal barn at the school," says Will Anderson, Bureau Valley FFA advisor. "Besides being a fundraiser, it was really good training for the students."
Anderson says students learned selling techniques, but they also learned about crops. Froelich says part of the training focused on agronomy topics. The goal was to make the students comfortable talking to farmers about the products they were selling.
The Bureau Valley FFA'ers who accompanied Anderson and Froelich to the Sheridan field day each made a short presentation on some aspect of corn production. They were chapter president Stephanie Gripp, Katie Bannick and Wyatt Wessel.
Subscribe to receive top agriculture news
Be informed daily with these free e-newsletters
You May Also Like
---