USDA boosts 2013 peanut yields as supply continues to grow
USDA boosts 2013 peanut yields as supply continues to grow
An increase in peanut yield estimates for 2013 contribute to a market oversupply.The U.S. peanut carryover for this year is estimated at more than 1 million pounds.The stocks-to-use ratio has been positive, especially in the peanut snacks category.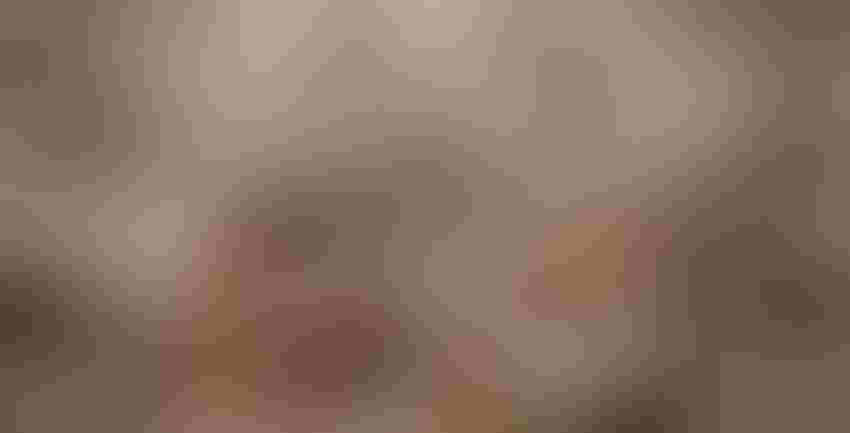 <p>PEANUT PRODUCTION AT more than two million tons will keep the U.S. carryover supply at one million tons.</p>
The increase in 2013 peanut yields seen in the USDA's latest report is good news if you're grading variety performance, but it's not so good for an already over-supplied market.
"The USDA's January crop production report showed some increased estimates, so we had a little bit bigger crop than was reported this past November," said Nathan Smith, University of Georgia Extension economist, speaking at the recent Georgia Peanut Farm Show held in Tifton.
"U.S. acres were raised by about 9,000, but the biggest change came in yields. It wasn't as much as 2012, but it was the second highest yield on record, bringing us up to more than 2 million tons of production. The U.S. yield came in right at 2 tons, which is about 200 pounds less than the previous record, but it's 200 pounds more than the November estimate. The final estimate for Georgia was 4,330 pounds per acre," says Smith.
According to the most recent USDA report, U.S. peanut production is estimated at 4.17 billion pounds, up 7 percent from the previous forecast but down 38 percent from 2012. Planted area is estimated at 1.07 million acres while area harvested is estimated at 1.04 million acres. Planted and harvested acres are both down 35 percent from the previous crop year. Average yield is estimated at 4,006 pounds per acre, up 219 pounds from the previous forecast but down 211 pounds from 2012.
Coming off record-high production and average yield for the United States in 2012, peanut producers reduced acres in 2013. Yields increased in Florida, New Mexico, Oklahoma and Texas but decreased in Alabama, Georgia, Mississippi, North Carolina, South Carolina and Virginia. The condition of the crop was rated mostly good to excellent during the growing season. Florida is the only state reporting a record-high yield.
Carryover at more than 1 million tons
"With a production of more than 2 million tons, that'll keep us at more than 1 million tons of carryover," says Smith. "Exports will be down because China's not in the market like they were last year. There's positive news with domestic use, but overall use will be down mainly because of the decrease in exports."
U.S. peanut acres have been in a downward trend over time, he says, and that's a testament to increased productivity and higher yields.
"We've seen a lot of variability in U.S. peanut acreage since 2005, and the Southeast drives the acres. The Southwest has been in a downtrend, and we don't expect that trend to change much. Arkansas came in and picked up some of that acreage. The Virginia-Carolinas region is fairly stable because they're growing for a different market than the Southeast," says Smith.
As Georgia adjusts its acres on a large scale, it is basically driving the U.S. acres, he adds. This past year, Georgia dropped its acres by about 41 percent, from 735,000 to 430,000. Alabama and Florida also dropped their acres by more than 35 percent.
"Overall, we had a 35-percent drop in U.S. peanut acres, from 1.6 million to just over 1 million, and the Southeast went down to about 745,000 acres."
Estimating from the U.S. trend yield, Smith forecasts U.S. peanut yields for 2014 at about 3,775 pounds per acre.
While there was record peanut use this past year, it probably will come down this year because China isn't expected to make the purchases it made in 2013, says Smith.
The bottom line, says Smith, is that there will be a large supply of U.S. peanuts. "At the end of June/July 2014, carryover is expected to be about 1.147 million tons. That could change as we see updated numbers in food use and exports, but that's where USDA forecasts it right now. Food use is expected to be up by about 5 percent, driven mainly by candy and snacks and not peanut butter. If peanut butter use picks up, it would help us on the domestic side."
Exports are down by about 35 percent, says Smith. "India has a big crop and prices are down, so they'll be exporting their crop back into China again. China needed peanuts last year, and we had peanuts at a low price. Our prices are back to the same level as last year, but we haven't seen any activity yet. Argentina has had some production problems, so hopefully we'll pick up some exports to Europe.
"Our No. 1 destinations are Canada and Mexico, and we should see strong exports to those countries. Our peanuts go there and come back here as processed products. Overall, we're looking at total use being about 2.4 million tons. We produced just over 2 million tons last year, so we're still working down our carryover."
Stocks-to-use has been positive - in double digits – says Smith. "Snacks are up by 12.6 percent but peanut butter use is down. Peanut butter is our largest category, usually making up about 50 percent of total use. Candy and snacks make up roughly 25 percent each of total use. There's a 4.6 percent increase in edible kernels.
"With the carry-in, we'll have a supply of 3.5 million tons and about 1.147 in carryover. If we're looking at a 3,750-pound yield and a 10 percent increase in acres, it would give use about a 2.16 million-ton crop, which would bring us down to a carry-over of about 1 million tons."
Growers have been offered $4.25 contracts, says Smith, and there also are some premiums for high-oleic peanuts. "The early contracts are being offered to see how many takers there will be. It probably means that $500 won't be as likely, and that's because of where prices are now with cotton and corn."
Subscribe to receive top agriculture news
Be informed daily with these free e-newsletters
You May Also Like
---