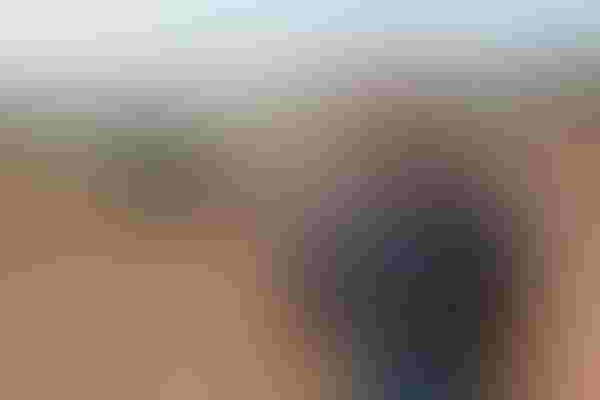 <p>Brian McClam is the Farm Press 2015 Peanut Profitability Award winner for the Upper Southeast region.</p>
When Brian McClam started farming in 1996, his grandfather Howard McClam gave him an important rule to remember to be successful: "I want you to remember one thing: When you get to the end of the year — whether you lost your tail or not — don't ever be able to say to yourself, 'I should have done that.' Make sure you did that."
"My grandfather farmed all his life, and that is some of the best advice I've ever been given," McClam recalls. It's a rule the Kingstree, S.C., farmer has adhered to ever since.
By following that advice, as well as stressing timeliness and a great deal of hard work, Brian McClam has indeed achieved great success in farming. It's a formula that has worked well for him in all of the crops he produces, and it is a key factor in his being selected as the Farm Press 2015 Peanut Profitability Award winner for the Upper Southeast region.
McClam started growing peanuts in 2003 out of economic necessity. The quota program had ended in 2002 and Severn Peanut Company was looking to South Carolina to expand its peanut base.
"Diseases were a problem in Virginia and North Carolina, and Severn began branching out, looking for virgin peanut land, and that's just what we had," he explains. "We got into peanuts because we were losing too much money on other crops, and were looking for a better rotation for cotton," he says.
Rewarding crop
It's a decision McClam hasn't regretted a bit. He enjoys growing peanuts and plans to stick with the crop for the long haul.
"There have been a few big bumps in the road, but peanuts have been very rewarding for us," he says. "Without them, I don't know where we would be today. Peanuts have offered good pricing opportunities and good yields for us in the past, and have taken our farm to the next level. When we first started growing peanuts, we used to get 3,000 pounds to the acre. Now, it's a lot easier to maintain 4,000 pounds."
McClam credits the Bailey variety for much of his success in peanuts. It's the only variety he has grown on his farm the past two years because he says it works well for him in both yield and quality. "Bailey is resistant to a lot of diseases that are present in our area. It's been a blessing."
Diseases are a problem in the area where McClam farms due to a long history of soybeans and tobacco. "Those two crops carry some of the same diseases that are present in peanuts," he says.  "CBR (Cylindrocladium black rot) and white mold are the two big ones here."
While Bailey has proven to be a good disease-resistant variety, McClam still relies on a fungicide program. His strategy is to apply fungicides every 14 to 21 days, depending on rainfall, after  peanuts are 45 to 60 days old. "We will spray until they are 105-110 days old," he says.
McClam farms 35 miles west of the ocean, and the weather brings a lot of damp, foggy mornings from late August through September. "It's easy to get a tropical storm here really fast, so it's good to know your fungicides are out there working for you."
Timeliness critical
Through it all, he says, timeliness is critical. That's true for planting and herbicide applications, but particularly for spraying fungicides. Timeliness plays a key role in his success, he says, but it's never easy to stay on track.
"When I started farming peanuts, some veteran growers told me I could make more money by spraying on time than I could by planting on time, and I found that to be true, especially with the older varieties we used to plant. Spraying fungicides on time is important, but with the Bailey variety timeliness is not quite as critical as it used to be. You still have to be on time, but if something comes up, you can wait and spray tomorrow morning instead of spraying this morning."
Another plus for Bailey, McClam says, is that it offers a great deal of planting flexibility, allowing him to plant early. "We used to have to wait until May 10 to start planting in order to try to miss thrips pressure, but now we can plant earlier. We try to start in late April, in hopes of finishing around May 10. Peanut planting is so slow, the sooner you can start, the better off you are."
In addition to an effective fungicide program, to achieve top yields McClam relies on a good herbicide strategy to control weeds that are always a problem in his area. He begins with a burndown, applying Roundup and 2,4-D a month ahead of planting. Just ahead of the planter, he applies Gramoxone, and right behind the planter, Prowl H2O and Valor. Then, 28 days after planting he makes another application of Gramoxone and Storm; and 40 to 45 days after planting, he applies Butyrac, Dual and Cadre.
Hand weeding
"We hand weed whatever comes up after that," he says. "We especially like to keep pigweed out of the fields. It has been a major issue for us, and we try to do our best to make sure we have no seeded pigweed when harvest comes."
As for rotation, McClam says he prefers a four-year program, but when peanut prices were high, he slipped back to a three-year program. "Right now, we're back to four years; this allows us to hedge our diseases better than a three-year program." His rotation program is mixed. For a four-year rotation, he'll plant peanuts in year one, cotton in year two, corn in year three, and cotton in year four, then returning to peanuts. He also does a rotation of two years of cotton, then a year of corn before peanuts. "In a three-year program, we'll do cotton, corn, then peanuts," he says.
This year, McClam is planting 400 acres of peanuts, 600 acres of soybeans, 680 acres of corn, and 1,350 acres of cotton. He also grows 240 acres of pinkeyed peas for McCall Farms, the local cannery.
Irrigation is an important part of his corn production program, but he has not yet found it to be as economical to irrigate peanuts. "Another plus for the Bailey variety is that it has proven to take dry weather really well," he says.
He stresses the importance of strip-tillage in all of the crops he grows.  He started the practice in 2002 and has been 100 percent strip-till since 2006. "It conserves moisture and helps cut down on erosion. It also helps reduce weeds, saves time, and helps out on the fuel bill."
Fertility program
McClam relies on grid sampling in his fertility program.  He applies fertilizer at whatever amount the grid calls for to make sure it is available throughout the field and throughout the season. "This will be the first year we variable rate our gypsum. We have been applying gypsum solid across the field, but we want to see how variable rate works."
He began using real time kinematic (RTK) satellite navigation for all of his crops in 2010, and says now he wouldn't farm without it. "It took us a long time to understand just how important RTK is. We kept telling ourselves we couldn't afford it; now, we can't afford not to have it. It works especially well with Bailey, because it's a big, bushy-type peanut, and it's hard to see the row. RTK helps with that — it has been a peanut farmer's dream."
Ever since he started growing peanuts, McClam has contracted with Severn Peanut Company to market his crop. "I know Severn's procurement manager, Dawson Rascoe, very well, and he has been very good to me. He's always been accessible, and that means a lot. He works with us to make sure we are successful."
McClam says he likes peanuts because it's a contracted crop. "You know what you're getting before the planter ever goes into the field — that's one big thing I like about peanuts. Whether the price is good or not, you don't have to worry about marketing peanuts. If you sign on the line, you know what your price will be. That's better than other crops. We still have corn in the bin from last year, and corn prices go down every day. With peanuts, you don't have to store them on your farm — they take them, they handle them, and they pay you."
Quality crop
In winning the Farm Press Peanut Profitability Award, McClam was recognized for the quality of the crop he produces. The key to achieving quality, he says, is waiting until peanuts are mature before they are harvested, a lesson that took some learning. He uses the pod blasting method to determine maturity.
"We try to make sure peanuts are ready to be harvested. Wayne Nixon (Severn agronomist) works closely with us. I may think peanuts are ready, and he'll say wait another week. Thanks to Wayne, we've done a better job in the past couple of years in determining peanut maturity."
One thing is certain, McClam emphasizes: he couldn't farm without good help and support. He credits his family, his workers, his vendors, and Clemson Extension for helping him win the Peanut Profitability Award.
His wife, Lindsay, manages the office and takes care of the books and paperwork for the farm, and their 13 year-old son, Ed, helps as much as he can. They also have two daughters, Olivia, 4, and Lola, 2, who love to spend time on the farm with their daddy. Brian's dad, Milton, retired from the farm in 2012 after suffering a heart attack and stroke, but still does what he can to help.
McClam also works in cooperation with fellow farmer Ryan Foxworth, who helps him with his farm. Farm help also includes Josh Washington and Byrdic Tisdale. "I call them my team," McClam says. "They really try to pay attention to detail. They do a good job and take pride in their work. I'm blessed to have them."
McClam makes it clear he couldn't be a successful peanut farmer without the help and support of Jay Chapin, Clemson University Extension, and Severn Agronomist Wayne Nixon, who he says always makes time for him.
Production advice
"Most of the success of peanuts in South Carolina is due to Jay Chapin," McClam says. "He has been a good friend to the peanut farmer. He has been accessible, he's always taken time for everyone, he's always answered my phone calls. He taught me a lot over the phone about how to grow peanuts. He is a smart man — I call him the peanut guru. He and Wayne have helped me tremendously."
Peanut prices are horrible right now, McClam says, which makes it tough, and he's concerned that next year doesn't look much better in terms of price. But he's going to stick with the crop for the long haul because he really enjoys growing peanuts.
"We had a really long learning curve when we started growing peanuts," he says, "but now that we're familiar with the crop, it's not so bad. Thinking about where we started and where we are now, and what we now know not to do, it's a miracle we made it. We made a lot of mistakes along the way."
McClam, a seventh generation farmer, considers farming his calling. In addition to his grandfather and father, McClam's two uncles, Gary and Warren McClam, farm soybeans, corn and beef cattle in Williamsburg County. "It's a proven fact that God wants me to farm," Brian says, "because every time I get knocked down, He finds a way to pick me back up."
Subscribe to receive top agriculture news
Be informed daily with these free e-newsletters
You May Also Like
---