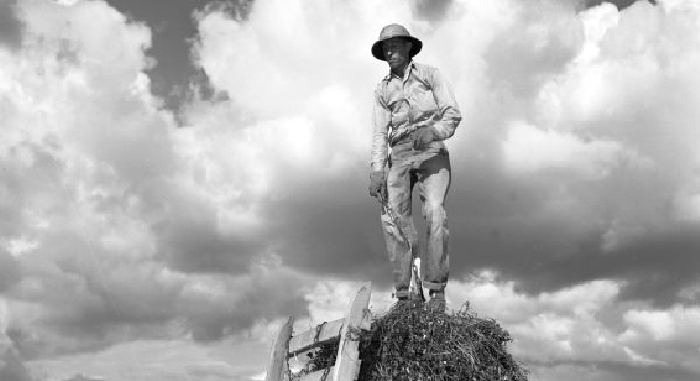 James Spears in Holmes County, Fla, in 1947.
James Spears balances atop the peanut stack and secures it to the sled behind the mule waiting to drag it next to the picking machine. It's was 1947 and peanut picking time in Holmes County, Fla.
Spears, clad in pants, a long-sleeve shirt and wearing a pith helmet, didn't stop work to pose for pictures on that cloudy day, though he does peer down once at the camera. The rest of the pictures housed at the State Archives of Florida show Spears and his crew doing it the way it was done seven decades ago, using the dogged work ethic and technological advances at the time that led to the Southeast being one of the top peanut-producing regions in the world.
As peanut farmers and their crews ease modern-day, high-output diggers and combines into fields right now, they contribute their own chorus to the echoes lingering from harvests long ago. If Southeast Farm Press has a say in it, seven decades from now the images of their work, too, will be seen and appreciated.
Good luck with 2016 harvest and thanks for reading and looking.
Subscribe to receive top agriculture news
Be informed daily with these free e-newsletters
You May Also Like
---