Western pistachio growers revel in good yields
Western pistachio growers revel in good yields
Western pistachio growers report excellent to record crop yields this year.Arizona grower Jim Cook credits good weather, sunshine, and a 4,500 foot elevation for his record crop.Grower Brian Blackwell, Bakersfield, Calif., reports almost doubled yields ranging from 3,000 pounds/acre to 4,000 pounds per acre this year.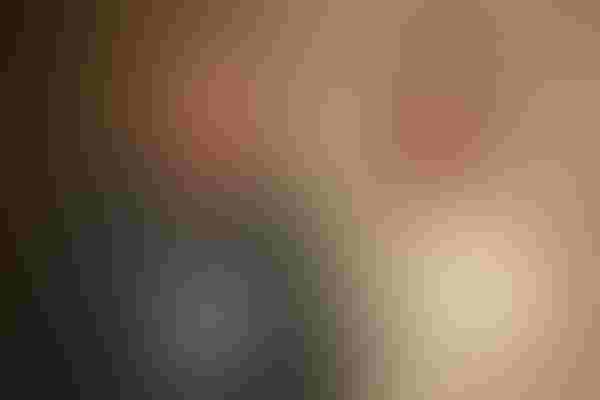 <p> Father and son Arizona pistachio growers Jim and Mark Cook.</p>
Twenty-five-year pistachio veteran Jim Cook of Bowie, Ariz. is all grins this fall after harvesting his highest crop yields ever.
"This was the best off-year crop I've ever had," said Cook who grows pistachios in southeastern Arizona's Cochise County. "My yields were 3,600 pounds per acre of APC weight. We were pretty pleased with that; especially following a 5,800 pound per acre crop last year.
The pistachio, the so-called 'green nut,' is an alternate-bearing tree nut crop with production higher one year (the 'on year') and lower yields the next (the 'off year'). 2011 was the off year in most western pistachio orchards.
In the West, two-year crop yields average about 7,000 pounds per acre (newer and older orchards combined). Cook's yields totaled about 9,400 pounds per acre for 2010 and 2011 combined.
Cook wears several grower hats – one for his own small pistachio farms and another for A & P Growers Cooperative where he serves as general manager of the company's Arizona operation.
The record crop figures mentioned above are for Cook's operations in Willcox and Bowie. The nut quality was excellent with a single digit non-split rate of six to seven percent. The nut size was average in the 21 per 25 large-size range (21 to 25 kernels per ounce).
Yields averaged about 3,200 pounds per acre on A & P's 1,100-bearing-acre operation in Bowie this year.
"We're pleased with the yield," Cook said. "The nut color was superb."
A & P intends to plant 260 additional acres in pistachio in the area in 2013.
Cook credits the weather, sunshine, and elevation for this year's excellent Arizona pistachio crop. The elevation in Bowie is about 4,500 feet. Rainfall amounts were normal through the growing season (five to six inches). No rain fell during harvest which is rare.
Growers in this pistachio production belt claim the pistachios are 'greener and sweeter.'
Cook and other growers shared post-harvest information with Western Farm Press during the 2011 Arizona Pistachio Association annual meeting held in October in Willcox, Ariz. About 40 growers, processors, investors, and industry leaders from California, Arizona, and New Mexico attended the meeting and harvest party.
Pistachio grower Brian Blackwell also noted a good off-year crop this year. Blackwell is president of Blackwell Farming Company in Bakersfield, Calif. (Kern County). Kern is the largest pistachio-producing county in the nation. All U.S. commercial production is grown in California (98 percent), Arizona, and New Mexico.
Blackwell reported crop yields from 3,000 pounds per acre to 4,000 pounds per acre. Normal off-year yields range from 2,000 pounds per acre to 2,200 pounds per acre.
Blackwell credits the good yields to a second consecutive year of high rainfall and cool spring temperatures in the southern San Joaquin Valley, plus adequate winter chilling hours.
"The cooler spring gave the nuts extra time to form and gain a larger size," Blackwell said.
Blackwell kicked off harvest in the Delano area Sept. 11; about 10 days later than normal.
Disease pressure
For Blackwell, disease pressure was higher this year due to the late spring rains and additional precipitation in early June and September. The fungal disease alternaria late blight increased as a result and an additional fungicide spray was applied. Left untreated, alternaria late blight attacks the fruit and the leaves. The fruit becomes unmarketable.
Blackwell, a respected leader in the California pistachio industry, served as chairman of the California Pistachio Commission for four years in the early 2000s. Last year, Blackwell served as the Western Pistachio Association's (WPA) Chairman of the Board. The WPA changed its name to the American Pistachio Growers in July.
Second generation pistachio grower Larry Wilkinson, 37, owner, J. Poonian Limited Partnership, Delano, grows 400 acres of pistachios, plus Navel oranges and mandarins.
Wilkinson's pistachio production this year averaged 3,400 pounds per acre with excellent nut quality and kernel size.
Like Blackwell, alternaria late blight was an issue on Wilkinson's farm. Wilkinson applied five fungicide sprays instead of the usual three sprays. Among the fungicides applied were the products Switch, Quash, and Pristine.
Some California pistachio growers have planted more acres to pistachio in recent years or plan to do so in the near future. A large planting spike occurred in 2007 and again in 2010 and 2011. Trees take about seven years to come into production.
Uncertain at this point is whether too many trees, or not enough, have been planted to meet the future global consumer demand for pistachios. Wilkinson has no immediate plans to increase pistachio acreage.
"I think we're overplanted," Wilkinson said. "We'll find out in seven years."
Meridian Nut Growers, a pistachio grower and processor based in Clovis, Calif. and owned by A & P Growers Cooperative, farms about 4,000 acres of pistachios and 2,000 acres of almonds in California.
Managing partner Jim Zion reported larger nut production this year; about two-thirds in the large range with the balance as extra large nuts (18 per 20 size).
Management
New Mexico pistachio growers Adam and Danielle Kusmak, owners of Tularosa Pistachio Groves in Tularosa (Otero County), had an overall good growing year despite extreme freezing temperatures in early February. Temperatures dropped to 18 degrees Fahrenheit for two consecutive nights. Temperatures remained at or below 32 degrees for five consecutive days; much colder than usual.
"The nut quality was very good and the nut size was larger than last year," Adam said. "The pollination was good on the buds which did not freeze."
Danielle added, "We lost about 300 trees due to the cold temperatures. That is a seven-year (production) loss."
The Kusmaks changed several management practices this year. Tree pruning was reduced. Due to rising fertilizer costs, less fertilizer was applied in each application but applications were applied more often.
"We changed to subsurface drip irrigation. This was an enormous booster for growth which helps develop the roots and tree canopy," Adam said.
The Kusmak's trees are planted in clay loam soil.
New Mexico has a small but growing pistachio industry with an estimated 300 acres statewide. The Kusmaks believe more acres will be planted.
"Growing pistachios in New Mexico has its advantages – fewer pest problems and less root rot," Adam said. "The issue is finding the right tree variety for our mountain dry climate growing season. Temperatures reach 100 degrees in June and July and the nights cool off."
Subscribe to receive top agriculture news
Be informed daily with these free e-newsletters
You May Also Like
---